Family Life Insurance Company has been serving our seniors since 1949. Manhattan Life purchased the company back in 2006. Since then, Family Life has continued to provide stellar senior products such as Medicare Supplements.
This article will discuss Family Life's supplemental Medicare offerings and their differences. We'll also explain why financial strength is essential and review the company.
Upon completion, a few common questions will be addressed. You'll be shown how to enroll in a Medicare Supplement with the Family Life Insurance Company.
Family Life Insurance Medicare plans
For years supplemental Medicare plans have been helping our Medicare beneficiaries pay for their healthcare needs. These insurance plans aim to offset and sometimes fully pay the beneficiary's Medicare out-of-pocket costs.
The federal Medicare program has many gaps that our beneficiaries are responsible for paying. They'll typically choose between a few health plan styles to offset the costs to protect themselves. The supplemental Medicare health plan options include Medigap or Medicare Advantage insurance plans.
Some of the items that these health insurance plans offset include costs related to Medicare Part A and Medicare Part B.
These costs include Skilled Nursing Facility copays, inpatient hospital deductibles, Medicare Part D deductibles, and outpatient coinsurance.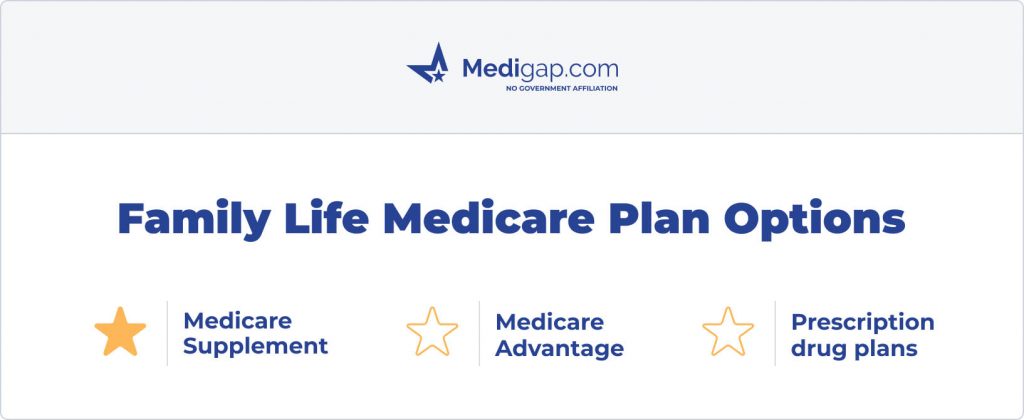 Family Life Insurance Medicare Supplement plans
The most comprehensive way for beneficiaries to protect themselves from holes in Medicare coverage is to enroll in a Medicare Supplement insurance policy. These plans are commonly called Medigap health insurance because they fill the gaps.
Medicare beneficiaries can choose between ten Medicare Supplement plan options, and most choose between Plan F, Plan G, or Plan N. The reason is due to the cost and coverages offered by these particular plans.
Medicare Part A Costs in 2023
Medicare Part B Costs in 2023

Part A is premium-free for most
Part A deductible is $1,600 per benefit period
Inpatient hospital stay days 61-90 is $400

The standard Part B premium is $164.90
The annual deductible for Part B is $226
Medicare pays 80%, you pay 20% out-of-pocket
What beneficiaries love about Medicare Supplement insurance plans is that since they are additional coverage to Medicare, they retain access to all your Medicare benefits. Keeping these benefits allows them to choose and healthcare provider nationwide that accepts Medicare. They also aren't required to have a referral or authorization for a specialist.
The one drawback is the high monthly premiums on top of the Original Medicare premiums. They also don't include drug coverage. You'll need to purchase standalone Medicare prescription drug coverage to avoid a penalty and have drug coverage.
Family Life Insurance Medicare Advantage plans
Another way to receive supplemental protection from the unpredictable costs of Original Medicare is a Medicare Advantage plan. These plans combine your Medicare Part A and B benefits into one plan with little to no monthly premium most of the time. These plans typically include your Medicare prescription drug coverage and benefits that traditional Medicare doesn't cover.
This coverage style is known as Medicare Part C and is a network-based plan. In many areas, your choice is an HMO or PPO-style plan. These types of programs have both pros and cons.
HMO plans will typically have more robust benefits. Still, there is no coverage if you see a provider out of network. The only exceptions are Hospice care, dialysis for end-stage renal disease, and emergency services.
PPO plans will give you more freedom to see the healthcare providers you choose, but you can expect to pay a higher cost for services out of network.
Family Life Insurance Medicare Part D prescription drug plans
Medicare Part D is standalone prescription coverage. Beneficiaries with Original Medicare or a Medicare Supplement usually add these plans. These prescription drug plans are regulated by the Centers for Medicare & Medicaid Services and offered through private insurance companies.
Neither Family Life, nor its parent company, Manhattan life, offers Medicare Part C or Part D plans. If you need help finding one of these plans in your area, fill out our online request form to speak with a licensed insurance agent. Speaking with an agent will give you a complete picture of your options.
Family Life Medicare pros and cons
Pros
Owned and backed by Manhattan Life Insurance
Family Life has worked with Seniors for 70+ years
Easier approvals than their competitors
Cons
Rate increases are average
Not offered in all states
Family Life financial strength ratings
A company's financial strength rating will help you to paint a picture of what you can expect to experience. The more sound a company is, the faster it will pay claims, and the rates will increase slower.
Family Life Medicare Supplement reviews
Family Life Insurance Company's headquarters is located in Houston, Texas. They are a Manhattan Life Insurance Group subsidiary and have protected Medicare beneficiaries for over 70 years. They have great rates on the most popular Medicare Supplement insurance plans and offer Plan A, Plan C, Plan F, Plan G, and Plan N. Their policyholders can take advantage of a household discount in many states.
FAQs
When is the best time to enroll in a Family Life Insurance Medicare Supplement?
When first turning starting Medicare, you are in your Open Enrollment period or OEP. The OEP is the best time to enroll in a Medigap plan because no medical underwriting is required. You can enroll in a Medicare Supplemental Insurance policy at any time. Still, you may be subject to underwriting unless you have a guaranteed issue situation. If you have imperfect health, your plan premium could be higher, or you may have coverage denied altogether.
Do Family Life Medicare Supplement plans cover the Medicare Part B deductible?
That depends on the plan you select. Plan F and Plan C are the only Medigap options that pay for the Medicare Part B deductible.
What's the most popular Family Life Insurance Medigap policy?
Medicare Supplement Plan F is the most popular Medigap plan for Medicare beneficiaries. Plan G is the most popular for new beneficiaries.
How to enroll in a Family Life Insurance Medicare plan
First, you need to make sure you select the proper plan letter for your needs. Our licensed insurance brokers can assist in evaluating your needs and presenting the options you're eligible for. Then, we can assist in educating, answering questions, and guiding you through enrollment.
Our goal is to make this confusing time simple and easy. For assistance, give us a call or fill out our online request form.