Retiring and spending your golden years in Parkersburg gives you a lot to look forward to. It's a beautiful area, medical costs in the region are generally lower, you'll likely get to spend more time with your family…but you'll also have to spend more time navigating the coverage gaps in Original Medicare. These gaps tend to fly under the radar for most seniors, who don't find out about them until it's too late and they have tens of thousands of dollars in medical debt to pay. Don't let that happen to you. We want to help you find the right Medicare supplement insurance policy so that it doesn't. But first, let's go over the facts.
Facts and Figures
There are 5,591 senior citizens living in Parkersburg right now

There are 8 hospitals in the Parkersburg area where seniors can get emergency and/or in-patient care

25% of West Virginia seniors have a Medicare Advantage plan

17% of seniors have a Medicare Supplement (Medigap) plan

Which leaves 58% of seniors potentially uninsured or underinsured against costly Medicare coverage gaps!
What do you think is more expensive for someone your age: cancer treatment, or managing chronic heart disease? The correct answer is that it depends. The longer you maintain a coronary heart disease diagnosis, the more money you will have to spend going to the doctor, taking prescription drugs, and possibly even major surgery. If you get both diagnoses at the same time, they might end up being equal in value; but if you have to deal with something like coronary heart disease or arthritis over the course of several years or decades, chronic diseases tend to be the more expensive ones. And if you take a look at the chart below, you'll see that chronic diseases are a problem among seniors in Parkersburg.
| | |
| --- | --- |
| Disease | Prevalence in Parkersburg |
| Arthritis | 34% |
| High Blood Pressure | 37% |
| Coronary Heart Disease | 9% |
| Diabetes | 14% |
| Kidney Disease | 3% |
Healthcare Costs in Parkersburg, WV
The problem with chronic diseases is that they never go away. Once you get a diagnosis, you're going to be dealing with it for the rest of your life. Seniors are living much longer these days, and medical science is coming out with advanced treatment options everyday to help improve quality of life in the elderly. This all sounds well and good, until you realize that living longer and better comes with a pretty hefty price tag. Just look at how much it costs to treat some of the most common chronic illnesses among seniors today. These prices aren't going down anytime soon, either.
| | | |
| --- | --- | --- |
| Disease | Prevalence in Parkersburg | Annual Cost of Treatment |
| Arthritis | 34% | $291 |
| High Blood Pressure | 37% | $354 |
| Coronary Heart Disease | 9% | $9,860 |
| Diabetes | 14% | $2,163 |
| Kidney Disease | 3% | $8,687 |
Medicare Advantage Savings in Parkersburg, WV
You have two main choices when it comes to Medicare supplement coverage: Medigap, or Medicare Advantage. You must choose between the two; you are not legally allowed to purchase both. This is mainly because of how differently these policies operate. If you choose a Medicare Advantage policy in Parkersburg, you essentially forfeit your federal Medicare benefits in exchange for a private insurance policy which promises to give you at least those same benefits. If an insurance company tries to sell you less coverage than that while calling it Medicare Advantage, then they're breaking federal law and committing a serious crime. But the good news is that many Medicare Advantage companies actually offer more benefits than what you might get with Original Medicare. And sometimes you can get all of this coverage for close to or at $0 per month.
Medicare Advantage plans can be large and complex. But in exchange, you get convenience. With other supplement options like Medigap, you can't add additional coverage options and customize the policy to suit your exact needs. But with Medicare Advantage, you can add things like dental, vision, and comprehensive prescription drug coverage and manage them all under one single policy. For many seniors, they get this convenience at an affordable price compared to their other options. Other seniors may see their Medicare Advantage costs exceeding those of similar options, but may believe that the convenience is well worth the premium price.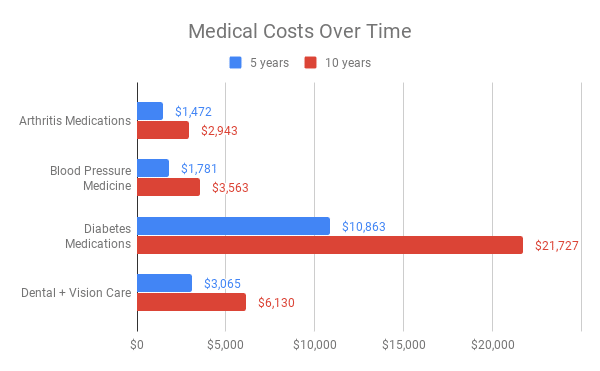 We want to highlight the fact that vision, dental, and prescription drug coverage are the three most popular riders that seniors add to their Medicare Advantage policy. Unfortunately, you don't have the option to add these to Original Medicare or to a Medigap supplement policy. We especially want to talk about how Medicare Advantage prescription drug coverage compares to Medicare Part D. With Medicare Part D, if you have a lot of prescriptions that are quite costly, there's a chance you could fall into the "donut hole" coverage gap which will force you to pay 25% of your total prescription costs if you exceed your spending limit but fall short of catastrophic coverage. For some seniors, that 25% out-of-pocket cost can be devastating and make Medicare Advantage a better option for them – assuming the coverage is better.
Medicare Supplement (Medigap) Savings in Parkersburg, WV
On the other hand, there's Medicare supplement insurance (more commonly known as Medigap). It lets you keep your Original Medicare coverage and benefits without having to undergo the hassle of a major private health insurance company managing 100% of your medical needs. It merely supplements the gaps in Original Medicare coverage that you would otherwise have to pay for out-of-pocket. And it does so after the government handles everything first; it is not a middle man. Medigap policies are specifically structured to handle the gaps in Medicare coverage, so because you're purchasing less coverage, you will usually end up paying less in monthly premiums.
If you want to save money by focusing on the most expensive coverage gaps, take a look at Medigap Plans A, D, K, or L. These plans deal with Medicare Part A coverage gaps from things like blood transfusions, longer hospital stays, or end-of-life care. Because seniors usually don't incur hospital expenses for many years, and since you likely won't need financial help from your Medigap policy unless you have a serious medical emergency, these policies tend to cost less in monthly premiums.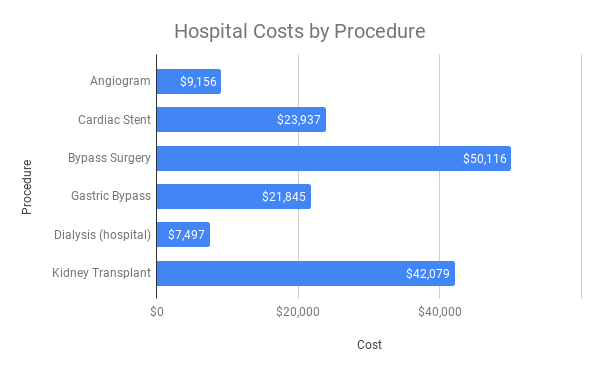 And then you have Plans B, C, F, G, M, and N. These plans offer fairly comprehensive Part A gap coverage, as well as different levels of coverage for Part B coverage gaps. These gaps typically apply to your Part B monthly premium, your co-pays, your coinsurance, and your excess charges. Some plans also offer benefits for when you travel to foreign countries and require medical assistance while there. The plan that offers the most coverage is Medigap Plan F – which will no longer be available for purchase as of January 2021. If you want to get grandfathered into those benefits, you better act fast and purchase it now! Or else you'll lose out on that opportunity forever.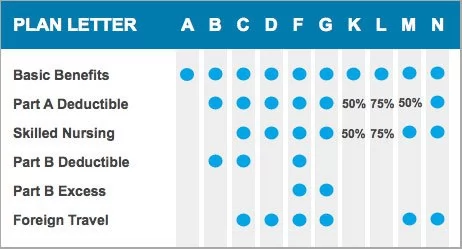 If you need vision, dental, or prescription drug coverage – which almost all seniors do – you unfortunately won't have help from your Medigap insurance provider. But you can get help from other sources. There are likely to be plenty of private insurance companies who will sell you dental and vision coverage at a relatively affordable price. You can also apply for the Medicare Part D prescription drug coverage program, but you may want to be careful with that because of the dreaded "donut hole" which stops paying for your prescription drugs if they get too expensive but fall short of "catastrophic" levels of expense.
Medicare Advantage is a large, complicated, but comprehensive policy offered by private insurance which may or may not be more expensive than Medigap depending on where you live and what you need. Medigap is simpler, smaller, streamlined, but doesn't offer help with incidentals like vision, dental, or prescriptions. Yet it could help save you money. Your overall savings will largely be determined by personal factors and your location. And if you need help trying to sort through all the confusion, our customer service representatives are standing by to help you right now.
| | | | |
| --- | --- | --- | --- |
| Medigap Plan | Minimum Monthly Premium | Maximum Monthly Premium | Average Estimated Monthly Premium (Part B Premium Included) |
| Plan A | $90 | $224 | $293 |
| Plan B | $142 | $266 | $340 |
| Plan C | $164 | $346 | $391 |
| Plan D | $173 | $288 | $366 |
| Plan F | $166 | $302 | $370 |
| Plan F (high deductible) | $45 | $92 | $204 |
| Plan G | $172 | $295 | $369 |
| Plan K | $69 | $134 | $237 |
| Plan L | $120 | $189 | $290 |
| Plan M | $142 | $239 | $326 |