If you're a Rapid City resident who is also planning on retiring soon, then you've got a lot to figure out. And one of the most important things you need to figure out – which might not be at the top of your priorities list right now – is what type of Medicare supplement insurance to purchase. Then again, you could go without; but you'd be risking exposure to some of the most expensive and unfortunate gaps in Medicare coverage that most seniors can't afford. Don't let that happen to you. Keep reading to learn everything you need to know about Medicare supplement insurance in Rapid City, South Dakota.
Facts and Figures
There are 11,960 senior citizens living in Rapid City right now

There are 7 hospitals in the Rapid City area where seniors can get emergency and/or in-patient care

20% of South Dakota seniors have a Medicare Advantage plan

50% of seniors have a Medicare Supplement (Medigap) plan

Which leaves 30% of seniors potentially uninsured or underinsured against costly Medicare coverage gaps!
The extent to which your Medicare coverage gaps could financially devastate you largely depends on how vulnerable you are to chronic illness. The most common chronic illnesses among seniors these days are listed in the chart below. Have you been diagnosed with one already? Or perhaps more than one? If you're fortunate and you haven't received a diagnosis of any of the diseases below yet, consider yourself lucky. Most seniors are struggling with one (if not more) of these diseases right now. And, unfortunately, the medical care you need to keep these diseases in check so that your quality of life doesn't suffer can get very expensive once you hit your Medicare coverage gaps.
| | |
| --- | --- |
| Disease | Prevalence in Rapid City |
| Arthritis | 27% |
| High Blood Pressure | 30% |
| Coronary Heart Disease | 7% |
| Diabetes | 9% |
| Kidney Disease | 3% |
Healthcare Costs in Rapid City, SD
Chronic disease adds up over time. And many of the expenses you incur, such as increased doctor visits, prescription drug costs, and outpatient procedures don't always stick in your mind as regular, recurring expenses. But they are, they will only get worse in the future, and the numbers that you see in the chart below are merely the tip of the iceberg. Many seniors face even higher treatment costs for their chronic illness than what you see in that chart. The data in the chart is merely based on averages.
| | | |
| --- | --- | --- |
| Disease | Prevalence in Rapid City | Annual Cost of Treatment |
| Arthritis | 27% | $294 |
| High Blood Pressure | 30% | $356 |
| Coronary Heart Disease | 7% | $9,597 |
| Diabetes | 9% | $2,173 |
| Kidney Disease | 3% | $8,509 |
Medicare Advantage Savings in Rapid City, SD
Medicare Advantage isn't the most popular choice in Rapid City, South Dakota. To understand why, it helps to first understand what Medicare Advantage is. Medicare Advantage is actually a private health insurance policy which takes over for the federal government in order to provide your medical benefits. Don't worry – by law, these plans are required to offer you the exact same coverage benefits you would get had you stayed enrolled in Medicare Parts A and B. And the government will pay a large chunk of your monthly premium in exchange for you paying into the Medicare system via taxes during your working years. This can make some Medicare Advantage plans as affordable as $0 per month for some lucky seniors in South Dakota.
The difference between Medicare Advantage and other supplement options is that Medicare companies will allow you to customize and add coverage to your plan as a way to entice business. Many seniors choose to add coverages like dental, vision, and prescription drug coverage on top of their basic Medicare benefits. There are also medical benefits you can add to help protect yourself from the coverage gaps you want to avoid the most. Keep in mind that adding coverage will increase your monthly premium – so be aware of that when you are discussing your coverage options with your Medicare Advantage insurance agent.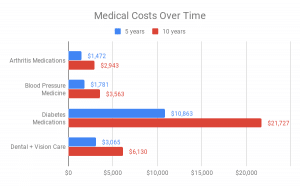 Medicare Advantage isn't without its disadvantages, as you may be able to tell by the low enrollment rate in the state of South Dakota. Many seniors find that adding all of the coverage they need to one of these big, expensive "Cadillac" plans suddenly makes their monthly premiums prohibitively expensive. Others may not feel confident that a private, for-profit company has their best interests at heart or is capable of giving them the same savings that a single-payer system could. Other seniors may just not be living in an area where good coverage is available from local Medicare Advantage providers. In any of these cases, taking a closer look at Medicare Supplement Insurance (Medigap) instead of Medicare Advantage might be a better option.
Medicare Supplement (Medigap) Savings in Rapid City, SD
Half of all seniors in the Rapid City area are currently enrolled in a Medigap insurance plan right now. Medigap is very different from Medicare Advantage in that it only focuses on Original Medicare coverage gaps. You get to keep the government benefits you've earned for working hard your whole life. Then you add a Medigap policy on top of that to pay for the gaps in coverage that Medicare won't pay for. After Medicare and Medigap work together to pay for your medical care, you are third in line to receive any bills that remain. There were 10 total plans to choose from, and although they're not customizable, they are varied enough that there are enough plans to meet almost every seniors' needs.
Let's start by talking about plans A, D, K, and L. These are the Medigap plans which deal with hospital expenses and the gaps in coverage inherent in Medicare Part A. If you ever have to deal with an extended hospital stay, extra blood transfusions, for end-of-life hospice care, these will be some of your most expensive Medicare Part A coverage gaps that you need to protect yourself from. Not only can you do it with one of these four Medigap policies, but you can do it for a lower monthly premium compared to the other six plans.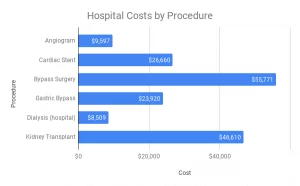 At the same time, however, none of those four plans help with the coverage gaps in Medicare Part B – which is why they cost less than the other six. Medigap plans B, C, G, F, M, and N are the Medigap plans which cover a variety of coverage gaps across both Part A and Part B of Medicare. The best of all of these plans is Plan F, because it is the most comprehensive. But it won't be around forever. You have a limited window of opportunity to enroll and grandfather yourself into Plan F benefits before the plan is retired at the end of 2020. If you miss out on this narrow window of opportunity, you'll have to settle for a less comprehensive Medigap plan when you enroll in 2021 or later.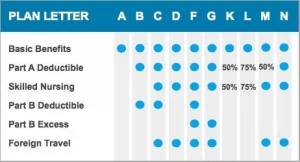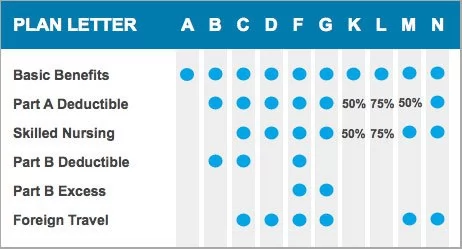 Unfortunately, you cannot customize your Medigap plan. You will have to settle for the coverage being sold as-is with no room for negotiation. But you can go outside of Medigap and Medicare in order to get all of the coverage you need at a price you can afford. There are plenty of local vision and dental providers which you can purchase insurance from on your own, usually for a discount since you're a senior citizen. The best prescription drug coverage available right now for most seniors is Medicare Part D, which you have to enroll in separately from Medicare Parts A and B. Medicare Part D is fairly comprehensive, but on rare occasions some seniors may fall into the "donut hole" coverage gap when their prescription costs are more than their annual maximum but not enough to qualify for catastrophic coverage. However, the good news is that even when you are in this gap, the maximum you will pay for your prescriptions is 25% of the total retail cost.
As a senior citizen, you have some important decisions to make. It's up to you to handle your retirement and your health care decisions as responsibly as possible so that you can enjoy your golden years. But if you don't pick a Medicare supplement plan early, that can make things difficult later on when you run into coverage gaps. Don't leave yourself vulnerable a moment longer. Protect yourself by investing in a Medicare supplement plan that's right for you. And if you're still not sure which direction to go, contact us for more information.
| | | | |
| --- | --- | --- | --- |
| Medigap Plan | Minimum Monthly Premium | Maximum Monthly Premium | Average Estimated Monthly Premium (Part B Premium Included) |
| Plan A | $63 | $222 | $278 |
| Plan B | $100 | $252 | $312 |
| Plan C | $118 | $287 | $338 |
| Plan D | $112 | $173 | $278 |
| Plan F | $118 | $241 | $315 |
| Plan F (high deductible) | $34 | $94 | $200 |
| Plan G | $104 | $183 | $279 |
| Plan K | $47 | $102 | $210 |
| Plan L | $79 | $151 | $251 |
| Plan M | $106 | $119 | $248 |
| Plan N | $82 | $156 | $255 |