Bismarck, North Dakota has a thriving senior community and it's a great place to enjoy your retirement. But you won't be getting very much enjoyment out of retirement if your life savings gets wiped out by expensive Medicare coverage gaps. Thankfully, there are a few different affordable options you can take advantage of when it comes to purchasing a Medicare supplement. We are going to discuss those options below. And if you are still confused after reading all of this new information, we can direct you to resources that can help you make your decision that much quicker and easier.
Facts and Figures
There are 10,232 senior citizens living in Bismarck right now

There are 8 hospitals in the Bismarck area where seniors can get emergency and/or in-patient care

17% of North Dakota seniors have a Medicare Advantage plan

51% of seniors have a Medicare Supplement (Medigap) plan

Which leaves 32% of seniors potentially uninsured or underinsured against costly Medicare coverage gaps!
Believe It or Not, chronic illness is the biggest threat to your bank account in the presence of Medicare coverage gaps. And, unfortunately, chronic illness will come for us all. As it stands, more than 25% of seniors in Bismarck have already been diagnosed with a chronic disease according to the chart below. Are you one of them? If so, then you're going to want to pay attention to the information below about Medicare supplement insurance. And if not, don't get too cocky – because it's really only a matter of time before you do get a diagnosis.
| | |
| --- | --- |
| Disease | Prevalence in Bismarck |
| Arthritis | 18% |
| High Blood Pressure | 28% |
| Coronary Heart Disease | 6% |
| Diabetes | 7% |
| Kidney Disease | 3% |
Healthcare Costs in Bismarck, ND
No matter what sort of diagnosis you get, it will most likely stick with you for the rest of your life. At that point, all you can do is stay on top of your medical care and make sure you get the right kind of treatment to manage your symptoms and extend your quality of life for as long as possible. Medicare Parts A and B do not cover things like prescription drugs or extended hospital stays. And most of the chronic diseases listed below will require all of those things and then some in the mid-to-late stages of their progression. If you don't get an appropriate Medicare supplement while these diseases are still in their early stages, you are leaving yourself vulnerable to serious out-of-pocket medical costs.
| | | |
| --- | --- | --- |
| Disease | Prevalence in Bismarck | Annual Cost of Treatment |
| Arthritis | 18% | $291 |
| High Blood Pressure | 28% | $354 |
| Coronary Heart Disease | 6% | $9,246 |
| Diabetes | 7% | $2,163 |
| Kidney Disease | 3% | $8,509 |
Medicare Advantage Savings in Bismarck, ND
So which supplement should you choose: Medicare Advantage, or Medigap? Right now in Bismarck, only 17% seniors have chosen Medicare Advantage. Medicare Advantage is actually Private health insurance – it is not offered by the federal government. But the federal government will offer to subsidize the most or all of your monthly premium with the money you have contributed to Medicare via taxes for so many years. This can help some seniors get their Medicare Advantage plan for as little as $0 each month. And not only do these plants start with the exact same benefits as Medicare Parts A and B, but you can get even more benefits on top of that.
Granted, you will have to pay for that extra coverage. But given the fact that your monthly premiums are being subsidized, you can get much more coverage than you normally would have access to thanks to that subsidy. Some of that coverage includes dental insurance, vision coverage, prescription drug coverage, and even extra riders that will protect you from the typical gaps in Medicare coverage. Many seniors also appreciate the fact that this gives them the option to put all of their health care needs on one single policy so that they only have to deal with one entity when it comes time to file claims and ask for help managing their health care needs.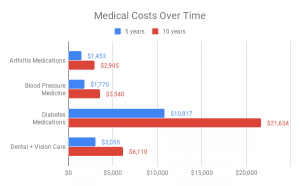 But Medicare Advantage has its caveats, especially for seniors on a budget. Adding all of the available coverage options doesn't come cheap. You might not be able to afford your monthly premiums and other cost-sharing expenses, even with a generous government subsidy. The medical networks available from local Medicare Advantage providers might not have the doctors or facilities that you need to get your care from. If Medicare Advantage isn't right for you, you'll be happy to learn that there is another option. That option is Medicare Supplement Insurance (Medigap), and we're going to talk about that next.
Medicare Supplement (Medigap) Savings in Bismarck, ND
Medigap policies are much smaller and less comprehensive than Medicare Advantage – but their monthly premiums are usually much smaller, too. They only deal with the gaps in your Original Medicare coverage – nothing more, nothing less. This makes them simple and easy to use, in addition to usually being more affordable. Those reasons and more maybe why more than half of retired seniors in North Dakota have chosen Medigap insurance over Medicare Advantage policy. Another good thing about Medigap is that you get to keep your Medicare benefits, and you are third in line when it comes to paying your medical bills – assuming that Medicare and Medigap don't take care of your expenses together.
When it comes to Medigap, you can choose between 10 different plans. The first four we're going to talk about – plans A, D, K, and L – are the plans you will want to look at if you want the lowest monthly premium possible and if you only want to protect yourself from Medicare Part A coverage gaps. You won't run into these gaps right away, because they usually deal with extended hospital stays, extra blood transfusions, hospice care, and Skilled Nursing Facility expenses. But you will run into them eventually. And preparing in advance by purchasing a Medigap supplement now is the best way to save yourself the greatest amount of money in the long run.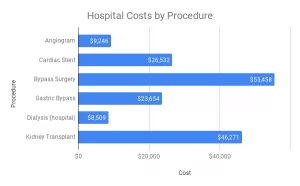 If you want more coverage though, take a look at plans B, C, G, F, M, and N, too. These plans not only cover the gaps in Medicare Part A, but also many of the gaps in Medicare Part B. If you're worried about things like excess charges, paying your deductible, foreign travel insurance, and more, then these plans are definitely worth it. Plan F is considered the best deal because it is the most comprehensive for the most fair monthly premium. But this is the last year that you will be able to enroll. If you enroll now, you can get grandfathered into these benefits and enjoy them for the rest of your years. But if you wait, Plan F will be gone by the beginning of 2021.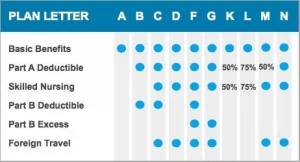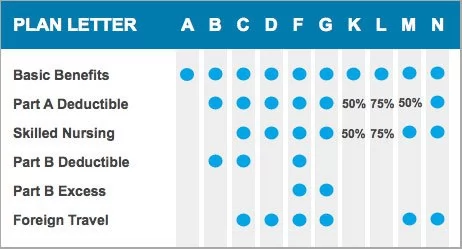 You cannot customize your Medigap coverage the way you can with Medicare Advantage. But seeing as how you have a variety of different plans to choose from, there's bound to be a plan that's right for you. And you can add supplemental coverage to your overall health care portfolio, such as vision and dental insurance, from local providers in your area. You just can't add it directly to your Medigap policy. You can also enroll in Medicare Part D since Medigap allows you to keep your federal Medicare benefits. But if you spend a lot of money on prescription drugs, be careful. There is a "donut hole" coverage gap between your annual maximum and the minimum for catastrophic coverage that could leave you paying 25% of those prescription drug costs out of your own pocket. Fortunately, most seniors never hit this coverage gap, and there are prescription drug discount programs available for those who do.
Making decisions about your health care future can be difficult. It's impossible to predict what sort of care you will need, and what type of supplement will best suit your needs for the most affordable price. But if you're still having trouble figuring it out, we have experts standing by ready to help you right now. Just call or email us! We can help you find a policy from a good provider near you today – and get you protected for the rest of your life.
| | | | |
| --- | --- | --- | --- |
| Medigap Plan | Minimum Monthly Premium | Maximum Monthly Premium | Average Estimated Monthly Premium (Part B Premium Included) |
| Plan A | $60 | $222 | $277 |
| Plan B | $107 | $253 | $316 |
| Plan C | $113 | $287 | $336 |
| Plan D | $97 | $243 | $306 |
| Plan F | $115 | $284 | $335 |
| Plan F (high deductible) | $29 | $75 | $188 |
| Plan G | $99 | $244 | $307 |
| Plan K | $46 | $92 | $205 |
| Plan L | $78 | $126 | $238 |
| Plan M | $103 | $146 | $260 |
| Plan N | $82 | $221 | $287 |