If you live in Toms River, New Jersey and you are preparing for retirement, you've got a bit of an uphill battle before you can enjoy your golden years in style. Among other things, you have to get your health care needs sorted out so that you have the affordable coverage necessary to enjoy a higher quality of life as you age. But if you aren't protecting yourself from Medicare coverage gaps right now, you could be leaving yourself vulnerable to tens of thousands of dollars in out-of-pocket medical expenses which will decimate your savings, limit the amount of medical care you have access to, or both. But we have some options that you should consider so that you don't leave yourself unprotected.
Facts and Figures
There are 18,181 senior citizens living in Toms River right now
There are 4 hospitals in the Toms River area where seniors can get emergency and/or in-patient care
21% of New Jersey seniors have a Medicare Advantage plan
26% of seniors have a Medicare Supplement (Medigap) plan
Which leaves 53% of seniors potentially uninsured or underinsured against costly Medicare coverage gaps!
Most seniors aren't aware of the coverage gaps inherent in the Medicare system because they're in fairly good health for their age and don't run into such medical expenses very often. But whether it happens tomorrow or a decade from now, it'll happen eventually. And you need to be financially prepared when it does. Funnily enough, a lot of these medical expenses are connected to age-related diseases. Just take a look at the chart below: do you fall into any of these categories?
| | |
| --- | --- |
| Disease | Prevalence in Toms River |
| Arthritis | 24% |
| High Blood Pressure | 37% |
| Coronary Heart Disease | 7% |
| Diabetes | 14% |
| Kidney Disease | 4% |
Healthcare Costs in Toms River, NJ
How does something like high blood pressure, for example, affect your vulnerability to Medicare coverage gaps? Let's take a look at an example. Most people start getting treatment for high blood pressure by going on one – or eventually, several – different medications. Medicare Parts A and B do not cover prescription drug costs at all, so those would be out-of-pocket expenses related to Medicare coverage gaps. You may also require multiple follow-ups with your primary care physician and/or a cardiologist, which will cost you tons in copays and coinsurance (which is not covered by Medicare Part B). And these are just expenses you will incur in the early years of high blood pressure – over the course of a decade or more, it can get even more complicated and expensive.
| | | |
| --- | --- | --- |
| Disease | Prevalence in Toms River | Annual Cost of Treatment |
| Arthritis | 24% | $294 |
| High Blood Pressure | 37% | $356 |
| Coronary Heart Disease | 7% | $8,882 |
| Diabetes | 14% | $2,173 |
| Kidney Disease | 4% | $8,563 |
Medicare Advantage Savings in Toms River, NJ
More than one-fifth of the seniors in Toms River have decided to supplement their Medicare benefits by replacing them with a Medicare Advantage policy. Medicare Advantage is regulated by the government, but it is not government-issued. Private insurance companies who offer Medicare Advantage must offer you the exact same benefits you would have received if you had stayed in the federal Medicare system; they legally cannot offer you less. As a matter of fact, they usually offer more in order to entice you to give them your business. The government also helps out by subsidizing your monthly premium. Some of these subsidies are so helpful that many seniors end up getting a basic Medicare Advantage plan for as little as $0 a month.
One of the good things about Medicare Advantage plans is how customizable and comprehensive they can be. For example, you can add vision, dental, and custom comprehensive prescription drug coverage – all to the same plan. This means that no matter what your medical needs are, you only have to deal with one insurance provider when you need to get care; you don't have to juggle several different insurance policies at the same time or talk to several different people in order to get your claims and expenses covered. Many seniors believe this convenience is worth any extra expense they might encounter with a Medicare Advantage plan.
One important thing to remember about insurance products, however, is that the more coverage you purchase, the more you will have to pay in monthly premiums. You might also have to pay more in cost sharing expenses like coinsurance or co-pays. Adding too much coverage to your Medicare Advantage policy could make it prohibitively expensive depending on your medical needs, your location, and your budget. Thankfully, you have more than one option to consider.
Medicare Supplement (Medigap) Savings in Toms River, NJ
So far in Toms River, there is a near even split between seniors who prefer Medicare Advantage and people who prefer Medigap insurance – with a slight nod in Medigap's favor. Could it be because these small, simple policies are less complicated and easier to handle? Are they more affordable for seniors in the immediate area? That largely depends on your personal circumstances. There are 10 plans for you to choose from in all, and the choice you make is largely dependent on what your specific medical needs are.
Some of the Medigap plans – specifically Medigap plans A, D, K, and L – use their resources to protect you from Medicare Part A coverage gaps. What do these caps include? End-of-life care is a very significant expense that each of these four plans provide some sort of coverage for. You can also get help paying for extended hospital stays, and blood transfusions if you need more than 3 pints. Because Medicare Part A coverage gaps are encountered less frequently, the monthly premiums associated with these plans tend to be less expensive. So if you have your Medicare Part B coverage gap costs under control, you can save money with one of these four options.
But if you don't have your Medicare Part B coverage gaps under control, you're going to want to look at one of the other six options instead. Those are Medigap plans B, C, G, S, M, and N. Not only do they provide coverage for Medicare Part A coverage gaps, but they also cover the holes in Medicare Part B to varying degrees. Medigap Plan F, the most comprehensive of the bunch, will unfortunately go off the market soon. If you want a chance to grandfather yourself into these comprehensive benefits, then you need to enroll before January 2021 and you need to make sure you pay your monthly premiums on time in order to stay in good standing. Trying to enroll after the deadline, switching from Plan F to a different plan after the deadline, or failing to pay your premiums on time will mean that you are no longer eligible for Plan F benefits.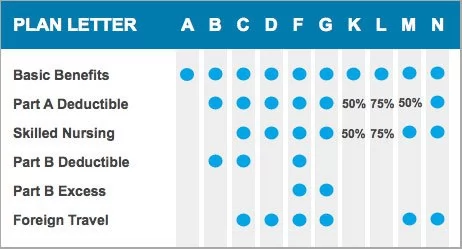 To be clear: you cannot add dental, prescription drug, or vision coverage to your Medigap plan the way you can with a Medicare Advantage plan. But this isn't necessarily bad news. Many seniors find that going out on their own and finding supplement insurance policies for vision and dental can save money compared to a Medicare Advantage plan that has been included. Seniors who stick with Original Medicare can also enroll in Medicare Part D prescription drug coverage. There is a modest coverage gap – known by many as the "donut hole" – where you may find yourself paying up to 25% of your total prescription costs out-of-pocket. But this only kicks in if you exceed your annual maximum and fall short of spending enough money on prescriptions to qualify for catastrophic coverage. Many seniors never hit these thresholds.
Now that you've read all of this helpful information, do you feel ready to make one of the most important decisions about your health care that you'll ever make? If the answer is no, we understand. And we want to help. We here at Medigap.com have tons of free resources for you to utilize, including helpful and knowledgeable customer service representatives who are waiting to hear from you right now. Whether by phone or by email, we are standing by ready to help you sort through the confusion so that you can make the best possible decision.
| | | | |
| --- | --- | --- | --- |
| Medigap Plan | Minimum Monthly Premium | Maximum Monthly Premium | Average Estimated Monthly Premium (Part B Premium Included) |
| Plan A | $70 | $214 | $278 |
| Plan B | $86 | $230 | $294 |
| Plan C | $104 | $261 | $318 |
| Plan D | $99 | $195 | $283 |
| Plan F | $101 | $218 | $295 |
| Plan F (high deductible) | $23 | $80 | $187 |
| Plan G | $72 | $192 | $268 |
| Plan K | $45 | $86 | $201 |
| Plan L | $66 | $121 | $229 |
| Plan M | $80 | $168 | $260 |
| Plan N | $71 | $153 | $248 |