Paterson, New Jersey is a lovely place to live. There are plenty of places to relax, great restaurants, and the amenities of New York City are only a few minutes away. But when it comes to Medicare and securing reliable access to affordable healthcare, Paterson is not a great place to be. Medicare coverage gaps can affect you regardless of where you live; but life in Paterson makes it easier to get caught up in the costly coverage gaps . To resolve this difficulty, more and more seniors in the Paterson area are switching to Medicare Advantage and Medicare Supplement (Medigap) insurance plans with each passing day. Let's take a closer look at some facts and figures to get a better understanding of what exactly is going on.
Facts and Figures
There are 15,436 seniors living in Paterson right now.
There are 8 hospitals and medical centers in Paterson where seniors can get emergency and/or in-patient care.
21% of New Jersey seniors have a Medicare Advantage plan.
26% of New Jersey seniors have a Medicare Supplement (Medigap) plan.
Which leaves 53% of seniors potentially uninsured or underinsured against costly Medicare coverage gaps!
More than one in every two seniors doesn't have reliable access to the effective and affordable healthcare that they require as they get older. That means that just about 8,181 seniors in the Paterson area are forced to either go without healthcare or pay the extra costs of Medicare coverage gaps almost entirely out of pocket. Considering that the problem only worsens with age, the need for reliable health insurance becomes more obvious. As you age, your risk of developing an age-related illness increases and so too does the severity of any symptoms that you might already be having. Even if you're in perfect health today, that may not last very long. The chart below shows just how prevalent a few of the most common age-related illnesses in Paterson, NJ really are.
| | |
| --- | --- |
| Disease | Prevalence in Paterson, NJ |
| Arthritis | 23% |
| High Blood Pressure | 36% |
| Coronary Heart Disease | 7% |
| Diabetes | 14% |
| Kidney Disease | 4% |
Healthcare Costs in Paterson, NJ
The worst part about age-related illnesses isn't that they increase in prevalence as you get older. Rather, it is the fact that age-related illnesses increase both in frequency and severity of symptoms as you age. That means that not only does aging put you at increased risk of developing new illnesses but also that any existing illnesses that you have will likely become more severe with each passing year. Due to the fact that medical expenses are rising each year and seniors are living longer lives than ever before, the Medicare coverage gap expenses are becoming more and more threatening to the financial and healthcare independence of thousands of seniors in Paterson alone. The chart below details just how expensive the aforementioned age-related illnesses can be without the proper level of healthcare coverage.
| | | |
| --- | --- | --- |
| Disease | Prevalence in Paterson, NJ | Annual Cost of Treatment |
| Arthritis | 23% | $291 |
| High Blood Pressure | 36% | $354 |
| Coronary Heart Disease | 7% | $8,882 |
| Diabetes | 14% | $2,163 |
| Kidney Disease | 4% | $8,563 |
Medicare Advantage Savings in Paterson, NJ
21% of (or 3,241) seniors in Paterson have decided to enroll in a Medicare Advantage plan to avoid having to pay the out-of-pocket expenses of the Medicare coverage gaps in Original Medicare. Despite the similarity in names, these two plans actually bear a few stark differences. For one thing, Medicare Advantage plans are neither provided by the federal government nor are they official Medicare plans. Rather, they are private plans provided by businesses that are required by law to provide the same baseline level of coverage benefits as Original Medicare. However, providers of Medicare Advantage plans often also offer the option to add additional benefits to your insurance plans by paying a little extra. Thanks to assistance programs from state and federal governments, that "little extra" might turn into a monthly payment of $0 in premiums.
Medicare Advantage plans can even help with expenses related to prescription drug coverage and minor medical equipment coverage. Depending on the plan purchased and the type of coverage you select, you could potentially even have access to name brand medications at a fraction of the cost, something that Medicare does not often provide. For seniors suffering from chronic health conditions the likes of high blood pressure, diabetes, and arthritis, the option for coverage of medical equipment like glucose monitors and testing stripts can help save even more money in both the long and short terms.
On top of the already expansive coverage options available to Medicare Advantage beneficiaries is the option to add vision and dental care coverage to your plan, enabling you to save even more. This is a benefit that is unique to Medicare Advantage, meaning that neither Original Medicare nor Medicare Supplement Insurance plans can provide the same level or quality of care. In fact, the coverage gaps inherent to Original Medicare could potentially leave you paying far more in coverage gap expenses than you ever would in Medicare Advantage premiums. Of course, that depends on the severity of your illness. The chart below shows a few quotes from the leading providers of Medicare Advantage insurance plans.
Medicare Supplement (Medigap) Savings in Paterson, NJ
Medicare Supplement insurance, also known as Medigap, is the more common method that Paterson seniors are currently using to improve their access to healthcare. That's true for a variety of reasons that you'll soon learn. Each of the ten plans you can choose are designed to help with Medicare Part A coverage gap expenses, which can be incredibly high for patients suffering from chronic health conditions similar to age-related heart and kidney disease. Of course, each plan is different, so let's take a moment to break down these ten plans into two distinct categories.
First, we have Medicare Supplement Insurance Plans A, D, K, and L. These four plans serve primarily to bridge the gap between Medicare Part A coverage gaps and affordable healthcare, making it a great option for seniors suffering from health conditions that require frequent emergency and/or in-patient care. Unfortunately, if you find yourself losing large sums of money to Medicare Part B coverage gaps as well, these four plans won't offer you the optimal level of care that you need.
If you find yourself falling into that situation, you're not alone! Thousands of seniors in your area and tens of thousands across the country are right there with you. What you can do is simply choose from one of the following Medigap plans: B, C, F, G, M, and N. Each of these plans provides not only coverage benefits for Medicare Part A coverage gaps but also the coverage gaps incurred through Medicare Part B. Unfortunately, Medigap Plan F will no longer be available at the start of 2021. In order to continue to receive this level of comprehensive coverage, you will have to hurry up and get grandfathered into Plan F before the deadline or choose one of the other nine Medicare Supplement insurance plans available.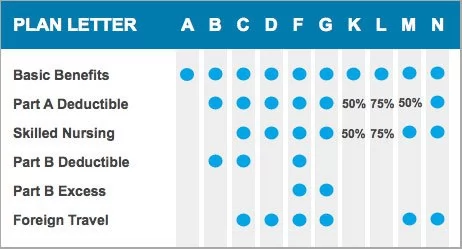 Although Medicare Supplement insurance plans provide a wide array of useful benefits and important financial assistance, they are not without their setbacks. For example, none of the ten existing Medigap plans are capable of providing additional coverage options for dental care, vision care, or prescription drugs. In order to find coverage for that in a plan similar to Medicare, you would have to enroll in a Medicare Advantage plan. On the other hand, you could simply add on private insurance to cover those three categories. For the most part, doing so is relatively simple and hassle-free, requiring only as much as a phone call and costing fewer than $100 per month for most seniors. There is also Medicare Part D for help with prescription drug expenses. Depending on the private plans available in Paterson right now, which change every now and then, you might even be able to enroll in one such plan without waiting for an open enrollment period.
While living in Paterson, New Jersey can be great for a wide variety of reasons, one of those reasons is absolutely not the presence of affordable healthcare options. One way or another, living with Original Medicare can lead seniors to financial ruin and/or result in your loss of your financial or healthcare independence. If you wait, the risk of that happening only increases, so don't take too long. Head over to Medigap.com today and start shopping for the plan that is best for you. If you still have questions, as many people do, feel free to contact one of our experts who will be glad to help. Start by checking out a few quotes below:
| | | | |
| --- | --- | --- | --- |
| Medigap Plan | Minimum Monthly Premium | Maximum Monthly Premium | Average Estimated Monthly Premium (Part B Premium Included) |
| Plan A | $99 | $234 | $302 |
| Plan B | $139 | $290 | $350 |
| Plan C | $165 | $329 | $383 |
| Plan D | $277 | $277 | $413 |
| Plan F | $157 | $314 | $371 |
| Plan F (high deductible) | $48 | $86 | $203 |
| Plan G | $139 | $269 | $340 |
| Plan K | $54 | $124 | $225 |
| Plan L | $78 | $149 | $249 |
| Plan M | $154 | $158 | $292 |
| Plan N | $109 | $225 | $303 |