Are you familiar with Medicare coverage gaps? Essentially, Medicare coverage gaps are medical benefits which the Medicare program won't pay out, even if you file a claim. At that point, the government cuts you off and gives you the "choice" of continuing to pay out of pocket for your healthcare or choosing to go without healthcare altogether. Granted, after paying several thousand dollars every year out of your pocket, Medicare coverage benefits kick back in via what is referred to as "catastrophic" care coverage. However, these costs can prove to be such a financial burden that many seniors, particularly those in Reno, Nevada, can never afford to make it past the coverage gap. Instead, they simply go without care for certain (and usually expensive) medical procedures. Let's take a brief look at some of the numbers to better understand exactly how many seniors in the Reno area are forced to go without healthcare benefits.
Facts and Figures
There are currently 34,637 seniors living in Reno, Nevada.
There are a total of only 11 hospitals in the Reno area where seniors can go to receive emergency or in-patient care.
35% of seniors in Nevada have a Medicare Advantage plan.
13% of seniors in Nevada have a Medicare Supplement (Medigap) insurance plan.
This means that 52% of seniors in Reno are potentially uninsured or underinsured against costly Medicare coverage gaps!
The numbers above show that more than half of the seniors in Reno, Nevada either are content with their Original Medicare coverage or don't have access to the healthcare that they both need and deserve. However, the latter will only worsen with age and the former will likely change as the population grows older. This is because of what healthcare professionals refer to as "age-related illnesses," which are illnesses and diseases with symptoms that become more frequent and/or severe over time. When confronted with the fact that seniors in Reno have more than a one in five chance of developing arthritis, the seniors who lack proper access to affordable healthcare quickly tend to re-evaluate their financial priorities. The chart below describes the prevalence of a few of the most common age-related illnesses in the population aged 65 and older in your community.
| | |
| --- | --- |
| Disease | Prevalence in Reno, NV |
| Arthritis | 23% |
| High Blood Pressure | 27% |
| Coronary Heart Disease | 6% |
| Diabetes | 9% |
| Kidney Disease | 3% |
Healthcare Costs in Reno, NV
Unfortunately, as the symptoms of these age-related illnesses worsen over time, so too do the costs of treatment for those conditions. The reason for this is relatively straight forward but bears some looking into: more doctor's visits with greater pain and suffering equates to spending more money to pay for those doctor's visits as well as the various tests and treatments used to both monitor and treat your condition. Furthermore, advances in modern medical technology are enabling seniors to live longer and longer with each passing year full of scientific innovation. Unfortunately, the downside of that is that the frequency and severity of age-related illnesses is able to increase more than ever before.
| | | |
| --- | --- | --- |
| Disease | Prevalence in Reno, NV | Annual Cost of Treatment |
| Arthritis | 23% | $280 |
| High Blood Pressure | 27% | $288 |
| Coronary Heart Disease | 6% | $11,627 |
| Diabetes | 9% | $2,158 |
| Kidney Disease | 3% | $12,188 |
Medicare Advantage Savings in Reno, NV
For many seniors, these increased costs are the exact opposite of what they were expecting when they first entered retirement. After a lifetime of paying into the Medicare program with politicians promising that their money will be used to pay for retirement, 52% of seniors in Reno were faced with the unfortunate truth: Medicare doesn't cover everything. Medicare Advantage plans, on the other hand, strive to. In fact, Medicare Advantage plans are required by law to cover everything that is promised under Original Medicare. Moreover, providers of these plans (i.e., private insurance companies, not the government) typically give customers the option to pay a little extra in premiums in order to receive additional benefits. Of course, thanks to government picking up the slack, the "little extra" that you'll have to pay can typically amount to $0 in monthly premiums.
This means that you might only have to pay a whopping $0 in order to start saving money on everything from medical expenses to prescription drugs and medical equipment, benefits that Original Medicare typically falls short of providing. If you're like most seniors, the prescription drug coverage alone can save you quite a bit of money each and every month. However, the addition of the medical equipment coverage further enables seniors with chronic health conditions, such as diabetes and arthritis, to better stock their homes with important, life-saving necessities. With Medicare Advantage, you would no longer have to spend your nights wondering whether or not you're going to be able to afford more testing strips or new glucose monitors. In fact, Medicare Advantage plans that cover these necessities can help you save thousands of dollars each year, depending on the state of your illness.
In addition to the savings that Medicare Advantage can bring you in the form of medical and prescription drug coverage, most providers also offer the option to include dental and vision care coverage. Let's face it, just because you're retired doesn't mean you don't like the look and feel of pearly white teeth. Of course, even if you do, how are you going to see them if you have to pay hundreds of dollars out of pocket to buy new glasses? These are two aspects of your life that you wouldn't have to worry about with Medicare Advantage but that would pose significant financial hurdles if you had either Medicare Supplement insurance or Original Medicare. Of course, there are ways for people with Medigap to get vision coverage, but we'll get to that in a second. First, check out a few quotes from several of the top providers of Medicare Advantage plans below.
Medicare Supplement (Medigap) Savings in Reno, NV
Although Medicare Supplement insurance, also known as Medigap, doesn't provide the wealth of benefits and coverage avenues that Medicare Advantage provides, it is nonetheless a valuable tool for helping improve seniors' access to affordable and effective healthcare. All in all, there are ten primary plans that Medigap providers will offer, each of them supplementing rather than replacing Original Medicare (hence the phrase, "Medicare Supplement insurance"). Each of them is different and unique in their own, which highlights the importance of speaking to a Medigap expert before making your selection. In general, however, all Medigap plans specialize in assisting with hospital costs and other Medicare Part A expenses, which can be exorbitantly costly for seniors who suffer from chronic health conditions. In Reno, this means about one in five (or just shy of 7,000) seniors, more than half of whom don't have proper healthcare coverage.
The first four plans that we'll look at are Medicare Supplement insurance Plans A, D, K, and L. Each of these can play a vital role in improving the enrollee's access to affordable hospitalizations and in-patient care; however, that's pretty much all these plans do. Neither Plans A, D, K, nor L assist with any costs other than those pertaining to Medicare Part A expenses. This can be quite helpful for you if you're only looking for help covering your Medicare Part A difficulties, but there are few seniors who fall purely into the Medicare Part A coverage gap without also falling into the Medicare Part B coverage gap.
In order to get coverage to secure financial assistance for both Medicare Part A and Medicare Part B expenses with Medicare Supplement insurance, you're going to have to select one of the other six plans: Plan B, C, D, F, G, M, or N. Each of these plans, like with the aforementioned four above, bear subtle differences to one another. These differences are typically reflected in their pricing. While these plans might work quite well, they are, unfortunately, under constant pressure for change by the federal and most state governments. In fact, after 2020, Medigap Plan F, one of the most expensive and comprehensive Medigap plans, will no longer be available. Talk to your insurance provider to see if being enrolled or enrolling in Plan F before 202 will get you grandfathered into your policy; if not, call and speak to a Medigap professional today in order to figure which of the other nine plans could best suit your needs.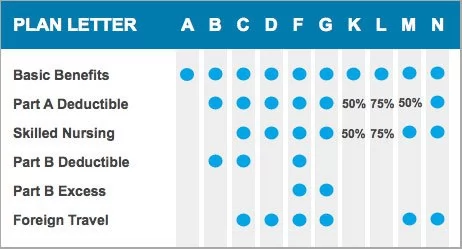 Unfortunately, the primary setback of all Medicare Supplement insurance plans is that they do not have the option to provide prescription drug, dental, or vision plans. This is the primary difference between Medigap plans and Medicare Advantage plans. Of course, if you are in love with your Medigap coverage plan and don't want to see it go, you will be glad to know that prescription drug, vision, and dental coverage are among the cheapest options available on the private market. In many cases, you can even purchase all three of these coverage options for well under $100 per pay period. But these prices will vary based on location, so be aware of that when you shop around.
If you've read this far, then congratulations! You're on the right track to taking back control of your life, your health, and your financials. Our healthcare system is confusing and expensive at any age – and it'll only get worse as time goes on. If you want to get ahead of the game, head over to Medigap.com and start looking for affordable plans today.
| | | | |
| --- | --- | --- | --- |
| Medigap Plan | Minimum Monthly Premium | Maximum Monthly Premium | Average Estimated Monthly Premium (Part B Premium Included) |
| Plan A | $83 | $260 | $307 |
| Plan B | $123 | $296 | $345 |
| Plan C | $135 | $337 | $372 |
| Plan D | $129 | $203 | $302 |
| Plan F | $117 | $277 | $333 |
| Plan F (high deductible) | $28 | $80 | $190 |
| Plan G | $102 | $205 | $289 |
| Plan K | $46 | $107 | $212 |
| Plan L | $76 | $151 | $249 |
| Plan M | $122 | $175 | $284 |
| Plan N | $94 | $158 | $262 |