With so few seniors living in Germantown, you can have most of the great amenities that it has to offer all to yourself. Since there are two hospitals in Germantown and multiple medical centers in the surrounding area, that means virtually unlimited access to healthcare. Unfortunately, Medicare coverage gaps make it so that your healthcare can cost you a pretty penny. Medicare coverage gaps are those specific benefits which Medicare will not pay for no matter what, meaning that you can end up spending thousands of dollars in out of pocket expenses every year. If derailing your entire retirement savings and being forced back into the workforce is not something that you're looking to do, then you're in luck. Through either a Medicare Advantage or Medicare Supplement Insurance plan, you can safely avoid those costly Medicare coverage gaps.
Facts and Figures
There are 6,425 seniors living in Germantown right now.
There are 2 hospitals in the Germantown area where seniors can get emergency and/or in-patient care.
11% of Maryland seniors have a Medicare Advantage plan.
21% of Maryland seniors have a Medicare Supplement (Medigap) plan.
Which leaves 68% of seniors potentially uninsured or underinsured against costly Medicare coverage gaps!
For every ten seniors you know, the odds are that seven of them lack the level of insurance that they need in order to enjoy reliable access to the affordable healthcare that they both need and deserve. If you happen to be one of those seven seniors to whom this applies, then there is more bad news to come. As you age, your risk of developing new symptoms of an existing age-related illness increases alongside your risk of developing new symptoms of an age-related illness that you have not had diagnosed. To make matters worse, the risk of your symptoms worsening in both frequency and severity also increases, turning once-mild symptoms into a nightmare to live with. Without proper treatment, you can wind up losing every last shred of your financial and personal independence. The chart below showcases just how prevalent a few of the most common age-related illnesses are in the Germantown area.
| | |
| --- | --- |
| Disease | Prevalence in Germantown, MD |
| Arthritis | 28% |
| High Blood Pressure | 39% |
| Coronary Heart Disease | 6% |
| Diabetes | 13% |
| Kidney Disease | 3% |
Healthcare Costs in Germantown, MD
Even if you are able to receive treatment for your worsening symptoms as well as your new symptoms, the costs of said treatment are bound to increase. To put it simply, new or worsening symptoms means more doctor visits, which in turn means more out-of-pocket expenses as a result of the Medicare coverage gaps. Even if you manage to secure a miracle and avoid experiencing any changes in your symptoms, your healthcare costs will likely increase with each passing year as a result of rising medical costs. Although economists are uncertain about what exactly is causing these medical costs to rise, they tend to agree on one thing: rising medical costs mean higher healthcare costs for consumers. That includes you and every other senior in your position. Without proper insurance, you could wind up covering the majority of your healthcare needs on your own, meaning that they will have to be handled out-of-pocket.
| | | |
| --- | --- | --- |
| Disease | Prevalence in Germantown, MD | Annual Cost of Treatment |
| Arthritis | 28% | $291 |
| High Blood Pressure | 39% | $354 |
| Coronary Heart Disease | 6% | $8,309 |
| Diabetes | 13% | $2,163 |
| Kidney Disease | 3% | $6,844 |
Medicare Advantage Savings in Germantown, MD
Medicare Advantage plans are private plans that replace your government-managed Original Medicare plan. The law still requires that these plans provide the same level of coverage as Original Medicare, but that's only a minimum. In order to appeal to as many potential beneficiaries as possible, providers of Medicare Advantage plans tend to offer additional coverage options in exchange for higher premiums. Since the government takes care of all or most of your premiums, you can actually enjoy those additional benefits while footing none of the costs. That means that you could add a wide variety of coverage options to your array of healthcare benefits while still only paying $0 per payment period.
One of the most common additional coverage options that seniors tend to add to their Medicare Advantage plans is prescription drug coverage. Medicare Advantage prescription drug coverage can often be so comprehensive as to cover just about every kind of prescription medication that you need. Moreover, they tend to also offer coverage options related to minor medical equipment such as glucose monitors and testing strips. That means that, if you suffer from arthritis, high blood pressure, and/or diabetes and require a large number of prescription medications, you could save thousands of dollars over a five-year period and tens of thousands of dollars over a ten-year period by enrolling in a Medicare Advantage plan with prescription drug coverage added on.
In order to save even more money on your healthcare needs, you can add vision and dental care coverage directly to your Medicare Advantage plan. Since both Original Medicare and Medicare Supplement Insurance provide barely any form of vision or dental care coverage benefits whatsoever, the benefits to be found in Medicare Advantage are significantly better for most seniors. Moreover, Medicare Advantage is the only plan that allows seniors to add vision and dental coverage directly to their plan. While on either of the other two insurance plans, you'll have to seek vision and dental coverage by other means.
Medicare Supplement (Medigap) Savings in Germantown, MD
Unlike Medicare Advantage, Medicare Supplement plans supplement your Original Medicare rather than replacing it entirely. These plans are designed to provide protection from Medicare coverage gaps without overhauling your entire Original Medicare coverage plan. For example, every single one of the ten available Medicare Supplement plan types provides coverage options related to Medicare Part A coverage gaps, which can be particularly difficult for seniors suffering from age-related heart and/or kidney disease to pay. That being said, each plan provides a different array of coverage options. To help you better understand what each plan does, we've divided them into two categories.
The first category includes those Medicare supplement plan types designed to help with Medicare Part A coverage gaps: Medigap Plans A, D, K, and L. Whether you're looking to improve your access to hospitalizations, blood transfusions, skilled nursing care, or another treatment covered by Medicare Part A, you're probably going to enjoy one of these plans quite substantially. That being said, these plans will not great options for you if you also or only suffer from Medicare Part B coverage gaps. In order to receive coverage for those gaps, you'll have to look into one of the remaining Medigap plans.
The second category includes those Medicare Supplement plan types designed to help with Medicare Part A coverage gaps as well as Medicare Part B coverage gaps: Medigap Plans B, C, F, G, M, and N. These plan types make it possible to enjoy worry-free access to many of the same benefits as the plan types in the first category, with the added addition of emergency care and other treatments listed under Medicare Part B. Unfortunately, Medigap Plan F, a favorite for many seniors is going to be discontinued at the end of 2020 for all new enrollees. That means that you'll have to enroll in one of the other plan types in this category in order to experience a similar level of coverage.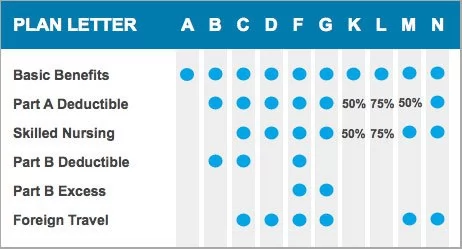 As mentioned earlier, you won't be able to add vision or dental care coverage directly to your Medicare Supplement Insurance plan. The same goes for prescription drug coverage. That being said, you will have more than enough opportunities to add those coverage options directly to your plan. For vision and dental coverage, all you have to do is contact a local provider who services the Germantown area. Then, you can simply read through their plan types and select the one that is best for you. Best of all, vision and dental insurance plans are not subject to the same open-enrollment requirements as health insurance, so you can enroll in them at any time of the year. Receiving prescription drug coverage is similarly simple. All you have to do is enroll in Medicare Part D prescription drug coverage. That way, you won't have to worry about going without the prescriptions that you need.
In the face of rising medical costs and the development of new or worsening symptoms, finding the right insurance plans is more important than ever before. The longer you wait, the longer you risk the devastation of your retirement savings accounts, the whittling away of your health, and the loss of your independence. So don't wait! Head over to Medigap.com today and get started finding the plan that is right for you. You future self will thank you!
| | | | |
| --- | --- | --- | --- |
| Medigap Plan | Minimum Monthly Premium | Maximum Monthly Premium | Average Estimated Monthly Premium (Part B Premium Included) |
| Plan A | $98 | $270 | $320 |
| Plan B | $126 | $292 | $345 |
| Plan C | $159 | $303 | $367 |
| Plan D | $156 | $207 | $317 |
| Plan F | $151 | $344 | $383 |
| Plan F (high deductible) | $31 | $94 | $198 |
| Plan G | $126 | $310 | $354 |
| Plan K | $58 | $151 | $240 |
| Plan L | $92 | $241 | $302 |
| Plan M | $129 | $284 | $342 |
| Plan N | $100 | $240 | $306 |