Shreveport has all of the main cultural and educational opportunities in the Ark-La-Tex region, making it a phenomenal place to spend your retirement. However, it is not without its fair share of setbacks and shortcomings. For instance, only half of the seniors in the Shreveport area are fully protected against the dreaded Medicare coverage gaps that we hear so much about. These gaps include things like custodial care, copays, coinsurance, and more. Most seniors naively believe that Original Medicare will take care of everything – and then get devastated when they find out that's not the case. That's why it's so imperative to purchase a good Medicare supplement insurance policy.
Facts and Figures
As of right now, there are 27,592 seniors living in Shreveport, Louisiana.
There are 10 hospitals in the Shreveport area where seniors can go to receive emergency and/or in-patient care.
33% of seniors in Louisiana have a Medicare Advantage plan.
17% of seniors in Louisiana have a Medicare Supplement (Medigap) plan.
That leaves 50% of seniors potentially uninsured or underinsured against costly Medicare coverage gaps!
One out of every two seniors in the Shreveport area struggle to obtain reliable and affordable access to healthcare treatment options. That means that there are just about 13,796 seniors who either don't have enough insurance or don't have any insurance at all. For those seniors, Original Medicare is all that they have. Such a plan might serve them just fine in early retirement, but as their health worsens and their need for more and better healthcare increases, Original Medicare can bankrupt them and strip them of their financial and medical independence. The risks of suffering these negative consequences don't get any better with age, either. Instead, as you age, your risk of developing additional age-related illnesses actually increases. The chart below shows a few of these age-related illnesses and their prevalence in the Shreveport area.
| | |
| --- | --- |
| Disease | Prevalence in Shreveport, LA |
| Arthritis | 29% |
| High Blood Pressure | 44% |
| Coronary Heart Disease | 8% |
| Diabetes | 15% |
| Kidney Disease | 4% |
Healthcare Costs in Shreveport, LA
Age-related illnesses don't just become more common in seniors as they age, but the symptoms also become more frequent and more severe, generating an increased need for more complex and more urgent treatment options. For seniors hamstrung by Medicare coverage gaps, that need for more treatment can lead to thousands upon thousands of dollars in additional out-of-pocket expenses each year. Thanks to the fact that modern advancements in healthcare technology have enabled seniors to enjoy longer and happier lives, the costs incurred by worsening age-related illnesses have a longer time frame to increase now than ever before. Without either a Medicare Advantage plan or a Medicare Supplement plan, these costs can build up to a point at which your returns on your retirement savings accounts can't keep up, leading many seniors to rely on their children for financial help. A few seniors even have to rejoin the workforce in order to cover the annualized costs. Shown below are a few lower estimates.
| | | |
| --- | --- | --- |
| Disease | Prevalence in Shreveport, LA | Annual Cost of Treatment |
| Arthritis | 29% | $291 |
| High Blood Pressure | 44% | $354 |
| Coronary Heart Disease | 8% | $8,904 |
| Diabetes | 15% | $2,163 |
| Kidney Disease | 4% | $7,683 |
Medicare Advantage Savings in Shreveport, LA
After being told that your Medicare benefits are going to be suspended for a short period of time, oftentimes right when you need them the most, most seniors develop a quick and ferocious dislike of Medicare. Because of that dislike, they often refuse to look into Medicare Advantage plans, hence why only a 33% of Luisiana's seniors have one. However, it is important to note that Medicare Advantage is not a Medicare plan. Rather, it is a privately owned and operated plan that totally replaces your government-controlled Medicare plan. These plans are required by law to provide the same baseline of coverage options but – in order to maintain their competitive edge – also typically offer a wide variety of additional coverage options as well. These additional options can sometimes be quite pricey; however, if you go through the right channels, it is entirely possible that you could end up paying $0 per month.
One of the additional coverage options that many seniors spring for is the optional prescription drug coverage. This is an option for almost any senior looking to enroll in a Medicare Advantage plan and can typically be altered or customized in order to best suit your needs, although the specifics of the coverage options and benefits will tend to vary from provider to provider. Some providers will only cover generic prescriptions, whereas others will go so far as to extend coverage to all prescription options as well as medical tools and technologies, such as glucose monitors and testing kits. The versatility of these comprehensive care plans tend to be perfectly suited for seniors suffering from severe and chronic health conditions, whereas they can be a bit of an overkill option for others.
Medicare Advantage plans can enable you to save even more money if you opt into your provider's dental and vision care coverage as well as the more standard healthcare coverage. These plans tend to cover just about whatever you need, with a few variations from state to state and provider to provider. It is important to note that neither Original Medicare nor Medicare Supplement insurance plans are capable of offering this level of comprehensive care, meaning that you are only likely to receive prescription drug, dental, and vision care coverage as either a part of your Medicare Advantage plan or as part of another supplemental plan. We'll discuss the specifics of that phenomenon after explaining in detail what Medicare Supplement insurance is. But first, take a look at a few quotes from some of the most competitive providers of Medicare Advantage plans on the market.
Medicare Supplement (Medigap) Savings in Shreveport, LA
Unlike Medicare Advantage plans, Medicare Supplement (also known as Medigap) insurance plans do not replace your existing Medicare. Rather, they supplement it, adding additional coverage options on top. Whereas Medicare Advantage can be seen as sending the meal back to be replaced by a new order, Medicare Supplement insurance can be seen as adding additional layers onto a cake in order to get it to the size that you need. These plans tend to be limited by their lack of ability to customize improvements to the existing Medicare coverage options, however, since they are supplements to the existing coverage rather than replacements. In general, these plans come in one of two categories with ten plans in total.
The first four plan types that you should know about are Medicare Supplement insurance Plans A, D, K, and L. These four plans provide significant improvements to Medicare Part A and effectively render Medicare Part A coverage gaps moot. Medicare Part A coverage gaps, in Original Medicare, can be exceptionally high in patients who suffer from chronic kidney or heart disease, making this one of the best potential options for you, if you're suffering from a similar condition. However, it is important to note that neither of these four plans provide any benefit to seniors with low Medicare Part A expenditures and high Medicare Part B expenditures, because these four plans are designed to cover Medicare Part A and only Medicare Part A.
If you need a healthcare option that bridges the coverage gaps inherent in both Medicare Part A and Medicare Part B, then you'll want to look at Medicare Supplement insurance plans B, C, F, G, M, and N. These plans are designed to cover not only Medicare Part A but also Medicare Part B coverage gaps so that you don't have to worry about going over on either. Unfortunately, one of the more preferable plan types, Medigap Plan F, is being discontinued in 2021. In order to obtain Plan F benefits, you are going to have to consider a similar Medigap plan, or enroll in Plan F before the deadline in order to get grandfathered in.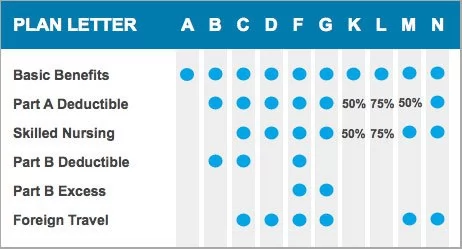 As we mentioned earlier, only Medicare Advantage plans can provide coverage for prescription drugs, dental care, and vision care. You might now be wondering how you can obtain that coverage with a Medigap plan. The short answer is that you can't, but the long answer is that you don't have to. There are plenty of third-party insurance providers who are willing to enable you to enroll in supplemental insurance plans that provide prescription drug coverage, dental care coverage, and even vision care coverage without impacting your Original Medicare eligibility or your Medicare Supplement insurance.
If you're still unsure of how Medicare Advantage or Medicare Supplement insurance works or which of the two is right for you, then don't worry. You're not alone in your confusion. Thousands of other seniors in the Shreveport area suffer from the same lack of information. Fortunately, information is only a click away. Head over to Medigap.com today and begin speaking with the experts to gain the clarity and information that you both need and deserve. Take back control of your future today, before it's too late.
| | | | |
| --- | --- | --- | --- |
| Medigap Plan | Minimum Monthly Premium | Maximum Monthly Premium | Average Estimated Monthly Premium (Part B Premium Included) |
| Plan A | $83 | $201 | $278 |
| Plan B | $106 | $261 | $319 |
| Plan C | $128 | $286 | $343 |
| Plan D | $104 | $254 | $315 |
| Plan F | $128 | $348 | $374 |
| Plan F (high deductible) | $38 | $82 | $196 |
| Plan G | $105 | $246 | $311 |
| Plan K | $46 | $97 | $207 |
| Plan L | $75 | $132 | $239 |
| Plan M | $100 | $163 | $267 |
| Plan N | $92 | $206 | $285 |