Nampa, Idaho can be a great place to live. Between the city's close proximity to great natural beauties and the high-quality schools in the area, it's a wonder anybody leaves. That is, it's a wonder until you begin to look at the quality of healthcare in the area. For a little less than half of the seniors in the Nampa area, healthcare isn't a concern. They have coverage, they have healthcare, and they don't have to pay out of pocket. But that's not true for all seniors in Nampa. If you're like 55% of other seniors in the area, then you might not have the luxury of seeing a doctor whenever your symptoms flare up. Even if you do, you might find that you're caught in a Medicare coverage gap which requires you to pay for your medical expenses out-of-pocket. If this does describe you, then you should know that you're not alone. Let's take a quick look at the facts at hand.
Facts and Figures
There are 12,111 senior citizens living in Nampa right now

There are 5 hospitals in the Nampa area where seniors can get emergency and/or in-patient care

31% of Idaho seniors have a Medicare Advantage plan

24% of seniors have a Medicare Supplement (Medigap) plan

Which leaves 45% of seniors potentially uninsured or underinsured against costly Medicare coverage gaps!
As you can tell from the data above, nearly half of all seniors in Nampa either lack consistent access to healthcare or lack any access to healthcare whatsoever. For most of these seniors, securing the treatments that they both need and deserve is simply impossible, typically leaving them with the "choice" to either take out extra disbursements from their retirement savings in order to just barely cover the out-of-pocket costs of their treatments or to go without treatment altogether. In and of itself, this is an awful situation, but it gets even worse. As people age, their risk of being diagnosed with one or more age-related illnesses increases exponentially. The chart below showcases five of the most common age-related illnesses and their prevalence among Nampa's senior population.
| | |
| --- | --- |
| Disease | Prevalence in Nampa |
| Arthritis | 23% |
| High Blood Pressure | 29% |
| Coronary Heart Disease | 6% |
| Diabetes | 10% |
| Kidney Disease | 3% |
Healthcare Costs in Nampa, ID
The worst part about age-related illnesses is that the pain doesn't stop once you're diagnosed. When the treatments begin, they can only treat these illnesses. For the most part, there is no ability to permanently cure an age-related illness because most of them are the result of the aging process. What can change as you age, however, is the frequency and severity of the symptoms of those age-related illnesses. Unfortunately, the frequency and severity of age-related symptoms typically do not change for the better. As you grow older, your need for additional treatments to mitigate the pain of these symptoms increases and so too does the amount of money necessary for financing these treatments. Because seniors are living longer lives now than ever before, age-related illnesses have more time to worsen and seniors have more time to develop additional illnesses, further increasing the annual cost of treatment.
| | | |
| --- | --- | --- |
| Disease | Prevalence in Nampa | Annual Cost of Treatment |
| Arthritis | 23% | $291 |
| High Blood Pressure | 29% | $354 |
| Coronary Heart Disease | 6% | $9,781 |
| Diabetes | 10% | $2,163 |
| Kidney Disease | 3% | $8,863 |
Medicare Advantage Savings in Nampa, ID
One of the most effective options you have at your disposal to combat these high annual costs is Medicare Advantage. These plans are privately owned and privately operated. Moreover, these plans are required by law to provide the same basic benefits as Original Medicare plans, meaning that you won't have to worry about losing any of the coverage options that you enjoy when you switch over. In order to remain competitive and gain business, Medicare Advantage insurance providers often offer additional options, most of which result in a total monthly payment of $0, assuming you're able to get the right government subsidies.
One such additional benefit is the addition of prescription drug coverage to your healthcare armory. These benefits can be as comprehensive or as simplistic as you need, based on what you're willing to pay (keep in mind that the government will step in and help you out with your premiums, enabling you to receive top-of-the-line quality at low to no prices at all). Typically, these prescription drug plans cover mostly generics, but there are a few on the market that are so comprehensive as to enable no-cost usage of name brand medications. Moreover, these plans can enable seniors with chronic illnesses, such as heart or kidney disease, save thousands upon thousands of dollars in the longer 5- and 10-year terms by covering their medical equipment as well.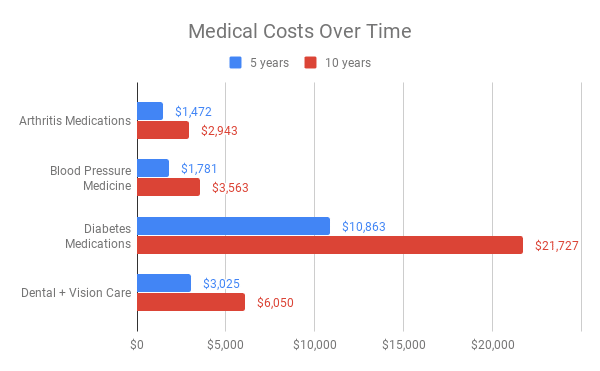 Medicare Advantage plans can enable you to save even more money if you opt into your provider's dental and vision care coverage as well as the more standard healthcare coverage. These plans tend to cover just about whatever you need, with a few variations from state to state and provider to provider. It is important to note that neither Original Medicare nor Medicare Supplement insurance plans are capable of offering this level of comprehensive care, meaning that you are only likely to receive prescription drug, dental, and vision care coverage as either a part of your Medicare Advantage plan or as part of another supplemental plan. We'll discuss the specifics of that phenomenon after explaining in detail what Medicare Supplement insurance is.
Medicare Supplement (Medigap) Savings in Nampa, ID
The primary difference between Medicare Advantage plans and Medicare Supplement (Medigap) plans is that the former entirely replaces your Original Medicare plan, whereas the latter only serves to supplement your Original Medicare plan. That means that, with Medicare Advantage, you would have only one healthcare provider, and that's it. However, with Medigap insurance, you would have two providers: the United States government and the private company providing your additional supplemental insurance options. In general, there are only ten options from which to choose when it comes to Medigap insurance, further widening the divide between the three forms of insurance. Each of these ten plans then falls into one of two categories.
The first few Medicare Supplement insurance plans are referred to as Medigap Plans A, D, K, and L. Each of these plans provides a different set of benefits and coverage options while sharing the same primary goal: bridging the coverage gap for seniors struggling to pay high Medicare Part A expenses. Medicare Part A expenses are typically highest among seniors with diseases such as chronic heart or kidney disease because those two diseases tend to require more advanced emergency and/or in-patient treatment options. See the chart below for more details.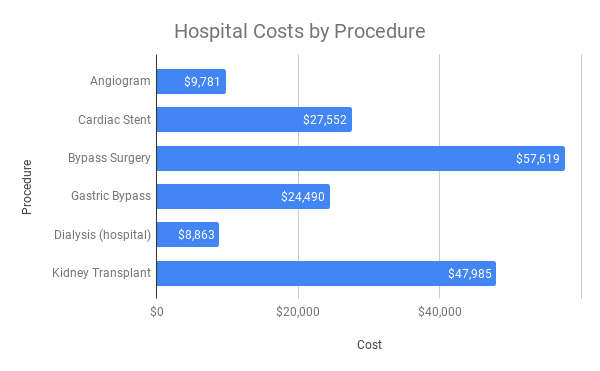 The second category of Medigap plans includes Medicare Supplement insurance Plans B, C, F, G, M, and N. These plans provide benefits for both Medicare Part A and Medicare Part B coverage gaps, enabling seniors who find themselves spending large, out-of-pocket sums on both parts to save potentially thousands of dollars each year, leading to a happier and healthier retirement. Unfortunately, one of the most common Medigap plans, Medigap type F, will no longer be available for purchase after 2020. In order to receive a comparable level of healthcare, seniors who want Medigap Plan F but won't turn 65 and be eligible for Medicare until after 2021 will have to purchase a similar plan, like Plan G or Plan C.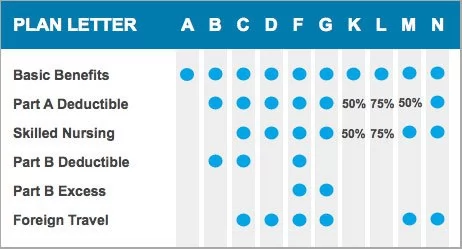 As mentioned earlier, Medicare Supplement Insurance plans do not provide any additional benefits related to dental or vision care coverage. These plans also provide no additional benefits related to prescription drug coverage. That means that there is no way to improve upon either of these three areas of coverage with the addition of a simple Medigap plan. That said, there are other ways to ensure that you receive the coverage that you both need and deserve. The most common of which is to simply reach out to a private healthcare provider and purchase vision and dental through their marketplace. Typically, this can be done all in the same bundle for less than $100 per payment period. Most seniors who choose to stay enrolled in Medicare will have to sign up for Medicare Part D for their prescription drug coverage, but you may have other local options depending on where you live.
At the end of the day, through struggle and strife of constantly worrying whether or not you're going to find yourself lost in a sea of coverage gaps, there is one thing that you need to remember: you've earned this! You didn't spend your life paying Medicare taxes just for the government to abstain from helping you pay for your most expensive healthcare needs. So what are you waiting for? Take back control of your financial future today by logging into Medigap.com and shopping for the plan that is best for you. Your future self with thank you for your future health.
| | | | |
| --- | --- | --- | --- |
| Medigap Plan | Minimum Monthly Premium | Maximum Monthly Premium | Average Estimated Monthly Premium (Part B Premium Included) |
| Plan A | $89 | $260 | $310 |
| Plan B | $119 | $244 | $317 |
| Plan C | $141 | $296 | $354 |
| Plan D | $130 | $242 | $322 |
| Plan F | $142 | $307 | $360 |
| Plan F (high deductible) | $31 | $105 | $204 |
| Plan G | $119 | $246 | $318 |
| Plan K | $54 | $140 | $233 |
| Plan L | $97 | $164 | $266 |
| Plan M | $119 | $218 | $304 |