If you are a Jacksonville, FL senior approaching 65 or you have already enrolled in Medicare, welcome to the complicated, and sometimes scary world of senior healthcare in America. You already know the cost of healthcare in Jacksonville has gone up and there's no indication that it's going to go down anytime soon. That can be really bad news if you are counting on Original Medicare (OM) exclusively for your health insurance. Medicare has a bunch of gaps thanks to sizable coinsurance, copay, and deductible requirements. You are going to be facing some financial challenges. But there are affordable solutions and we will try to share enough information with you to get a good idea of how to plan for your health insurance throughout your retirement years.
Facts and Figures
There are 114,797 senior citizens living in Jacksonville right now
There are 10 hospitals in the Jacksonville area where seniors can get emergency and/or in-patient care
42% of Florida seniors have a Medicare Advantage Plan
19% of seniors have a Medicare Supplement Plan
Which leaves 39% of seniors potentially uninsured or underinsured against costly Medicare coverage gaps!
Younger seniors like you may still be telling yourself you're in prime condition and just as good as you've always been. Then the grandkids come for a weekend visit and after they leave you are exhausted and have aching muscles. A fact of life that we don't like to admit, is as we age we get weaker and our immune systems aren't as potent as they used to be. The term "chronic disease" may slip into your next conversation with your doctor. Seniors are susceptible to conditions that are not specifically age related, but because we can't fight them off as well as younger people, are more prevalent in seniors. You might be surprised how many of your fellow Jacksonville seniors have chronic disease. Check out the chart below. Surprised?
| | |
| --- | --- |
| Disease | Prevalence inJacksonville |
| Arthritis | 23% |
| High Blood Pressure | 35% |
| Coronary Heart Disease | 7% |
| Diabetes | 12% |
| Kidney Disease | 3% |
Healthcare Costs in Jacksonville, FL
Developing a chronic disease has a very real financial downside for seniors. These diseases can't be cured but they can be controlled. Controlling a chronic disease almost always includes a drug therapy and minor medical monitoring devices. Those items cost money. And they call these diseases "chronic" because they are persistent and don't go away. Neither do the costs of controlling them. Over time, your "chronic costs" can add up to a significant amount. Check out the chart below to get an idea of just how expensive these diseases can be on an annual basis. The chart shows the cost today, but drug costs tend to go up every year meaning your cost will go up every year. Toss in the fact that we are living longer than our parents and the financial challenge of controlling chronic disease increases. If you are relying on Medicare alone, you will be responsible for paying these costs yourself. Medicare does not have a prescription drug plan as part of Original Medicare. Fortunately, you do have options.
| | | |
| --- | --- | --- |
| Disease | Prevalence in Jacksonville | Annual Cost of Treatment |
| Arthritis | 23% | $280 |
| High Blood Pressure | 35% | $356 |
| Coronary Heart Disease | 7% | $9,079 |
| Diabetes | 12% | $2,166 |
| Kidney Disease | 3% | $7,795 |
Medicare Advantage Savings in Jacksonville, FL
Medicare has a number of serious gaps in its coverage and it knows it. To assist in filling those gaps, Medicare authorized the formation of Medicare Advantage (Part C) plans to be operated by private insurance companies. These plans contract with Medicare to provide, at a minimum, all the benefits of Medicare for a flat rate per subscriber. But in order to make these plans profitable, they almost all provide significantly more benefits than Medicare. That sounds counterintuitive but the objective of a Medicare Advantage plan is to keep you as healthy as possible in order to reduce spending on the really expensive stuff like heart attacks and surgeries. They do this by organizing effectively and focusing on preventive medicine and that results in providing "extra" benefits like a prescription drug plan. They use networks of providers (including hospitals) much like HMOs and PPOs to control costs. While these plans will almost always provide better coverage than Medicare, they are highly localized and the exact benefits you'll get may vary county to county even with the same company. These plans are operated by private companies and your medical bills will be paid entirely by them, not Medicare. In some counties these plans are offered for zero premium so there is no additional cost to belong to them.
We talked briefly about the expenses associated with chronic disease and how they can be a "financial death by a thousand cuts" because of their persistent nature. That's one area you won't have to worry about with a Medicare Advantage plan. Almost all plans provide a comprehensive prescription drug program with a low annual deductible and small copay. Medicare Advantage companies believe it's more profitable to pay for drugs than to have to pay for heart attacks or amputations suffered by members whose condition worsened because they couldn't afford to take their medicine. For example, 10 years of high blood pressure medicine may run $7,920 but a single bypass operation triggered by high blood pressure can cost a quarter of a million dollars. If the operation can be avoided by providing the controlling medication, that's a smart business decision. They hold the same policy when it comes to monitoring equipment like test strips and glucose monitors. These benefits can save a ton for seniors suffering from high blood pressure, diabetes, and arthritis. See the long term costs shown below to see what we mean.
Senior dental and eye health is pretty much ignored by Medicare. There is no coverage unless the event is associated with a covered disease like age related macular degeneration or a facial injury. Medicare Advantage companies believe that both eye and dental care are very real quality of life issues and important to the overall wellness of seniors. Poor dental health can contribute to heart disease. Poor eyesight can result in falls or other accidents. Once again, Medicare Advantage providers would rather pay for preventive dental and eye care than for the heart disease caused by gum disease or fall caused by poor vision. Basic dental exams and annual eye exams and lenses are typical coverages in a Medicare Advantage plan, Original Medicare does not offer the coverage and Medigap plans can't because they are tied to Medicare coverage.
Medicare Supplement (Medigap) Savings in Jacksonville, FL
Medigap, also known as Medicare Supplement, is another alternative to Original Medicare available to Jacksonville, FL seniors. When Medicare authorized the formation of Medigap plans, the idea was for a private company to pick up all or a portion of the many gaps that Original Medicare has. There are 10 approved plans. While some will have overlapping coverages, they all have some feature or coverage that is unique to them. There are 10 different plans to provide enough different designs to meet most of the requirements of a growing and diverse senior population. The Medigap plans can be lifesavers for Jacksonville seniors. Simply walking into a hospital and being admitted cost $1,364 (in 2019) in deductibles. Many of the Medigap plans pick up 100% of that charge. You can only imagine how much an extended stay, as is common with age related kidney and heart diseases, would cost a senior without Medigap coverage.
While most Medigap policies provide some coverage for both Part A and Part B of Medicare, there are some, specifically A, D, K, and L, that focus on Part A (hospitalization). They offer no or partial coverage for Part B. This is an example of a Medigap plan that fits the needs of a specific group of seniors. For example, the Part A coverage only plans may be the right move for healthy seniors who only want to pay for the "big, unexpected event" like a heart attack or being injured in an auto accident. Healthy seniors with the resources to handle Part B copays, which they probably won't use as much as the average person, may find it more cost efficient to only pay for coverage they are likely to use.
Most Medigap policies, like plans B, C, D, F, G, M, and N provide complete or partial coverage for gaps in both Part A and Part B of Medicare. How much they cover and which gaps they cover will vary plan to plan. Some offer more affordable policies by offering lower benefits regarding deductibles, copays, and coinsurance expenses. As a planning note, the high deductible, low cost Plan F will not be available after 2020. Many companies offer Medigap policies. It's important to know that if you decide on a particular plan, the benefits paid will be identical regardless of the companies offering it. The only difference in companies is premium, reputation and service. Finding the plan that covers the gaps that are most appropriate for your personal circumstances can be a challenge. We hope you'll use the information here on Medigap.com to assist you in your search. If you shop for a plan here, you'll get in contact with a specialist who can answer your questions.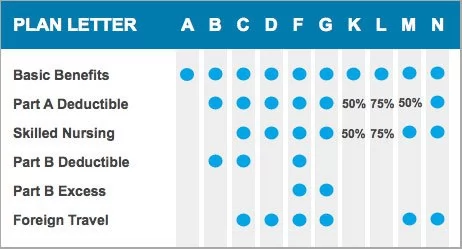 With all the ads on television, online, and cable touting the wonders of pharmaceuticals, it's not surprising that drug therapy and drug treatment is an integral part of the medical care we receive. It also represents a big chunk of the health bill. Making matters worse, chronic diseases – like those seniors are susceptible to – require ongoing drug treatment and of course, ongoing cost. Medicare does not offer coverage for prescription drugs. Because it only deals with benefits offered by Medicare, Medigap policies don't offer drug plans either. That is a big gap that Medigap can't cover. There is an alternative. Medicare Part D is a prescription drug plan offered by authorized private companies. It requires a monthly premium. Other areas that Medicare offers no coverage is dental care and vision health. The answer to these gaps are private insurance policies that are targeted specifically to seniors. Of course going this route requires additional premiums.
So, the takeaway for Jacksonville, FL seniors is you are facing some serious medical care costs if you rely exclusively on Original Medicare. The cost of medical care in Florida and across the country is going up and is not likely to change direction anytime soon. There is some good news. There are plans that can cover all or most of the gaps in Medicare coverage and they are mostly affordable. Each has its pros and cons and you have to invest time fully understanding what the coverages are and how they relate to your personal situation. And of course if you are going to shop Medigap plans, we encourage you to request a quote right here on Medigap.com We're sure you'll find the experience very helpful in your search for senior healthcare insurance.
| | | | |
| --- | --- | --- | --- |
| Medigap Plan | Minimum Monthly Premium | Maximum Monthly Premium | Average Estimated Monthly Premium (Part B Premium Included) |
| Plan A | $157 | $363 | $396 |
| Plan B | $188 | $394 | $427 |
| Plan C | $218 | $500 | $495 |
| Plan D | $239 | $416 | $463 |
| Plan F | $219 | $505 | $498 |
| Plan F (high deductible) | $76 | $179 | $263 |
| Plan G | $203 | $472 | $473 |
| Plan K | $78 | $181 | $265 |
| Plan L | $131 | $256 | $329 |
| Plan M | $231 | $374 | $438 |
| Plan N | $158 | $379 | $404 |