Norwalk, Connecticut is a great place to retire and relax after a lifetime of hard work. But if you aren't careful, all of that hard work – namely, your life savings – could be wiped out due to unexpected medical costs. Most of these costs come from the Medicare coverage gaps which most seniors aren't properly warned about while they prepare for retirement. Luckily, there are simple and affordable ways to secure your finances and purchase the medical coverage you need to protect yourself from these costly coverage gaps. And we want to help you get the coverage you need at the price that is best for you.
Facts and Figures
There are 13,268 senior citizens living in Norwalk right now
There are 3 hospitals in the Norwalk area where seniors can get emergency and/or in-patient care
28% of Connecticut seniors have a Medicare Advantage plan
27% of seniors have a Medicare Supplement (Medigap) plan
Which leaves 45% of seniors potentially uninsured or underinsured against costly Medicare coverage gaps!
Why are these coverage gaps so dangerous, you might be asking? Because of something that is an inevitability for us all: age-related chronic disease. Just take a look at the chart below. Have you been diagnosed with any of those five diseases? Are you taking medications or seeing your doctor more frequently because of them? If not, do any of them run in your family? If you said "yes" to any of those questions, then you need to be concerned about Medicare coverage gaps if you haven't purchased supplemental coverage yet. Because any one of those diseases could end up bankrupting you later in life if you aren't careful.
| | |
| --- | --- |
| Disease | Prevalence in Norwalk |
| Arthritis | 22% |
| High Blood Pressure | 27% |
| Coronary Heart Disease | 5% |
| Diabetes | 8% |
| Kidney Disease | 3% |
Healthcare Costs in Norwalk, CT
Sure, these diseases may seem fairly innocuous while you are relatively young and healthy. You may not have any of them yet, you may not require extra doctor's appointments to manage them, or you may only be on a medication or two. But that doesn't mean the costs won't add up in the future. These diseases are known as progressive diseases, which means that they will get worse over time. You'll need lots of expensive medical care in order to make sure their progression is slow and that it doesn't restrict your quality of life too much. And the cost of that care can be seen in the chart below (but keep in mind these are only optimistic estimates).
| | | |
| --- | --- | --- |
| Disease | Prevalence in Norwalk | Annual Cost of Treatment |
| Arthritis | 22% | $291 |
| High Blood Pressure | 27% | $354 |
| Coronary Heart Disease | 5% | $8,604 |
| Diabetes | 8% | $2,163 |
| Kidney Disease | 3% | $7,996 |
Medicare Advantage Savings in Norwalk, CT
How are seniors like you trying to protect themselves from these costly coverage gaps? Well, 28% have purchased a Medicare Advantage plan in order to take care of their medical needs. The good thing about Medicare Advantage plans is that they are subsidized by the government so you might be able to get your plan for as little as $0 per month. They're also closely regulated by the federal government so that you receive all of the benefits you are owed from the federal Medicare program, even though these plans are technically private insurance. And you also have the option to add extra coverage to your plan in exchange for a slightly higher monthly premium – but most of the time, these extra charges don't make Medicare Advantage plans prohibitively expensive.
You can choose to purchase a Medicare Advantage plan that just offers you the basics, or you can add options such as prescription drugs, dental, or vision to your plan. You may be able to add additional coverage options even beyond that. Many seniors find this an attractive option because it gives them the convenience of managing all of their health care needs through a single health insurance provider. They don't have to worry about juggling multiple insurance policies between multiple insurance companies. And even if Medicare Advantage is a little more expensive than the next best option, sometimes they believe the convenience to be worth it.
But that isn't always the case for everyone. Sometimes, adding all of these options can make the plan prohibitively expensive. Sometimes it may feel like creating a "Cadillac" plan tailored to your specific needs is too cumbersome or complicated to navigate. The truth is the Medicare Advantage offers some really excellent choices for some seniors, but it's not appropriate for everyone. In the event that this more accurately describes your situation, you have another option to fall back on: Medicare Supplement Insurance.
Medicare Supplement (Medigap) Savings in Norwalk, CT
Medigap insurance is almost as popular as Medicare Advantage, with 27% of Connecticut seniors choosing one of these plans instead. So what's the appeal? In short, these plans are smaller, simpler, and usually much more cost-effective when it comes to protecting you from potentially devastating Medicare coverage gaps. Right now, there are 10 plants to choose from – but that will be changing soon (more on that in a minute).
There are four plans for the truly cost conscientious senior which mainly deal with the coverage gaps inherent in Medicare Part A hospital benefits. Those plans are A, D, K, and L. If you are worried about expenses that may come from exhausting your hospital benefits and being stuck with burdensome coinsurance payments for Medicare Part A, among other coverage gaps, one of these four plans is a cost-effective way of protecting yourself from such expenses. The bad news is that neither of these four plans adequately protect you from gaps in Medicare Part B coverage. But if you don't think you need to worry about those particular gaps, settling for one of these four plans could be a great way to save you money because they typically have lower monthly premiums than the other available plans.
But what if you are worried about Medicare Part B coverage gaps? Then you don't have anything to fear. The remaining plans – plans B, C, F, G, M, and N – have got you covered to a certain extent. These plans can protect you not only from all of the gaps in Medicare Part A, but also Medicare Part B gaps like coinsurance for skilled nursing facility care, among other things. The most popular and most comprehensive plan is Medigap Plan F. But 2020 is the final year that new Medicare enrollees are eligible to sign up for it. If you don't get grandfathered into the program now, you will have to settle for a less comprehensive (although less expensive) Medigap plan in the future. So now is the time to act if you want the most comprehensive coverage that money can buy.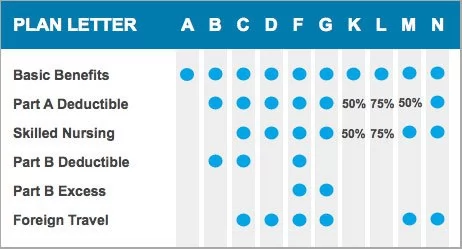 Getting all of your coverage needs met is a little bit trickier with Medigap. Unlike Medicare Advantage, you can't pick and choose which coverages get added to or subtracted from your plan. The plans are sold as is, and are not customizable. To make up for that, they give you 10 different plans to choose from. You are also given the option of finding your own private dental and vision insurance providers near you. You can do this at any time of the year without having to worry about enrollment periods. You may also get lucky and find age-appropriate discounts. If you need help covering your prescription needs, there's Medicare Part D prescription drug coverage. As long as you aren't on an overwhelming number of medications, this is a largely cost-effective way of managing your prescription needs. But even if you do exceed your annual limit, you only have to pay for 25% of your prescription costs before hazard coverage kicks in.
So which option is right for you: Medicare Advantage, or Medigap? If you're not sure how to answer that question yet, that's okay. Insurance options can be confusing, especially for retirees who need more health care than the average American. But that's why we're here. We want to make sure you make the right decision and purchase the coverage you need at a price you can afford. You can email or call us at any time – we're standing by right now, eager and ready to help you.
| | | | |
| --- | --- | --- | --- |
| Medigap Plan | Minimum Monthly Premium | Maximum Monthly Premium | Average Estimated Monthly Premium (Part B Premium Included) |
| Plan A | $147 | $784 | $601 |
| Plan B | $202 | $726 | $600 |
| Plan C | $239 | $573 | $542 |
| Plan D | $221 | $515 | $504 |
| Plan F | $221 | $544 | $518 |
| Plan F (high deductible) | $50 | $90 | $206 |
| Plan G | $119 | $473 | $432 |
| Plan K | $62 | $135 | $234 |
| Plan L | $119 | $301 | $346 |
| Plan M | $201 | $430 | $451 |
| Plan N | $146 | $289 | $353 |