If you're a senior living in Fresno, you have some very specific medical needs – but Medicare alone may not be enough to help you cover the costs of these needs. Believe it or not, there are things that Medicare won't pay for. If you aren't careful, you'll be the one who ends up paying for those medical costs 100% out-of-pocket. Luckily, there are easy and affordable solutions you can take advantage of today which will protect you from these surprise expenses and help you maintain a high quality of life for many years without the worry of confounding medical bills.
Facts and Figures
There are 55,129 senior citizens living in Fresno right now
There are 11 hospitals in the Fresno area where seniors can get emergency and/or in-patient care
40% of California seniors have a Medicare Advantage plan
23% of seniors have a Medicare Supplement (Medigap) plan in the United States
Which leaves 37% of Fresno seniors potentially uninsured or underinsured against costly Medicare coverage gaps!
In the end, it's not necessarily going to be one sudden, catastrophic medical emergency that could bankrupt you – it's going to be the slowly accumulating costs of chronic disease. Go ahead and take a look at the chart below which shows the prevalence of the top five most expensive chronic health conditions in Fresno. There's a chance that if you're reading this right now, you have at least one of them. And if you don't manage these conditions carefully, they may get very expensive over time – especially if you fail to protect yourself from the gaps in Medicare coverage.
| | |
| --- | --- |
| Disease | Prevalence (in Fresno) |
| Arthritis | 20% |
| High Blood Pressure | 29% |
| Coronary Heart Disease | 6% |
| Diabetes | 12% |
| Kidney Disease | 3% |
Healthcare Costs in Fresno, CA
If you are responsible and proactive, it will take many years before your chronic health problems start to get really expensive. In the meantime, your most costly expenses will come from things like prescription drugs, outpatient treatment, and more frequent doctor visits to monitor your conditions carefully. But later on in life when treating these conditions requires more extreme measures on a more frequent basis, that's when the gaps in Medicare Parts A and B coverage will start to cost you a hefty sum. And that dollar amount will make the estimated annual cost of treatment below look cheap by comparison.
| | | |
| --- | --- | --- |
| Disease | Prevalence (in Fresno) | Annual Cost of Treatment |
| Arthritis | 20% | $304 |
| High Blood Pressure | 29% | $108 |
| Coronary Heart Disease | 6% | $8,671 |
| Diabetes | 12% | $2,188 |
| Kidney Disease | 3% | $8,533 |
Medicare Advantage Savings in Fresno, CA
So how do you protect yourself from these expensive coverage gaps? The vast majority of seniors choose between one of two solutions: Medicare Advantage, or Medicare Supplement Insurance (Medigap). Medicare Advantage in California, as you saw, is a highly popular option. Medicare Advantage policies are approved by the federal government and sold by private health insurance companies as a replacement for Traditional Medicare. They must legally provide you with the exact same benefits you would get if you had stayed in the federal Medicare program. But they often contain additional benefits on top of that if you choose to purchase them. What's more is that the federal government pays a large share of your monthly premium for you, sometimes making these plans as affordable as $0 per month.
When you sit down to discuss Medicare Advantage with a Medicare Advantage insurance agent, you can discuss the gaps in Original Medicare coverage and which types of additional coverage, if any, your Medicare Advantage provider is willing to sell you. Things like extended hospital stays, blood transfusions, and coinsurance costs can get exceptionally expensive on Traditional Medicare. But if you purchase the right Medicare Advantage policy, you can get these costs covered at a minimal additional monthly expense.
What's more is that most Medicare Advantage plans offer you coverage that Traditional Medicare doesn't. Namely, you can add vision and/or dental to the same Medicare Advantage policy. You can also sign up for prescription drug coverage through your Medicare Advantage plan instead of having to sign up for Medicare Part D prescription drug coverage. The main advantage that seniors like with these options is that they get to manage all of their health care needs and benefits on a single policy through a single company. However, most Medicare Advantage plans will limit the network of doctors, facilities, and healthcare providers you have access to, usually in the form of an HMO or a PPO network. Just keep that in mind as you shop around.
Medicare Supplement (Medigap) Savings in Fresno, CA
Your other option is Medigap insurance in California. Medigap plans are very different from Medicare Advantage. Medicare Advantage gives you a ton of options for optimal customization; but all of those options can be a little overwhelming for some people, and could cost you a pretty penny in monthly premiums and/or shared costs. But Medigap plans are much simpler. There are only 10 of them, they're standardized across all 50 states, they are sold as-is (which means you can't add or subtract benefits), and all you have to do for the most part to qualify for coverage is pay your monthly premium on time and in full.
The 10 available Medigap plans have different comprehensive coverage options. Certain plans only cover the hospital costs associated with the gaps in Medicare Part A coverage. Since most of these costs are related to hospitals only (and unlikely to get used until you need end-of-life for extended care), they tend to cost the least in monthly premiums. Then you have Medigap plans like Plan F or Plan G, which cover the gaps in both Medicare Part A and Medicare Part B benefits. They will obviously cost more in monthly premiums, but in exchange you get peace of mind and greater financial protection from these potentially disastrous expenses.
Shopping around for a Medigap plan mostly depends on which expenses you're most concerned about. If you don't plan on traveling abroad, plans A, B, K, or L won't force you to pay extra in monthly premiums for a foreign travel benefit. Do you want help with your Medicare Part B deductible? If so, then you'll want to narrow your focus to something like Plan C, Plan F, or plan J. But you better hurry and make a decision, because Plan F won't be around forever. It's getting phased out by the end of 2020 and if you don't get grandfathered in before 2021, then you will no longer be eligible for those benefits.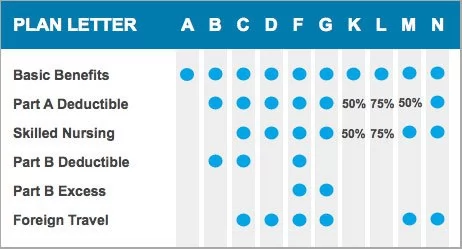 One of the potential drawbacks about Medigap is that you cannot add vision, dental, or prescription drug coverage directly to your Medicare supplement insurance plan. For that, you will have to enroll in Medicare Part D prescription drug coverage and you will have to shop around locally for private vision and/or dental insurance providers. But you may have more options to choose from since you won't have to limit yourself to a specific medical network like you would with Medicare Advantage. Our advice is to shop around for age-specific discounts targeted at senior citizens like you for the best deal.
Unfortunately, medical costs in Fresno are pretty steep. And that reality isn't changing anytime soon. It may seem like Medicare covers everything you need right now, but that likely won't hold up in the future. Will you be financially stable enough to handle all of your medical costs if the gaps in Medicare coverage present you with unexpected medical bills? We strongly urge you not to take the chance. Contact us today and we will connect you with a customer service representative who can explain the finer details of Medicare Advantage and Medigap policies so that you can make a sound financial decision.
| | | | |
| --- | --- | --- | --- |
| Medigap Plan | Minimum Monthly Premium | Maximum Monthly Premium | Average Estimated Monthly Premium (Part B Premium Included) |
| Plan A | $71 | $194 | $268 |
| Plan B | $112 | $193 | $288 |
| Plan C | $125 | $250 | $323 |
| Plan D | $106 | $221 | $299 |
| Plan F | $119 | $372 | $381 |
| Plan F (high deductible) | $21 | $74 | $183 |
| Plan G | $110 | $253 | $317 |
| Plan K | $45 | $106 | $211 |
| Plan L | $76 | $157 | $252 |
| Plan M | $107 | $199 | $289 |
| Plan N | $73 | $231 | $288 |