Are you familiar with the phrase, "Medicare coverage gaps?" If not, you need to be. Medicare coverage gaps are the thresholds between your effective benefits. As the name suggests, they are gaps in coverage. These coverage gaps have caused seniors in the Ketchikan area of Alaska to be left with one difficult choice: either go without the healthcare that you both need and deserve or pay thousands of dollars in out-of-pocket costs for treatment. And this isn't just a problem in Ketchikan, but the entire state of Alaska as well as the rest of the country. Fortunately, there are two ways to avoid the financial burden of Medicare coverage gaps: enroll in a Medicare Advantage plan or enroll in a Medicare Supplement (a.k.a. Medigap) insurance plan.
Facts and Figures
There are 1,201 senior citizens living in Ketchikan right now

There are only 2 hospitals in the Ketchikan area where seniors can get emergency and/or in-patient care

1% of Alaska seniors have a Medicare Advantage plan

12% of seniors have a Medicare Supplement (Medigap) plan

Which leaves 87% of seniors potentially uninsured or underinsured against costly Medicare coverage gaps!
More than three-quarters of all seniors in Ketchikan lack the proper level of insurance that they need in order to maintain reliable and affordable access to healthcare that they both need and deserve. If you're one of the hundreds of seniors in this situation, then your problems are only going to worsen with time, unless you switch to Medicare Advantage or Medicare Supplement insurance. As you age, your risk of developing new or worsening symptoms increases as a result of the increased prevalence of age-related illnesses among older demographics. Not only does your risk of developing new symptoms increase, but so too do the frequency and severity of your existing symptoms. The chart below shows just how common a small handful of age-related illnesses are in your area.
| | |
| --- | --- |
| Disease | Prevalence in Ketchikan |
| Arthritis | 22% |
| High Blood Pressure | 31% |
| Coronary Heart Disease | 6% |
| Diabetes | 11% |
| Kidney Disease | 3% |
Healthcare Costs in Ketchikan, AK
Needless to say, more problems equals higher expenses. The more illnesses you develop and the worse your symptoms become, the more you're going to need to see a doctor. The more you see the doctor, the more your insurance is going to have to cover. The more your insurance covers, the more likely it is to cut you off and toss you into the Medicare coverage gaps. On top of that, your healthcare expenses are likely to increase even more in the face of rising medical costs. Economists are torn as to why it's happening, but medical costs are rising across the board with no end in sight. Since seniors are living longer lives now than ever before, these increasing costs have more time to really add up. The chart below demonstrates just how expensive a single illness can become. Since seniors often develop more than one, the prices become even more severe.
| | | |
| --- | --- | --- |
| Disease | Prevalence in Ketchikan | Annual Cost of Treatment |
| Arthritis | 22% | $294 |
| High Blood Pressure | 31% | $356 |
| Coronary Heart Disease | 6% | $11,533 |
| Diabetes | 11% | $2,173 |
| Kidney Disease | 3% | $10,030 |
Medicare Advantage Savings in Ketchikan, AK
There aren't very many seniors in the Ketchikan area who have replaced their Original Medicare plan with a Medicare Advantage plan. These plans are designed by private providers to take over your health insurance from the government, meaning that the government is not directly responsible for the administration of your Medicare Advantage plan. However, the government still has a hand in much of what the providers can do. For example, the law requires that providers of Medicare Advantage plans include the same minimum level of care as to be found in Original Medicare. But since these plans are privately administered, providers are allowed to add additional coverage options in exchange for you voluntarily paying a higher price. Granted, the government tends to handle all or most of your premiums, meaning that you might not actually have to pay extra to receive more.
One common additional coverage option that seniors on Medicare Advantage plans can add directly to their plan is prescription drug coverage. The specifics of these plans vary from provider to provider, but they tend to be comprehensive enough to cover not only all of your prescription drug needs but also minor medical equipment such as glucose monitors and testing strips. If you have been diagnosed with arthritis, high blood pressure, or diabetes, then this kind of coverage can enable you to save thousands of dollars in the long run. In fact, over the five- and ten-year periods, you could potentially save tens of thousands of dollars or more.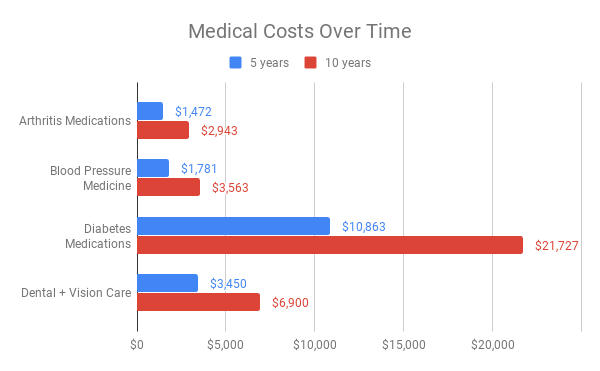 On top of the already expansive coverage options available to Medicare Advantage beneficiaries is the option to add vision and dental care coverage to your plan, enabling you to save even more. This is a benefit that is unique to Medicare Advantage, meaning that neither Original Medicare nor Medicare Supplement Insurance plans can provide the same level or quality of care. In fact, the coverage gaps inherent to Original Medicare could potentially leave you paying far more in coverage gap expenses than you ever would in Medicare Advantage premiums. Of course, that depends on the severity of your illness. The chart below shows a few quotes from the leading providers of Medicare Advantage insurance plans.
Medicare Supplement (Medigap) Savings in Ketchikan, AK
Of course, there are quite a few positives to enrolling in a Medicare Supplement insurance plan. More commonly known as Medigap, these plans simply supplement the existing coverage options found in your Traditional Medicare plan, making it possible to continue to receive those benefits without ever having to worry about Medicare coverage gaps. All in all, there are ten different Medigap plans and each one is different from the others. As a general rule of thumb, however, you can always count on any Medigap plan to provide assistance affording treatments related to Medicare Part A coverage gaps, which can be particularly burdensome if you're suffering from age-related heart and/or kidney disease.
The first category of Medicare Supplement plans includes plan types A, D, K, and L. These four plans, as mentioned above, provide a wide range of benefits related to the coverage gaps of Medicare Part A, making it possible for you to enjoy access to things like hospitalizations, blood transfusions, and skilled nursing care without having to worry about how you're going to afford to pay for the coverage gaps. Unfortunately, these plans do not provide any sort of benefits for Medicare Part B coverage gaps. That means that you'll have to look into one of the other plans in order to have both Medicare Part A and Medicare Part B fully covered.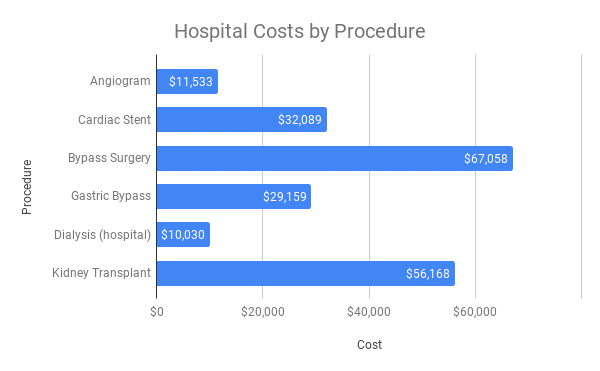 The remaining Medicare plan types are Medigap plans B, C, F, G, M, and N. These plans provide benefits similar to those of the aforementioned plans, but also provide extensive coverage options for coverage gaps related to Medicare Part B. Not only do these plans make it possible to enjoy hospitalization coverage, they also make it possible to enjoy most emergency services and many different kinds of ambulance rides. Of course, it is important to note that Medicare law is constantly changing and not all plans stay the same forever. For example, the government has decided to discontinue Medicare Plan F at the end of 2020. So it is important to keep an eye out for changes by speaking with an expert before you enroll in a plan.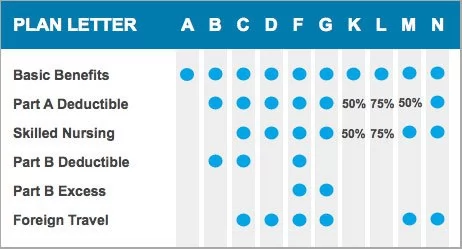 Although prescription drug coverage and vision and dental care coverage cannot be added directly to your Medicare Supplement Insurance plan, there are a few ways in which you can still receive those coverage benefits. For prescription drug coverage, you should look into a Medicare Part D prescription drug plan. Many seniors on Medicare Part D have no problem satisfying their prescription medication needs. If you find yourself slipping into the "Donut Hole," or coverage gap, of Medicare Part D, however, it might be a better idea to look into a Medicare Advantage plan. For vision and dental coverage, the process is much simpler. All you have to do is contact a private insurance provider who works in Springfield and enroll in a vision and dental care coverage plan. This can be done at any time in the year, since most providers don't require vision and dental coverage plans to go through open-enrollment periods.
As healthcare costs continue to rise and your risk of developing new or worsening symptoms increases every day, each minute makes it more important to take back your financial and personal independence when it comes to health insurance. By making the move from Original Medicare to Medicare Advantage or Medigap insurance, you save yourself from the oppressive costs of Medicare coverage gaps while also expanding your overall coverage options. So what are you waiting for? Head over to Medigap.com today and get started on the path to protecting your future health.
| | | | |
| --- | --- | --- | --- |
| Medigap Plan | Minimum Monthly Premium | Maximum Monthly Premium | Average Estimated Monthly Premium (Part B Premium Included) |
| Plan A | $73 | $200 | $272 |
| Plan B | $108 | $203 | $291 |
| Plan C | $118 | $211 | $300 |
| Plan D | $139 | $196 | $303 |
| Plan F | $120 | $298 | $345 |
| Plan F (high deductible) | $31 | $73 | $188 |
| Plan G | $102 | $197 | $285 |
| Plan K | $39 | $94 | $202 |
| Plan L | $66 | $134 | $236 |
| Plan M | $125 | $154 | $275 |
| Plan N | $87 | $175 | $267 |