Secure Horizons has been one of the market's most popular Medicare Advantage plans for several years. They were a division of UnitedHealthcare.
Although their plans are popular, they have been retired and rebranded into the AARP Medicare Complete. You may still see the Secure Horizons name in a few areas, as UnitedHealthcare is still rebranding.
The AARP Medicare Complete plans are the same coverage, and care members have learned to trust their healthcare.
Secure Horizons Medicare plans
Secure Horizons used to offer a range of Supplement Medicare plans. The plans offered vary from state to state and were a part of the UnitedHealth Group. Secure Horizons plans included Medicare Supplement plans (Medigap), Medicare Advantage plans, and Medicare Part D.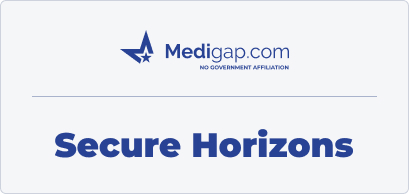 | Plans | Yes/No |
| --- | --- |
| Medicare Supplements | YES |
| Medicare Advantage | YES |
| Medicare Part D | YES |
Secure Horizons Medicare Supplement plans
UnitedHealthcare owns the Secure Horizons Medicare Supplement plans. They're now branded as AARP Medicare Supplement. You must actively enroll in AARP to enroll in a UHC Medigap plan.
Medicare Supplement plans are secondary coverage to your Medicare Part A and Medicare Part B and help pay your cost-share portion.
When enrolling in a Medigap plan, you keep all the benefits from Medicare-like freedom of healthcare providers and don't need to see primary care providers for referrals.
Medicare Supplements help cover your Medicare copayments. Medicare Supplement plan options have a fixed monthly premium, and you don't pay copays when you use your healthcare coverage.
Secure Horizons Medicare Advantage plans
Another way to receive your Medicare benefits is by enrolling in UnitedHealthcare Medicare Advantage plans. All Secure Horizons Medicare Advantage health plans are now rebranded as AARP Medicare Complete.
These plans give you plan extras, such as fitness programs that include a gym membership and a benefits card that you can purchase food or over-the-counter medications from Walgreens.
Most carriers require you use your over-the-counter benefits through mail order. AARP Medicare Complete Advantage Plans allow you to buy items directly from the pharmacy.
Secure Horizons Part D prescription drug plans
Secure Horizons, now branded as AARP Medicare Complete, offers Part D plans throughout the United States for prescription drug coverage.
To ensure you choose the best prescription drug plan for you, check your prescriptions against the plan's formulary (list of covered drugs). You can save a lot on your prescription drug costs using preferred pharmacies.
Secure Horizons Medicare pros and cons
Pros
Part of AARP UnitedHealthcare
Mild underwriting process
Many Medicare plan options
Cons
Liberal rate increases
Medicare Supplements require a paid AARP membership
Secure Horizons financial strength ratings
A.M. Best, Standard & Poor's, and Moody's rank Medicare plans by their financial strength. Secure Horizons is part of the UnitedHealthcare family.
A.M. Best gives UHC a rating of A- with a positive outlook. Standard & Poor's offers UHC an A+ rating with a stable outlook. Moody's offers UHC an A3 rating with a stable outlook.
The stronger the financial stability, the lower the rate increases are for Medicare Supplement plans. Financial stability also impacts the insurance company's ability to pay claims promptly.
Secure Horizons reviews
Secure Horizons by UHC has competitive Medicare Supplement rates for Medicare beneficiaries beginning Medicare. UHC's underwriting is not as tough to pass as some competitors.
The additional benefits offered through their Medicare Advantage plans cover a wide range of dental, hearing, vision, gym memberships, and more.
The MA plans also give you a benefits card to purchase healthy food and over-the-counter items from a store instead of a mail order. This benefit has been a welcome addition to most Medicare beneficiaries.
FAQs
What is Secure Horizons?
Secure Horizons is a Medicare insurance company that was purchased by Unitedhealthcare. Their plans were among the top plans in the areas that they were offered. UHC has rebranded all Secure Horizons plans as AARP Medicare Complete.
Is Secure Horizons a part of UnitedHealthcare?
Secure Horizons was a division of UnitedHealthcare that has since been rebranded as AARP Medicare Complete plans. The rebranding hasn't affected the benefits customers receive from this health insurance.
Is Secure Horizons a Medicare Advantage plan?
Secure Horizons did offer Medicare Advantage plans. But they are now called AARP Medicare Complete. These plans work the same way but are just under a different name.
Which Medicare Supplements are available through Secure Horizons?
Secure Horizons (UHC) offers Medigap Plans A, B, C, D, F, G, K, L, M, and N. Check your area as not all plans are available in all areas. UHC also offers high deductible F and G plans available in some states.
Does Secure Horizons offer plans for people on Medicaid and Medicare?
Yes! Secure Horizons offers Dual Special Needs Plans branded as UnitedHealthcare. The dual special needs plans (SNP) usually have more robust benefits than your typical Medicare Advantage Plan.
Where can I pick up my prescriptions on a Secure Horizons plan?
Walgreens is a preferred pharmacy with Secure Horizons, UnitedHealthcare Medicare Advantage, and Medicare Part D plans. Call the number on the back of your medical card for a complete list of preferred and non-preferred pharmacies.
If you do not have a plan or want to review your current plan, give us a call, and we can assist with showing you the options and guiding you through the enrollment process.
Are Secure Horizons still in business?
The Secure Horizons name is being phased out, as it was a division of UnitedHealthcare. UHC has changed the names of its Part C plans to AARP Medicare Complete.
Do Secure Horizons cover hospice?
Secure Horizons doesn't truly exist anymore except in small pockets across the U.S., so for many, it doesn't cover hospice. However, AARP Medicare Complete — the rebranding of Secure Horizons — has plans that could help with hospice care after Original Medicare benefits run out for a patient.
How to enroll in a Secure Horizons Medicare plan
We have licensed insurance agents standing by to assist you with any Medicare questions. We can look up your prescriptions and doctors, assess your needs, and assist with finding the right plan to minimize out-of-pocket costs for you. Call or fill out our online request form for more information.