PrimeTime Choices is a Medicare insurance provider that offers plan options in Ohio. Their Medicare Supplements are insured through their parent company Ault Care, and their home office is located in Canton, Ohio.
PrimeTime Choices Medicare plans
PrimeTime choices offer Supplemental Medicare options. All their plan offerings include a Silver & Fit gym membership. They offer Medicare Supplement, and Medicare Advantage plans in Ohio. They aren't a plan sponsor of any Medicare Part D plans.
We'll cover PrimeTime choices, Medicare Supplement, and Medicare Advantage options. Then we'll talk a little about their financial ratings. Following that, we'll address some common questions and how to enroll with PrimeTimes Choices Medicare plans.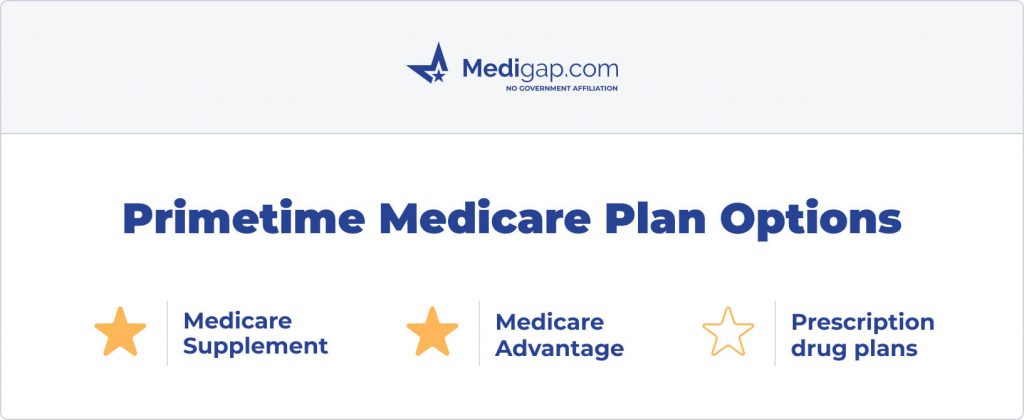 PrimeTime Choices Medicare Supplement plans
PrimeTime Choices doesn't offer all ten Medigap plan options. They offer Plans A, F, G, M, and N. Their offerings include the high-deductible versions of Plan F and Plan G.
Most Medicare beneficiaries choose to enroll in Plan F, Plan G, or Plan N. These are the most popular and have the most complete coverage.
Medicare Supplement plans are required to offer the same level of coverage no matter where you live, or which insurance company you enroll with. In addition, with it being a secondary coverage to Medicare, you have no need to worry about networks or referrals.
Minnesota, Massachusetts, and Wisconsin are the only states that don't follow the standardization rules. They have their own designs for their Medicare supplement plans.
PrimeTime Choices Medicare Advantage plans
Medicare Advantage plans are the same thing as Medicare Part C. These plans take over your benefits from traditional Medicare and include them in a simple-to-use, all-in-one package.
This type of plan has been growing in popularity as of late with its low premiums and robust coverage.
PrimeTime offers three different Medicare Advantage plans, including drug coverage and one that doesn't. All of their Part C plans are HMO-POS options.
These plans are network-based plans that offer certain services to be provided out-of-network. You should review the Evidence of Coverage to see which services are permitted out of network.
PrimeTime Choices Medicare Part D prescription drug plans
PrimeTime Choices doesn't cover a stand-alone Medicare Part D prescription plan. To get drug coverage through them, you must enroll in one of their Medicare Advantage plans that include it.
PrimeTime Choices Medicare pros and cons
Pros
Silver & Fit gym membership
5-Star Medicare Advantage plans
Easy-to-use website
Cons
Only offered in Ohio
No Medicare Part D plans
Financial strength ratings
AM Best, Standard & Poors, and Moodys administer ratings for Medicare plan providers.
PrimeTime Choices is not rated yet, but its parent company AultCare Insurance company has a rating of "B++ Good" from AM Best.
Reviews
PrimeTime Choice offers several options for Medigap and Medicare Advantage options. Their website has plenty of easy-to-use and clearly-marked buttons allowing beneficiaries access to answer any questions that they may have. What's impressive is that every Medicare Advantage plan they offer has a 5-star rating.
FAQs
Do PrimeTime Choices plans include SilverSneakers?
PrimeTime Choices does have a gym membership program. Their gym program is Silver&Fit, not SilverSneakers.
When do PrimeTime Choice Medigap plans take rate increases?
You can expect an annual rate increase based on your age on or around June 1.
Is PrimeTime Choices a good choice for Medicare beneficiaries?
Everyone's needs differ, so that is a hard question to answer. That being said, every Medicare Advantage option they offer has the highest possible star rating.
How to enroll in a PrimeTime Choices Medicare plan
Enrolling in a PrimeTime Choice plan is easy, but it's wise to consult a licensed agent to ensure the plan you select properly meets your needs. Our agents have access to all the plans available in your area.
They can assist you with checking your prescriptions and doctors, answering any questions, and even enrolling you into the plan of your choice. Getting help is simple! Fill out the online request form, and one of our experts will contact you. Don't want to wait? No problem, go ahead and give us a call.