Medical Mutual of Ohio provides Medicare options for residents of Ohio. Their core values revolve around being responsible, accurate, responsive, accountable, and straightforward regarding their service and striving to create peace of mind and trust for their customers.
Medical Mutual Medicare plans
Supplemental Medicare plan options usually refer to Medicare Supplement, Medicare Advantage, and Medicare Part D plans. First, we'll go over the Medicare Supplements that Medical Mutual Offers. Next, we'll touch on their Medicare Advantage and Part D plans.
Then, we'll discuss their dental, vision, and hearing options, followed by the extra programs they provide. After that, we'll wrap up with a little about their financial strength and answer a few common questions. Finally, we'll explain how to get help enrolling in a Supplemental Medicare plan with Medical Mutual.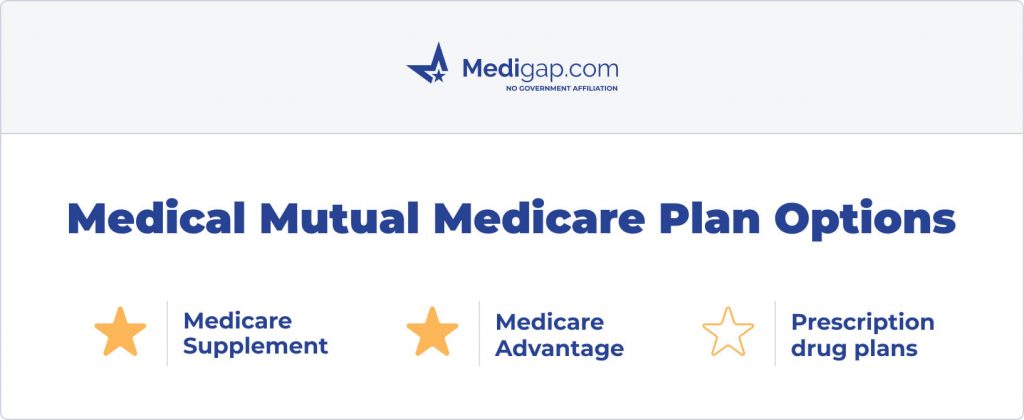 Medical Mutual Medicare Supplement plans
Medicare Supplement plans are additional health plans that you can add to your Original Medicare. These plans assist with the out-of-pocket costs of traditional Medicare coverage. There are ten Medigap plan options, and Medical Mutual offers five.
Of Medical Mutual's plan options, Plan F, Plan G, and Plan N are the most popular. These three plans encompass the Majority of all Medicare beneficiaries in a Medicare Supplement program.
Medicare Supplement insurance plans have standardized coverage. Standardized means the benefits must be the same regardless of your chosen company.
Since these plans supplement Original Medicare, you have the freedom to see any healthcare provider nationwide that accepts Medicare. Medigap plans don't cover prescription drugs.
MedMutual Supplement Plus
Medical Mutual has a version of its Medicare Supplements called Supplement plus. These Medigap options cost a little more but include dental, vision, and hearing benefits.
Extra Benefits and Opportunities
When enrolling with a Medical Mutual Medicare Supplement plan, you enjoy a few extra benefits and opportunities. You'll have access to SilverSneakers and Weight Watchers Reimagined programs.
You'll also qualify for a 3.5% discount off your plan premium if someone else in the household enrolls in a Medicare Mutual Medigap plan.
MedMutual Medicare Advantage plans
Medicare Advantage plans are Part C of Medicare. These plans combine your benefits from Medicare Part A, Medicare Part B, and in most cases, prescription drug plans into one convenient, easy-to-use plan.
In addition to covering Medicare's benefits, these plan's enrollees enjoy plan extra above the benefits of traditional Medicare.
Medical Mutual is one of the few companies with 5-star ratings for their PPOs. Their HMO plans are all rated 4.5 stars.
Medical Mutual Medicare Part D prescription drug plans
Part D coverage is one of the ways that you can get the prescriptions that you pick up from the pharmacy. The only other way to get drug coverage through Medicare is through a Medicare Advantage plan that includes drug coverage. Medical Mutual doesn't offer Part D prescription drug coverage.
Medical Mutual dental, vision, & hearing coverage
Many Medical Mutual plans include dental, vision, and hearing.
Medical Mutual's dental coverage has a $1,000 cap, including two exams, two cleanings, and one x-ray. In certain areas, the cap is $1,500 to $2,000.
Their vision coverage includes $100 for contacts or glasses and one exam. For an additional cost, you can get an additional $150 more coverage for glasses or contacts.
Hearing coverage includes one exam and three hearing aid fittings. You'll have a copay of $699 for Advanced hearing aids or $999 for premium hearing aids. There is an allowance of one set of hearing aids per year.
Medical Mutual extra programs and services
The Medical Mutual Medicare Advantage plans also include SilverSneakers. Some of the other plan extras included are:
Over-the-counter allowances
Chronic condition management
24-Hour nurse hotline
Weight Watchers Reimagined
Wellness rewards program
Medical Mutual Medicare pros and cons
Pros
SilverSneakers and WeighWatchers benefit
You can pay more to add on a Dental, vision, and hearing plan
Above-average customer service
Cons
Only available in Ohio
Small household discount
Medical Mutual financial strength ratings
Financial strength indicates the company's ability to pay claims, maintain competitive rates, and lower rate increases. AM Best rates Medical Mutual at an "A-" Excellent.
Medical Mutual reviews
Medical Mutual is a reliable company that offers both Medicare Supplement and MedMutual Advantage plan options. They are in a unique position with their Medicare Advantage PPO options being 5-star ratings, which is a huge accomplishment. Very few insurance companies get awarded the highest rating for their PPO plans.
FAQs
Is Medical Mutual the same as Medicare?
No. Medicare is the Federal Health insurance program for Americans that qualify for it. Medical Mutual provides supplement Medicare plans to help offset the Medicare cost-share, such as deductibles, coinsurance, and copays.
What are the benefits of Medical Mutual?
Medical Mutual has many additional benefits included in its plans. SilverSneakers and Weight Watched Reimagined are part of every program they offer.
How much does Medical Mutual supplemental insurance cost?
The costs can vary depending on which supplemental plan option you choose. Their Medicare Advantage plans start at a $0 monthly premium, with the highest plan costing $134 per month.
Their Medicare Supplements begin at just over $100 a month. Remember, Supplemental insurance policies can vary in cost depending on the plan you choose and where you live. Other factors could affect Medigap pricing.
What are the eligibility requirements for a Medicare Mutual of Ohio Medicare plan?
To enroll in a Medicare plan with Medical Mutual, you must meet the following requirements.
Live in the service area of the plan you want to enroll in.
Have an active Medicare Part A and Medicare Part B.
For Medicare Advantage, you must be in a valid enrollment period:
You can enroll in a Medicare Supplement anytime if you pass medical underwriting.
For Medicare Advantage, you must be in a valid enrollment period such as the Initial Enrollment Period, Annual Enrollment Period, Medicare Advantage Open Enrollment Period, or have a Special Enrollment Period.
You can enroll in a Medicare Supplement anytime if you pass medical underwriting.
How to Enroll in a Medical Mutual Medicare plan
Getting help with enrollment in a Medical Mutual Medicare plan is as simple as one, two, or three. First, give us a call or fill out our online request form.
Next, our licensed experts will help educate you on your options. Lastly, our agents will help make the enrollment process quick and easy and heal you complete the enrollment into your chosen plan.