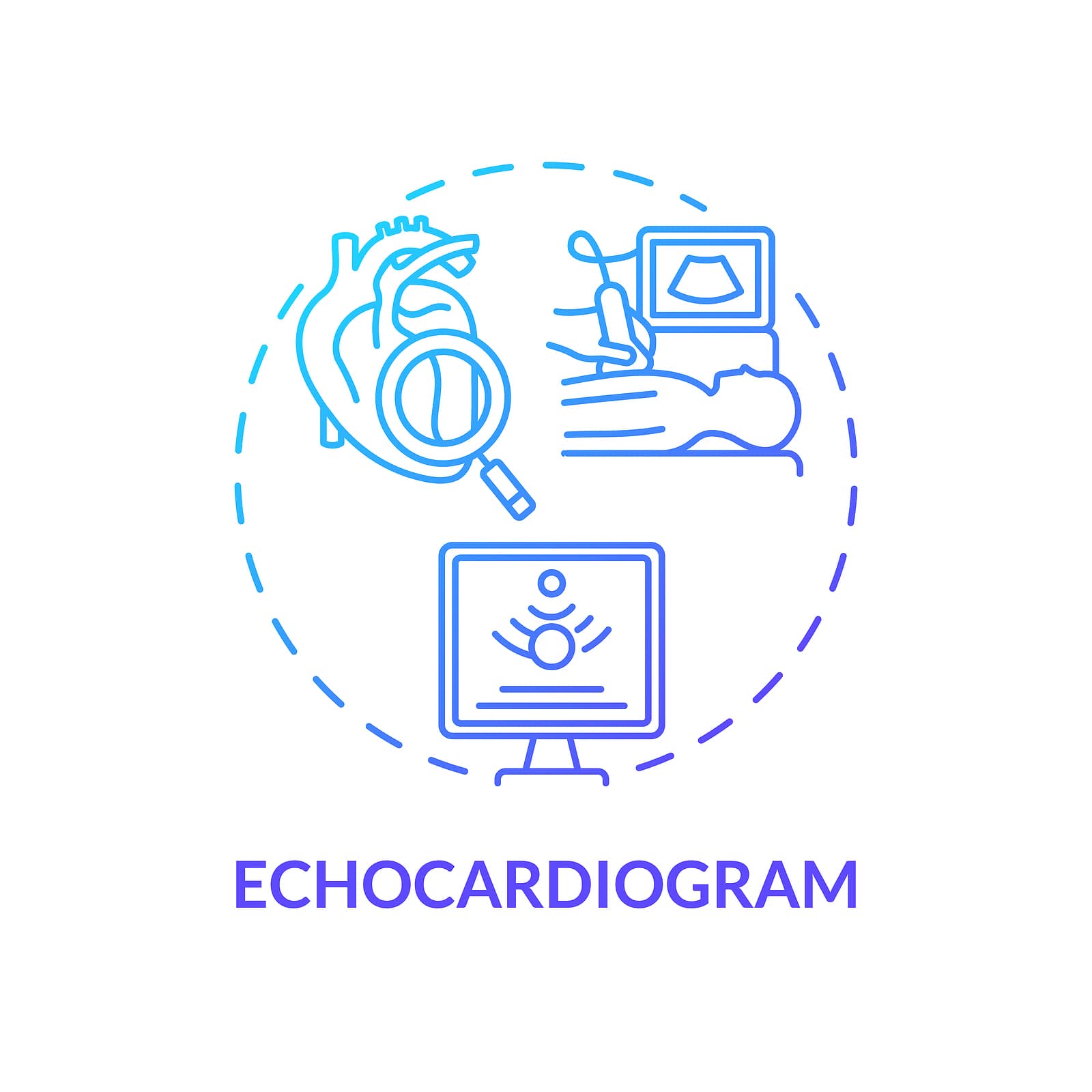 Heart disease is the top cause of death yearly for people 65 and older. And because of this, echocardiograms remain one of the most popular diagnostic tests among doctors everywhere. Echocardiograms can be costly without insurance, but your Medicare coverage will help cover these costs.
Today we'll discover just how much you can plan to pay for this pertinent test, how your Medicare coverage works with echocardiograms, and what you can expect to happen with the tests.
What is an Echocardiogram?
An echocardiogram is often referred to as an echo or an ECG. Essentially, an echo is an ultrasound taken of your heart. The test uses sound waves to determine the health of your heart with internal imaging. It shows how your heart's valves and chambers are working and the size of your heart.
Doctors use this test to determine whether blood clots are visible within the heart and whether there's any fluid built up within the sac around your heart. Aorta and contraction problems will also be visible to doctors with an echocardiogram. Echos are essential to diagnose you, create a treatment plan, and monitor for improvement.
Depending on what type of imaging they need, doctors will use one of two types of echocardiograms. A transesophageal echocardiogram uses a local anesthetic in your throat. The doctor will place a flexing tube down through the esophagus and into your stomach to record heart images.
A transthoracic echocardiogram is most commonly used with health care providers. It involves a sonographer who uses a machine similar to an ultrasound machine and can record images of your heart in live time.
How Much Is An Echocardiogram Without Insurance?
Like most other health procedures, echocardiograms can be costly without health insurance. ECGs typically range from around $1,00 to $3,000. Different cost factors can include:
The type of echo you need
The provider and location in which you receive your echo
If you require any additional treatment and services
That's a lot of money to come up with out-of-pocket. Insurance coverage can save you time, money, and headaches when receiving proper and necessary medical care.
Will Medicare Help Cover An Echocardiogram?
Medicare beneficiaries can take solace in knowing that echocardiograms are covered through Medicare. Your doctor will need to deem the procedure necessary due to a heart condition or symptoms that could indicate an underlying issue. Medicare Part A, B, or C can cover this test. Let's dive into how each part of Medicare works echocardiograms.
Medicare Part A
Medicare Part A helps cover expenses of all procedures, such as an echo given during an inpatient stay at a hospital. But remember that you must receive the procedures and services within the first 60 days of your hospital stay. Should you need an echocardiogram during your hospital stay, all of your tests and services will cost you:
A deductible of $1,600 per benefit period
A $0 coinsurance for days 1–60
A [GCBB#part-a-inpatient-coinsurance-days-61-90] coinsurance each day for days 61–90
A [GCBB#part-a-inpatient-coinsurance-days-91-120] coinsurance for every lifetime reserve day on days 91 and beyond
Medicare Part B
Medicare Part B covers 80 percent of the cost approved by Medicare for the services and treatments you receive. Therefore, you'll be responsible for the remaining 20 percent. Part B services don't include inpatient services but rather outpatient care.
Remember that if you're an outpatient but have an echocardiogram at a hospital, you may have a bill for both your provider offering the test and a statement from the hospital location. Let's look at some of the costs you can expect to pay for an echo with Part B coverage:
A monthly premium of $164.90
A $226 annual Part B deductible
A 20 percent coinsurance
For instance, let's say you have an ECG without insurance and receive a bill for $2,000 for your test. Once you've paid your annual deductible of $226, Medicare will pay 80 percent of the $2,000 bill. So, Medicare will pay $1,600, and you'll be responsible for $400.
Medicare Part C
Medicare Part C coverage is a Medicare Advantage policy. These Medicare Advantage plans and their coverage vary depending on the carrier and the policy you choose. Check with your policy before your echocardiogram to determine your out-of-pocket cost and coverage. To receive coverage in full, you'll want to ensure that your provider is in-network with your plan.
Will Medicare Cover More Than One Echocardiogram Per Year?
Medicare approves and covers echocardiograms when your provider deems the test necessary. Medicare will cover it when you use a provider contracted with Medicare. If you find that your provider is out-of-network, you may be responsible for additional or even all costs incurred with receiving this test.
What Additional Heart Tests Will Medicare Cover?
In addition to echocardiograms, Medicare helps cover many heart tests. Medicare coverage and out-of-pocket costs are just like the coverages associated with echocardiograms. Some of the most common tests include:
Electrocardiogram: Also known as an EKG, this test monitors the cells that work to control your heartbeats. This test helps determine abnormal heartbeats and the onset of a possible heart attack.
Cardiac MRI: This MRI uses radio waves, a computer, and magnets to create images of your heart. The test helps show signs of heart disease and even tumors in your heart.
Cardiac CT Scan: An heart test that provides images with extraordinary detail of both your blood vessels and heart. The CT scan effectively picks up heart conditions like calcium accumulation, issues with the aorta, and diseases like coronary artery disease.
Stress Test: This test will show how your heart works while your body is under a form of physical activity, such as exercise. The test can help reveal problems like heart failure or heart valve disease.
Chest X-Ray: This X-Ray is a scan that will display the image of your blood vessels, lungs, and heart.
Coronary Angiography: The coronary angiography test shows your arteries and the plaque that may be building around them.
Cardiac Catheterization: A cardiac catheterization is a test where a tube is inserted and threads a part of your body to your heart. The test helps to diagnose a variety of heart problems.
FAQs
Still, have questions about Medicare's coverage of echocardiograms? Let's look at some of the most common questions among Medicare beneficiaries.
Will Medicare Pay for An Echocardiogram?
Medicare Part A and Part will cover the costs associated with an echo. If you have an ECG done during a hospital stay, your Part A will help cover the costs. If you're an outpatient with an ECG conducted, your Part B will cover the service.
What is an echo?
An echo is an abbreviated term for an echocardiogram. An echo is a form of ultrasound that doctors use to monitor and view your heart health. The echo is effective in helping to diagnose issues such as cardiovascular disease.
Does Medicare Limit The Number of Echocardiograms You Can Get In A Year?
Medicare Part B will cover unlimited ECGs every year. However, remember that your doctor must present and prove the need for these tests each time. You'll also be responsible for your portion of the coinsurance with each test.
Will Medicare Still Cover an echocardiogram for Patients with Pacemakers?
If your provider deems your echocardiogram as necessary and is contracted with Medicare, Medicare will cover an echo for patients with pacemakers.
What Are the Advantages of Getting An Echocardiogram?
Echocardiograms help diagnose specific heart conditions. Your physician will view the images produced during the test to identify issues within your heart.
Manage Your Heart Health With the Best Medicare Coverage Available
Medicare Supplement plans are an excellent source of financial help. These policies can end up paying part of, or even all, of your bill that's not covered through Medicare Part A or B. You read that right. You may end up with minimal out-of-pocket expenses.
Please call our team, or complete our online rate form today to explore the best options available for Medigap coverage. We'll compare the top plans and get you the biggest bang for your buck!