Medicare coverage gaps in the Kenosha area can be just as financially destructive as they are everywhere else in the country. Regardless of the fact that seniors in Kenosha enjoy relatively great access to reliable healthcare, many still find it difficult to afford that healthcare. Since Medicare coverage gaps can cost you thousands of dollars every year in out-of-pocket expenses, it is important to take the steps necessary to protect yourself from them. Fortunately, seniors in Kenosha have already started using two different methods of doing so. First, you could enroll in a Medicare Advantage plan. Second, you could enroll in a Medicare Supplement (a.k.a. Medigap) Insurance plan.
Facts and Figures
There are 12,220 seniors living in Kenosha right now.
There are 6 hospitals in the Kenosha area where seniors can get emergency and/or in-patient care.
39% of Wisconsin seniors have a Medicare Advantage plan.
26% of Wisconsin seniors have a Medicare Supplement (Medigap) plan.
Which leaves 36% of seniors potentially uninsured or underinsured against costly Medicare coverage gaps!
More than a third of all seniors in the Kenosha area cannot say that they enjoy access to healthcare that is both reliable and affordable. If you're one of the estimated 4,399 seniors to whom that applies, you are probably well aware of the reason why: Medicare coverage gaps can be prohibitively expensive. Unfortunately, the problem is only going to worsen as you age. With age comes age-related illnesses. These illnesses can range from mild enough to be virtually unnoticeable to so severe that you cannot live without constant medical attention. As you age, your existing symptoms tend to increase in both frequency and severity, pushing you from the former to the latter. The chart below shows just how many seniors in Kenosha have already been affected by five of the most severe age-related illnesses.
| | |
| --- | --- |
| Disease | Prevalence in Kenosha, WI |
| Arthritis | 23% |
| High Blood Pressure | 28% |
| Coronary Heart Disease | 6% |
| Diabetes | 9% |
| Kidney Disease | 3% |
Healthcare Costs in Kenosha, WI
As you can tell from the chart above, plenty of seniors in the Kenosha area have been diagnosed with severe illnesses. As you can tell from the chart below, those illnesses can cost quite a bit of money in out-of-pocket expenses every single year. To make matters worse, healthcare costs related to treating each of your symptoms are bound to increase as you age. To put it simply, that's because you will require more medical attention, surgeries, etcetera in order to treat those symptoms. In more complex terms, there are a wide variety of economic factors at play. For example, medical costs across the board are rising each year regardless of increasing regulations designed to prevent that from happening. And since seniors are living longer lives than ever before, there is more time in your life for these factors to result in extremely expensive financial burdens.
| | | |
| --- | --- | --- |
| Disease | Prevalence in Kenosha, WI | Annual Cost of Treatment |
| Arthritis | 23% | $291 |
| High Blood Pressure | 28% | $354 |
| Coronary Heart Disease | 6% | $7,982 |
| Diabetes | 9% | $2,163 |
| Kidney Disease | 3% | $7,177 |
Medicare Advantage Savings in Kenosha, WI
39% of seniors in the Kenosha area have already made the decision to replace their Original Medicare insurance plans with Medicare Advantage insurance plans provided by private companies instead of the government. Despite being privately operated rather than controlled directly by the government, the government still has a heavy hand in regulating what gets covered, meaning that you don't have to worry about losing any coverage options when switching away from your Original Medicare plan. In fact, the opposite is often true. Most providers of Medicare Advantage plans will offer additional coverage options in exchange for higher premiums. Of course, since you're reading this article, you're probably not interested in paying higher premiums. Either way, the government tends to pay all or most of your premiums, meaning that you might not have to pay anything at all.
One of the most beloved of these additional coverage options is Medicare Advantage prescription drug coverage. These plans vary in specifics from provider to provider, but the general rule of thumb is that they are so comprehensive as to cover just about any and all of your prescription needs. That includes certain necessities like glucose monitors and testing strips. Between the comprehensive prescription medication coverage and the minor medical equipment coverage benefits, these plans can be a great option for you if you are suffering from age-related arthritis, high blood pressure, and/or diabetes. The graph below shows just how incredible the savings can be over a five- or even ten-year period.
In order to save even more money, you can add vision and dental care coverage directly to your Medicare Advantage insurance plan. Not only does Medicare Advantage vision and dental care coverage provide vastly more benefits than both Original Medicare and Medicare Supplement Insurance plans combined, it also makes securing those coverage options easier. With either Original Medicare or Medicare Supplement Insurance, you would have to take a good few steps in order to ensure that your vision and dental needs get covered.
Medicare Supplement (Medigap) Savings in Kenosha, WI
Unlike Medicare Advantage insurance plans, Medicare Supplement plans do not entirely replace your existing Original Medicare coverage. Instead, as the name suggests, they simply supplement it. Medigap insurance is designed to supplement your Original Medicare in a way that enables you to obtain access to the healthcare that you both need and deserve without having to pay the out-of-pocket costs associated with Medicare coverage gaps. All in all, there are ten types of Medicare Supplement Insurance plans, each providing some kind of benefit related to Medicare Part A coverage gaps, which can be excessively expensive for seniors suffering from age-related heart and/or kidney disease.
The first few Medicare Supplement plans to look at are Medigap plan types A, D, K, and L. If you have been paying high out-of-pocket costs related to Medicare Part A coverage gaps but little to nothing related to Medicare Part B coverage gaps, then one of these plans might be the best for you. That's because they provide nice benefits related to Medicare Part A coverage gaps but no benefits at all related to Medicare Part B coverage gaps.
The remaining Medicare Supplement plan types to look at are Medigap plan types B, C, F, G, M, and N. Not only do these plans provide the same or similar benefits as the aforementioned Medigap plans, they also provide benefits related to Medicare Part B coverage gaps, making it possible to enjoy worry-free access to affordable treatments in both categories, such as hospitalizations and emergency services. That being said, not every plan is destined to last forever. Medigap Plan F, a favorite of many seniors, is not going to be available after 2020. If you're like many other seniors across the country who enjoy that plan, you're lucky – as long as you keep paying your premiums and the company stays solvent, you'll get grandfathered into your benefits. But if you can't enroll in time, or if you decide to switch from Plan F to a different plan, you'll never have access to that level of coverage again.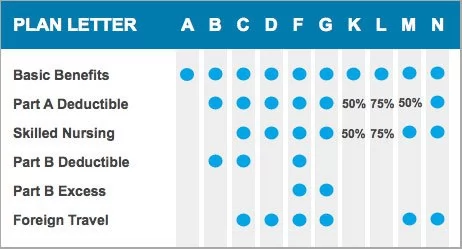 Securing prescription drug coverage and combined vision and dental care coverage while on a Medicare Supplement plan can seem like a daunting challenge, but the reality is that it only takes a series of incredibly simple steps. To obtain vision and dental coverage, all you have to do is contact a local provider, ask about bundled vision and dental plans, and then select the one with the best coverage options for what you need. Since those plans don't require you to wait for any Open Enrollment periods, you can do so at any time. Obtaining prescription drug coverage can sometimes be a little bit more challenging, but there are plenty of experts out there who can assist you. That process requires enrolling in Medicare Part D prescription drug coverage, which can be a great option for seniors who don't rely on an incredibly large number of prescriptions.
There is no greater time than now to make sure that your insurance needs are taken care of. As medical costs continue to increase and so too does your risk of developing new or worsening symptoms as a result of the natural aging process, you can expect your Medicare coverage gaps to become more and more expensive to the point where they prohibit your ability to obtain medical treatment. Since these factors all worsen with age, you cannot afford to wait. Head over to Medigap.com today and get started looking for the plan that is right for you. Your future health depends on it.
| | | | |
| --- | --- | --- | --- |
| Medigap Plan | Minimum Monthly Premium | Maximum Monthly Premium | Average Estimated Monthly Premium (Part B Premium Included) |
| High Deductible Plan | $40 | $235 | $273 |
| 50% Cost Sharing Plan | $76 | $117 | $232 |
| Medigap Basic Plan | $93 | $228 | $296 |
| 25% Cost Sharing Plan | $97 | $148 | $258 |