It's got great views, it's warm, it's scenic. Wheeling, West Virginia has everything that retirement-aged people could want, even including a decent number of hospitals and clinics. Unfortunately, that's not stopping the thousands of seniors in Wheeling from spending thousands of dollars each month on Medicare coverage gap expenses. Medicare coverage gaps refer to a series of specific medical benefits and coverages which are excluded from Original Medicare. These costs can get up into the thousands of dollars each year or even each month depending on the severity of your symptoms and which illness or illnesses you have. In Wheeling in particular, there are thousands of seniors who don't have proper insurance coverage necessary to prevent these sorts of charges.
Facts and Figures
There are 6,295 senior citizens living in Wheeling right now

There are 9 hospitals in the Wheeling area where seniors can get emergency and/or in-patient care

25% of West Virginia seniors have a Medicare Advantage plan

17% of seniors have a Medicare Supplement (Medigap) plan

Which leaves 58% of seniors potentially uninsured or underinsured against costly Medicare coverage gaps!
Although the fact that 58% of seniors in the area don't have proper access to healthcare might seem like the worst part of these numbers, it's not. The issue becomes far more severe when age-related illnesses are brought into the equation. Age-related illnesses are any diseases or disorders that show symptoms or cause other effects that worsen in severity or frequency as the patient ages. This means that, as these uninsured or underinsured people age, their risk of suffering a catastrophic medical emergency increases significantly. We cannot stress enough the importance of keeping yourself and your family properly insured against unforeseeable healthcare emergencies of any kind, but protecting yourself from natural age-related illnesses should be at the top of your to-do list. The chart below helps explain why by showcasing the prevalence of five of the most common age-related illnesses in Wheeling.
| | |
| --- | --- |
| Disease | Prevalence in Wheeling |
| Arthritis | 41% |
| High Blood Pressure | 36% |
| Coronary Heart Disease | 9% |
| Diabetes | 14% |
| Kidney Disease | 3% |
Healthcare Costs in Wheeling, WV
As you can tell from the chart above, a perfectly healthy senior in Wheeling is very likely already suffering from an age-related disease. The thing about these age-related illnesses is that, as the name suggests, they worsen in both frequency and severity as you age. This means that not only do you stand an increased risk of developing one or more of these illnesses with each passing year, but you also run the risk of your current healthcare conditions worsening over time as well. This drives up the costs of your healthcare to heights that you may not have ever seen earlier in your life. Furthermore, because seniors are living longer now than ever before, these age-related illnesses and the costs that they generate can increase in both frequency and severity over a longer period of time, making them far more formidable healthcare concerns than in the past. The chart below provides a look at the lower estimates of the annual cost of treatment for healthier seniors.
| | | |
| --- | --- | --- |
| Disease | Prevalence in Wheeling | Annual Cost of Treatment |
| Arthritis | 41% | $294 |
| High Blood Pressure | 36% | $356 |
| Coronary Heart Disease | 9% | $9,426 |
| Diabetes | 14% | $2,173 |
| Kidney Disease | 3% | $8,062 |
Medicare Advantage Savings in Wheeling, WV
One thing you should pay special attention to is the fact that Medicare Advantage plans are not part of the government. Although they share the same name as Medicare plans in general, these plans are, for the most part, actually provided by privately owned and operated companies.
This means that your existing Medicare insurance that you receive from the government will be replaced by the better, more efficient Medicare Advantage plan that you choose to purchase through a private insurer. But not to worry, Medicare Advantage plans are required by law to provide you with the same benefits as ordinary Medicare plans. However, by virtue of their privatization and their need to out-compete their competitors, many providers of Medicare Advantage plans will give you the option to add additional coverage options to your array of benefits.
Medicare Advantage plans are required by law to also provide you with all of the same benefits as Original Medicare. However, where Original Medicare falls short, the supplementary options that become available to you by purchasing a Medicare Advantage plan can pick up the slack. For example, the majority of Medicare Advantage plans come with the possibility of expanding your prescription drug coverage, improving access to affordable emergency services, and even low-to-no costs for the minor medical tools and supplements that tend to slip through the cracks of the Medicare coverage gaps. This is what makes Medicare Advantage plans so attractive to seniors with arthritis, diabetes, and high blood pressure, because it is this additional feature that lets you buy glucose testing strips and other essentials for pennies.
Of course, Medicare Advantage plans are not perfect. Sometimes, you'll want to get a Medicare Supplement (Medigap) plan to suit your own personal needs. One way or the other, you stand to be much better off financially over the five- and ten-year periods with Medicare Advantage than without such a comprehensive plan.
Medicare Advantage plans can even save you money on dental and vision care, provided that you add those coverage areas to your plan. It's important to note once again that adding these benefits to your plan can sometimes cost you a net $0 thanks to government subsidies. These are also benefits that Original Medicare and Medicare Supplement (Medigap) insurance plans do not offer. If you suffer from cavities or other issues that require prompt attention from a dentist or a dental hygienist you can simply use your Medicare Advantage plan to go see your favorite doctors whenever they become available rather than having to wait until your dental health either gets better and goes away or gets worse and your teeth fall out.
Medicare Supplement (Medigap) Savings in Wheeling, WV
Medicare Supplement policies, known more commonly as Medigap policies, function considerably differently from Medicare Advantage policies. For starters, they don't cover as much but they are far easier to qualify for. Medigap plans are also incredibly easy to customize. Since there are so many different plan types, you can easily find one that works well for you. For example, if you've noticed that you've been spending only small amounts on prescriptions or dental care but quite a bit of money on hospital bills and other Medicare Part A expenses that are now coming almost exclusively out of your own pocket as a result of the Medicare coverage gap, then you might benefit from a few of the more customized Medigap coverage plans.
Medigap supplement plans A, D, K, and L all fall into the hospital expenses category. These plans are ideal for seniors who have been spending a lot of money on Medicare Part A coverage gaps and little (if any) funds elsewhere. Unfortunately, these plans only apply to Medicare Part A costs and don't provide any assistance in paying off Medicare Part B costs. This means that these plans pose no benefits to seniors with high Medicare Part B coverage gaps and no Medicare Part A coverage gaps.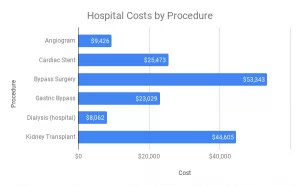 The other six plans are Medicare Supplement insurance Plans B, C, F, G, M, and N. When it comes to Medicare Part A expenses, these plans can be either quite similar or somewhat different from plans of type A, D, K, and L. However, the primary difference can be seen in the fact that these six plans each also cover expenses related to Medicare Part B, making each of them potentially great options for seniors who would otherwise be spending large amounts of money on out-of-pocket expenses to receive healthcare while in the coverage gap of both Parts A and B. Unfortunately, Medigap Plan F will no longer be offered beginning 2021. If you currently have a Medigap Plan F, you can keep it; but if you are considering enrolling in one, you might need to either act fast or take a closer look at alternative plans.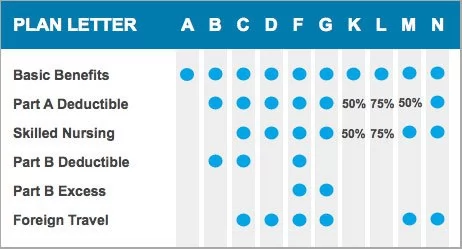 Unfortunately, the primary setback of all Medicare Supplement insurance plans is that they do not have the option to provide prescription drug, dental, or vision plans. This is the primary difference between Medigap plans and Medicare Advantage plans. Of course, if you are in love with your Medigap coverage plan and don't want to see it go, you will be glad to know that prescription drug, vision, and dental coverage are among the cheapest options available on the private market. In many cases, you can even purchase all three of these coverage options for well under $100 per pay period. But these prices will vary based on location, so be aware of that when you shop around.
At the end of the day, hunting for the right Medicare Advantage or Medigap plan for you might leave you feeling depressed, anxious, and exhausted, but you have to keep up the hard work. Once you've selected your plan and enrolled, life will become far easier. Not to mention that retaking control over your healthcare will grant you back your independence and control over your health and finances. So log into Medigap.com today and start shopping for plans. If you continue to struggle, feel free to call or email one of our healthcare experts.
| | | | |
| --- | --- | --- | --- |
| Medigap Plan | Minimum Monthly Premium | Maximum Monthly Premium | Average Estimated Monthly Premium (Part B Premium Included) |
| Plan A | $75 | $198 | $272 |
| Plan B | $108 | $225 | $302 |
| Plan C | $128 | $256 | $328 |
| Plan D | $124 | $181 | $288 |
| Plan F | $128 | $247 | $323 |
| Plan G | $111 | $238 | $323 |
| Plan K | $48 | $104 | $310 |
| Plan L | $75 | $149 | $212 |
| Plan M | $112 | $185 | $248 |
| Plan N | $87 | $290 | $284 |