Welcome to Virginia, the home of the United States Navy and the site of the first ever English settlement in the Americas. Your life in Richmond might be full of history, your time spent relaxing or visiting the calming outdoor beauties in the area, but what about your money? If you have Medicare and no form of supplemental insurance, then you live each day at constant risk of financial ruin. For the great majority of seniors in Richmond, access to quality healthcare is not always guaranteed. Lurking in the shadows of your Medicare benefits are insidious coverage gaps which, if not planned for in advance, could devastate your finances. But we have some cost-effective solutions for you to consider.
Facts and Figures
There are 27,682 seniors currently living in Richmond, Virginia.
There are 10 hospitals in the Richmond area where seniors can receive emergency and/or in-patient care.
17% of seniors in Virginia have a Medicare Advantage plan.
24% of seniors in Virginia have a Medicare Supplement (Medigap) plan.
That leaves 59% of seniors potentially uninsured or underinsured against costly Medicare coverage gaps!
Three out of every five seniors in Richmond do not have reliable access to healthcare because they are either forced to go without insurance coverage or to go without adequate insurance coverage. That comes out to just about 16,332 seniors who have to pay for their healthcare out-of-pocket. And, if they can't afford these high costs, they're left with no other option but to forfeit their independence and ask their children for help. To make matters worse, these problems only get worse as you age because of your increased probability of being diagnosed with an age-related illness. The chart below showcases just how common such diagnoses are in the Richmond area.
| | |
| --- | --- |
| Disease | Prevalence in Richmond, VA |
| Arthritis | 23% |
| High Blood Pressure | 34% |
| Coronary Heart Disease | 6% |
| Diabetes | 12% |
| Kidney Disease | 3% |
Healthcare Costs in Richmond, VA
The numbers themselves don't seem to bad. Everybody knows that illness and disability become more common with age; but did you know that these numbers are steadily rising with each new advancement in medical technology? It sounds counter-intuitive, but it's true. Thanks to those medical advancements, seniors are living longer now than ever before and the human life expectancy is continually increasing. This means there is more time in our lives for age-related illnesses to develop. But it doesn't stop there. As time goes on, the frequency and severity of the symptoms related to your age-related illnesses will worsen, driving up the total volume of your payments.
| | | |
| --- | --- | --- |
| Disease | Prevalence in Richmond, VA | Annual Cost of Treatment |
| Arthritis | 23% | $280 |
| High Blood Pressure | 34% | $288 |
| Coronary Heart Disease | 6% | $7,465 |
| Diabetes | 12% | $2,158 |
| Kidney Disease | 3% | $6,580 |
Medicare Advantage Savings in Richmond, VA
One of the most effective options you have at your disposal to combat these high annual costs is Medicare Advantage. These plans are privately owned and privately operated. Moreover, these plans are required by law to provide the same basic benefits as Original Medicare plans, meaning that you won't have to worry about losing any of the coverage options that you enjoy when you switch over. In order to remain competitive and gain business, Medicare Advantage insurance providers often offer additional options, most of which result in a total monthly payment of $0, assuming you're able to get the right government subsidies.
Among those additional options is prescription drug coverage. When you enroll in a Medicare Advantage plan, you can opt into a prescription drug coverage plan that provides you with as comprehensive or as simplistic a plan as you prefer. This means that you can choose a plan that covers only generic prescriptions or everything from name brands to medical equipment such as glucose monitors and testing strips. The former is great for anybody who only takes a small amount of prescriptions (one or two different medications) and the latter is great for anybody who suffers from severe and chronic health conditions. The chart below shows just how much money you could save over the five- and ten- year periods.
Medicare Advantage plans can save you yet more money, too, if you decide to add vision and dental coverage to your plan. Because Medicare Advantage plans are entirely private and serve to completely replace your existing Medicare plan, you can customize it to your heart's content (though benefits and costs can sometimes vary from city to city). This is a quality that Original Medicare and Medicare Supplement insurance do not have, but that is not to say that Medicare Supplement insurance is as rigid and inflexible as Original Medicare. Rather, the opposite is true. We'll explain that in the section that follows the below chart of the Medicare Advantage industry's most competitive rates.
Medicare Supplement (Medigap) Savings in Richmond, VA
Whereas Medicare Advantage plans function to entirely replace your Original Medicare plan, Medicare Supplement (a.k.a. Medigap) plans function to supplement and add additional benefits to your existing Medicare plan without changing the original plan itself. This means that you won't have to worry about delays in coverage as a result of transitioning to a Medicare Supplement insurance plan, although you will have to deal with multiple providers unless you find a provider of a Medigap plan who is willing to facilitate your Original Medicare concerns as well.
The first four plans that you should learn about are Medicare Supplement insurance plans of type A, D, K, and L. Each of these four plans are specifically tailored (in different ways) to accomodate you during the Medicare coverage gaps of Medicare Part A, which can be exceptionally high for seniors who suffer from chronic health conditions such as heart or kidney disease. If you have high Medicare Part A coverage gap expenses but low-to-no Medicare Part B coverage gap expenses, then one of these four plans might be perfect for you. However, if you have high Medicare Part A and Medicare Part B expenses or low Medicare Part A and high Medicare Part B expenses, then you will most likely not get much benefit from one of these four plans.
In that case, you're going to want to look into Medicare Supplement insurance Plans B, C, F, G, M, or N. Each of these plans helps not only to finance the coverage gaps inherent in Medicare Part A but also those in Medicare Part B, making these plans significantly more comprehensive than the other four mentioned above. Unfortunately, Medigap type F plans will no longer be available in 2021. This means that if you don't enroll soon and get grandfathered into those benefits, you're going to have to look into plans B, C, D, G, M, or N in order to receive a similar quality of coverage beginning in 2021.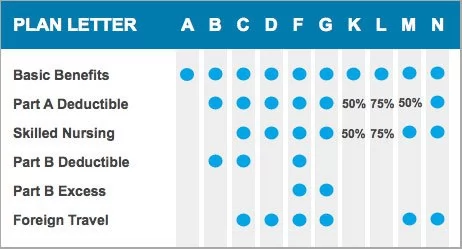 Although Medigap plans might seem like the perfect option, it is important to note that none of the ten Medigap plan types offer coverage for anything other than medical care. This means no prescription drug coverage, no dental coverage, and no vision coverage. This lack of comprehensive inclusion can result in significant out-of-pocket costs when compared to those associated with Medicare Advantage; however, the key is to find a third insurance provider who is willing to extend these coverage areas to you in a plan that supplements your Medicare Supplement insurance plan. You can typically do so in a manner that costs less than $100 per payment period because these three coverage areas tend to be among the cheapest on the market.
At the end of the day, it doesn't matter which healthcare plan you choose as long it's as comprehensive as Medicare Advantage or one of the ten Medicare Supplement insurance plans. Either of these two types of insurance, depending on your personal needs, can help make sure that you never have to choose between your good health and your independence ever again. But if you wait, an age-related illness just might make that decision for you. So don't wait! Head over to Medigap.com today and begin looking for the best way to secure your financial future.
| | | | |
| --- | --- | --- | --- |
| Medigap Plan | Minimum Monthly Premium | Maximum Monthly Premium | Average Estimated Monthly Premium (Part B Premium Included) |
| Plan A | $76 | $180 | $264 |
| Plan B | $95 | $201 | $284 |
| Plan C | $127 | $390 | $394 |
| Plan D | $116 | $189 | $288 |
| Plan F | $128 | $273 | $336 |
| Plan F (high deductible) | $24 | $61 | $178 |
| Plan G | $101 | $215 | $294 |
| Plan K | $40 | $80 | $196 |
| Plan L | $73 | $111 | $228 |
| Plan M | $109 | $128 | $254 |
| Plan N | $84 | $173 | $264 |