There is a large and thriving retirement community in Providence, Rhode Island. But you know what's not thriving in the area? The cost of medical care – especially if it's the type of medical care which isn't covered by Medicare Parts A and B. The unfortunate truth is that Medicare alone does not cover 100% of all your medical expenses. And the expenses it doesn't cover can get very costly, very quickly. But after you finish reading this page you'll know everything you need to know in order to protect yourself from these coverage gap costs.
Facts and Figures
There are 97,320 senior citizens living in Providence right now
There 7 hospitals in the Providence area where seniors can get emergency and/or in-patient care
37% of Rhode Island seniors have a Medicare Advantage plan
19% of seniors have a Medicare Supplement (Medigap) plan
Which leaves 44% of seniors potentially uninsured or underinsured against costly Medicare coverage gaps!
What do you think is the most costly medical ailment seniors suffer from? Cancer? It really depends on the individual. Something as seemingly simple as arthritis or diabetes can cost as much or more to manage over time as a positive cancer diagnosis. And this is because these chronic conditions will live with you for the rest of your natural life after you get diagnosed with them.
| | |
| --- | --- |
| Disease | Prevalence (in Providence) |
| Arthritis | 21% |
| High Blood Pressure | 29% |
| Coronary Heart Disease | 6% |
| Diabetes | 11% |
| Kidney Disease | 3% |
Healthcare Costs in Providence, RI
But unlike most types of cancer, you could be trying to manage the symptoms of your chronic diseases for years or even decades after you get diagnosed. And this will definitely add up over time. Most of the conditions in the graph below require multiple approaches, including things like prescription drugs, physical therapy, and regular testing both at home and in the doctor's office. Most seniors living on a fixed income can't afford to pay for all of these expenses 100% out of pocket on their own. The Medicare system is designed to help make sure that they don't have to pay for the vast majority of these expenses – but those costs which Medicare doesn't pay for can get truly disastrous if left unchecked.
| | | |
| --- | --- | --- |
| Disease | Prevalence (in Providence) | Annual Cost of Treatment |
| Arthritis | 21% | $291 |
| High Blood Pressure | 29% | $354 |
| Coronary Heart Disease | 6% | $7,915 |
| Diabetes | 11% | $2,163 |
| Kidney Disease | 3% | $8,656 |
Medicare Advantage Savings in Providence, RI
Most seniors choose between one of two different types of supplement insurance in order to protect themselves: Medicare Advantage, or a Medigap insurance policy. Let's first talk about Medicare Advantage. When you sign up for a Medicare Advantage insurance policy, you abandon your federal Medicare benefits and trade them in for an identical health insurance policy from a private company. But because you've paid into the Medicare system for most of your adult life, that money now goes toward paying your monthly premium – meaning that some seniors can get their insurance for as little as $0 per month in certain instances. You also have the option to customize your policy and add coverage to it that you can't get from Medicare alone.
The vast majority of Medicare Advantage plans come with their own type of prescription drug coverage. The type of coverage you get will very much depend on the health insurance company you sign up with and what resources are available in your area. For some seniors, comprehensive drug coverage on a Medicare Advantage plan is more affordable than sticking with Original Medicare and signing up for Medicare Part D prescription drug coverage. but this isn't necessarily the case for all seniors. It largely depends on your medical needs and your own personal circumstances.
An added convenience that comes exclusively with Medicare Advantage is the fact that you can customize your plan to include coverage such as dental and vision to the policy. This means you can manage all of your medical needs under the same provider without having to deal with multiple different insurance companies. Some seniors like this convenience so much that they believe it to be worth any extra costs they might incur. Others, however, may find a better deal with a less comprehensive – and therefore less expensive – type of plan.
Medicare Supplement (Medigap) Savings in Providence, RI
For many seniors out there, that plan is a Medicare supplement insurance plan, otherwise known as Medigap. These plans are specifically designed to offer you medical benefits which are left out of Medicare Parts A and B. There are 10 different plans in total, and you can choose one of them based on your individual needs. You still receive your Medicare benefits from the government, and the government steps in and handles the costs first whenever you get care. Whatever the government won't cover, your Medigap insurance policy steps in to pick up the slack. The bill only falls down to you if it's for medical care not provided by the first two.
Plans A, D, K, and L are the Medigap plans which exclusively target the coverage gaps in Medicare part A. Plan D is the most comprehensive of these four, and also offers a foreign travel benefit. If you think you have your Medicare Part B costs taken care of, you can save money by looking at one of these four plans. They typically have lower monthly premiums than what you might find on a more comprehensive Medigap plan.
But if you're worried about hospital costs – and also outpatient expenses associated with Medicare Part B – then you'll want to take a look at Plans B, C, F, G, M, and N. These plans add to the hospital coverage benefits in the other floor plans and cover additional Medicare gaps such as your Medicare Part B deductible and excess charges. Plan F is the most comprehensive out of all of these plans, but it won't be around for much longer. The good news is that if you can enroll before the beginning of 2021, you may be able to get grandfathered into the program and enjoy Plan F benefits long after it is no longer available for purchase.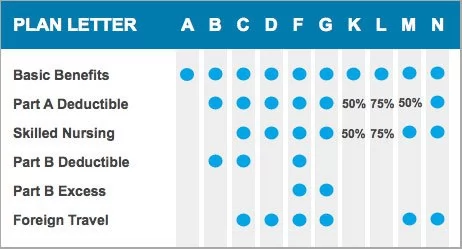 One inconvenience associated with Medigap insurance is the lack of options when it comes to prescription drugs, vision, and dental. If you choose to stick with Original Medicare, your best option for prescription drug assistance is to sign up for Medicare Part D. Just beware of the "donut hole" coverage gap which can make prescription drugs get very expensive for some seniors. Also, be on the lookout for local vision and dental insurance providers who offer discounts to people in your age group. It might be a hassle to deal with multiple different insurance companies, but it gives you better flexibility over your total medical costs at the end of the day.
It can be difficult to accurately anticipate your medical needs. And making a decision as important as Medicare Advantage vs. Medigap without help can be even more difficult. But we're here to help. You can contact one of our expert customer service representatives today, and we can help you figure out which one of these two plans would be best for you. We have several years of strong experience in the industry and we are eager to help you out.
| | | | |
| --- | --- | --- | --- |
| Medigap Plan | Minimum Monthly Premium | Maximum Monthly Premium | Average Estimated Monthly Premium (Part B Premium Included) |
| Plan A | $73 | $583 | $464 |
| Plan B | $108 | $203 | $291 |
| Plan C | $129 | $232 | $316 |
| Plan D | $129 | $196 | $298 |
| Plan F | $130 | $230 | $316 |
| Plan F (high deductible) | $31 | $232 | $267 |
| Plan G | $110 | $197 | $289 |
| Plan K | $41 | $99 | $206 |
| Plan L | $72 | $139 | $241 |
| Plan M | $118 | $144 | $267 |
| Plan N | $86 | $176 | $267 |