Life is great in West Fargo, North Dakota! The people are friendly, crime is low relative to the surrounding areas, and the culture is great. But what about medical care? Unfortunately, for people aged 65 and older, access to healthcare isn't one of West Fargo's strong suits. There are thousands of seniors who don't have the proper healthcare insurance, leaving them either spending massive sums of money on Medicare coverage gap expenditures or going without healthcare because the government has cut them off. Let's take a quick look at the numbers to see exactly how many seniors that this applies to.
Facts and Figures
There are 3,144 senior citizens living in West Fargo right now

There are only 3 hospitals in the West Fargo area where seniors can get emergency and/or in-patient care

17% of North Dakota seniors have a Medicare Advantage plan

51% of seniors have a Medicare Supplement (Medigap) plan

Which leaves 32% of seniors potentially uninsured or underinsured against costly Medicare coverage gaps!
The numbers above show that nearly one-third of the seniors in West Fargo either are content with their Original Medicare coverage or don't have access to the healthcare that they both need and deserve. However, the latter will only worsen with age and the former will likely change as the population grows older. This is because of what healthcare professionals refer to as "age-related illnesses," which are illnesses and diseases with symptoms that become more frequent and/or severe over time. When confronted with the fact that seniors in West Fargo have more than a one in five chance of developing arthritis, the seniors who lack proper access to affordable healthcare quickly tend to re-evaluate their financial priorities. The chart below describes the prevalence of a few of the most common age-related illnesses in the population aged 65 and older in your community.
| | |
| --- | --- |
| Disease | Prevalence in West Fargo |
| Arthritis | 17% |
| High Blood Pressure | 22% |
| Coronary Heart Disease | 5% |
| Diabetes | 7% |
| Kidney Disease | 2% |
Healthcare Costs in West Fargo, ND
Over time, age-related illnesses become far more difficult to live with, with some eventually inducing terminal states if left untreated. The operative phrase in that sentence, however, is "if left untreated." This means that you can still live a long and healthy life – if you have proper access to healthcare, that is. For the 68% of seniors in West Fargo who already have either Medicare Advantage or Medigap, that's not a problem. For the others, the increases in frequency and severity of these medical conditions can result in massive annual expenditures, regardless of the fact that you paid into Medicare for your entire life under the promise of being able to avoid those extra expenses. Since seniors are living longer lives now than ever before, these increased annual expenses are rising to heights never before seen in recent history.
| | | |
| --- | --- | --- |
| Disease | Prevalence in West Fargo | Annual Cost of Treatment |
| Arthritis | 17% | $294 |
| High Blood Pressure | 22% | $356 |
| Coronary Heart Disease | 5% | $9,393 |
| Diabetes | 7% | $2,173 |
| Kidney Disease | 2% | $8,209 |
Medicare Advantage Savings in West Fargo, ND
First things first, it is important to note that Medicare Advantage is not provided through the government. Rather, Medicare Advantage plans are owned and operated by private health insurance companies. An additional benefit that Medicare Advantage plans have over Original Medicare plans is that the law requires providers of the former to provide all the same benefits as providers of the latter, but it doesn't stop there. Medicare Advantage plan providers typically also provide you with the option of "paying a little more" for additional coverage options. Thanks to government subsidies and tax incentives, that "little more" that you would be paying could come out to a total monthly payment of $0.
Medicare Advantage can even provide prescription drug coverage, which can be an absolute necessity for seniors suffering from any form of illness. This drug coverage can sometimes even be expanded beyond the coverage of generic (or even name-brand, in some cases) prescription drugs to include medical supplies and other necessities such as glucose monitors and testing strips, enabling seniors with chronic health conditions to save even more money in the long run. For example, as the chart below shows, seniors with chronic kidney disease can save tens of thousands of dollars in a mere 10 years.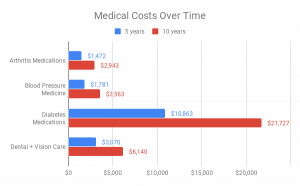 It is even possible, depending on your Medicare Advantage provider, to add vision and dental coverage to your array of healthcare options. This is an option that is not a possibility for either Original Medicare or Medicare Supplement, meaning that (with either of those two plans) you would be left with the same choice as the thousands of other uninsured or underinsured seniors in the West Fargo area: go broke or go without. However, if you don't need dental or vision care, then you might find additional benefits to be had through the use of one of those less comprehensive plans. If that is the case, then skip over the following chart detailing a few competitive rates for the more comprehensive Medicare Advantage plans and read the next section, which goes over Medicare Supplement insurance in further detail.
Medicare Supplement (Medigap) Savings in West Fargo, ND
Fortunately for the 68% of seniors in West Fargo who have proper supplemental Medicare insurance, it's not all doom and gloom. These seniors are protected from the bulk of the financial and medical struggles associated with rising healthcare costs.
In fact, certain Medicare policies, such as Medicare Part A supplemental insurance plans, even go so far as to cover most (if not all) of your hospital visits. This is particularly important for those seniors with a naturally higher predisposition to kidney and heart diseases, which can easily become life-threatening or financially ruinous if you go underinsured and untreated. Without these supplemental Medicare policies, you remain at increased risk of this sort of unwanted suffering, regardless of whether or not you are naturally predisposed to those two categories of illnesses. When faced with the increased risks of age-related kidney and heart diseases, these costs can be enough to force seniors out of retirement and back into the workforce.
If you find that you're spending a significant amount of money in out-of-pocket medical care paying for hospital visits and other Medicare Part A expenses but not so much for Medicare Part B, then you could benefit from enrolling in a Medigap type A, D, K, or L plan. Each of these plans have different coverage specifications and requirements, so it's important to take the time to research and evaluate which one best suits your needs. Alternatively, you can always call and speak to one of our experts.
In general, however, none of these plans assist with coverage options for costs incurred by the Medicare coverage gap for expenses related to Medicare Part B. Rather, they focus solely on improving your access to expenses related to Medicare Part A.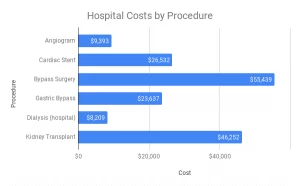 For seniors who need Medigap plans that cover both Medicare Part A and Medicare Part B expenses, plans A, D, K, and L simply won't do the trick. In that case, you'll want to look into Medigap type B, C, F, G, M and N plans. Each of these plans can free you not only from the Medicare coverage gap as it pertains to your Medicare Part A costs but also as it pertains to your Medicare Part B costs, potentially saving you thousands of dollars every year. Unfortunately, if you want a Medigap type F plan, then your ability to purchase this coverage will be coming to an end as of 2021. If you won't qualify for Medicare before 2021, you should begin looking for quotes for plans type B, C, D, G, M and N, which offer similar benefits.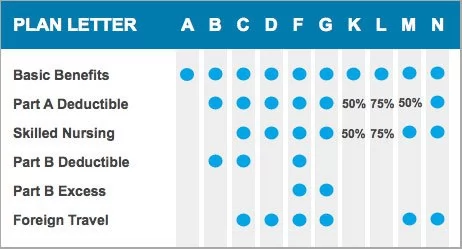 Although Medigap plans can save you a considerable amount of wealth on most Medicare Part A and/or Medicare Part B expenses, they can't save you much of anything on other expenses. One of the most common complaints against Medigap insurance policies is that they don't provide prescription drugs, vision care, or dental care. While this is true, it is important to keep in mind that each of these coverage categories are among the cheapest categories available on the private market. In many cases, your chosen Medigap plan could be easily supplemented by an affordable private insurer's policies in each of these areas for less than $100 a month.
The most important takeaway from this article is that you need to take back control over your healthcare and your finances. Whether you choose to go with a Medicare Advantage plan or with a Medicare Supplement (Medigap) plan is completely up to you. You know your healthcare needs better than anybody else, so why should you have to rely on the support of your children or charity from strangers to pay those costs? You don't have to. Not anymore. Head over to Medigap.com today and begin the process of retaking control over your future.
| | | | |
| --- | --- | --- | --- |
| Medigap Plan | Minimum Monthly Premium | Maximum Monthly Premium | Average Estimated Monthly Premium (Part B Premium Included) |
| Plan A | $60 | $222 | $277 |
| Plan B | $107 | $253 | $316 |
| Plan C | $113 | $287 | $336 |
| Plan D | $97 | $243 | $306 |
| Plan F | $115 | $284 | $335 |
| Plan F (high deductible) | $29 | $75 | $188 |
| Plan G | $99 | $244 | $307 |
| Plan K | $46 | $92 | $205 |
| Plan L | $78 | $126 | $238 |
| Plan M | $103 | $146 | $260 |