Whether you're a snowbird based out of Rockford, IL or whether you still enjoy those frosty midwestern winters, spending your golden years in Rockford gives you some unique opportunities and challenges. One of the challenges you may not know about – aside from the snow and the cold – has to do with your Medicare. You might not be receiving as much coverage as you think – and that lack of coverage could cost you tens of thousands of dollars later in life if you aren't careful! But we have plenty of helpful info right here on this page that can get you all the coverage you'll ever need.
Facts and Figures
There are 23,004 senior citizens living in Rockford right now
There 8 hospitals in the Rockford area where seniors can get emergency and/or in-patient care
21% of Illinois seniors have a Medicare Advantage plan
33% of seniors have a Medicare Supplement (Medigap) plan
Which leaves 46% of seniors potentially uninsured or underinsured against costly Medicare coverage gaps!
What do you think is the most expensive disease you will need to get care for in your lifetime? Most people might think of something horrendous like cancer or something we don't have a cure for yet, like multiple sclerosis; but the truth is that the most expensive health ailments are usually the ones you don't think about. Just take a look at the statistics regarding age-related disease in the chart below. Nearly one-third of Rockford residents suffer from at least one of these on a daily basis. And if you're one of them, things can get expensive before you know it.
| | |
| --- | --- |
| Disease | Prevalence (in Rockford) |
| Arthritis | 21% |
| High Blood Pressure | 29% |
| Coronary Heart Disease | 6% |
| Diabetes | 11% |
| Kidney Disease | 3% |
Healthcare Costs in Rockford, IL
The thing about age-related disease is that, unlike something like cancer, you could spend years or even decades getting treatment for them. And even if that treatment only starts with one extra doctor's appointment per year, or one extra generic drug prescription in your medicine cabinet, it won't stop there. And neither will your medical expenses. Even something as seemingly minor as arthritis could eventually turn into a major joint replacement surgery a decade from now; the same thing goes for chronic heart disease or chronic kidney disease. While most of the surgeries and medications are largely covered by Original Medicare, it largely depends on whether or not you have an adequate Medicare Supplement Insurance policy to go along with your Medicare benefits.
| | | |
| --- | --- | --- |
| Disease | Prevalence (in Rockford) | Annual Cost of Treatment |
| Arthritis | 21% | $291 |
| High Blood Pressure | 29% | $354 |
| Coronary Heart Disease | 6% | $9,019 |
| Diabetes | 11% | $2,163 |
| Kidney Disease | 3% | $7,891 |
Medicare Advantage Savings in Rockford, IL
You have two main choices when it comes to Medicare supplement coverage: Medigap, or Medicare Advantage. You must choose between the two; you are not legally allowed to purchase both. This is mainly because of how differently these policies operate. If you choose a Medicare Advantage policy in Rockford, you essentially forfeit your federal Medicare benefits in exchange for a private insurance policy which promises to give you at least those same benefits. If an insurance company tries to sell you less coverage than that while calling it Medicare Advantage, then they're breaking federal law and committing a serious crime. But the good news is that many Medicare Advantage companies actually offer more benefits than what you might get with Original Medicare. And sometimes you can get all of this coverage for close to or at $0 per month.
With a Medigap policy, you would basically have to sign up for Medicare part A D in order to get financial assistance with your prescription drugs (but More on that later). with Medicare Advantage, on the other hand, you will likely have an option to add prescription drug coverage to your plan at little to no cost. Depending on the type of prescription drug coverage they offer, this has the potential to save you thousands of dollars on your medications. But if you don't take very many medications, this might not give you any immediate financial benefit. It could, however, benefit you overtime if you end up with a diabetes diagnosis or a similar element which requires lots of pharmacological intervention.
Other popular types of coverage you can add to your Medicare Advantage plan include dental and vision. Then again, these might not be available in all areas. And even if they are, there's no guarantee they will be cheaper than other local providers. That being said, combining your drug coverage, dental, and vision coverage under one single insurance policy can be a huge boon to seniors who benefit from that convenience. But that convenience may come at a price for others – so it's especially important to shop around and compare prices if you are on a budget.
Medicare Supplement (Medigap) Savings in Rockford, IL
The majority of seniors who choose to purchase a Medigap policy instead of Medicare Advantage do so because of the inherent value it offers. These policies are designed to work with Medicare, not replace it; therefore they're smaller in nature and only focus on the gaps in Original Medicare coverage. You can choose from one of 10 different plans. They're each designated by a letter, such as Plan F or Plan A. They are standardized, meaning that each plan will offer you the same exact benefits no matter which state you live in. Medicare will still be your primary form of health insurance, and only when Medicare refuses to pay out on a medical claim will you have to deal with your Medicare Supplement Insurance policy.
Depending on what your medical needs are, certain Medigap plans work better for some seniors rather than others. Plans A, D, K, and L are designed for seniors who are primarily concerned with Medicare coverage gaps in Part A of their federal benefits. This means that those four Medigap policies won't cover any of the gaps in Part B coverage; but the fact that those plans offer fewer benefits means they also offer a cheaper monthly premium. So if you are certain that you have your Part B costs under control, you can purchase less coverage and save money with one of those four plans.
For most seniors, however, there are a lot of uncovered Medicare Part B costs to be worried about. The more non hospital medical care you need, the more you will have to pay in coinsurance, co-payments, and Part B excess charges. There's also things like foreign travel, and your part B deductible to worry about. if you're especially worried about getting help with your part B deductible, then you'll have to act fast – because Medigap Plan F is not only the most popular plan, but only one of two that offers that type of coverage currently. If you are turning 65 and planning on enrolling in Medicare before January of 2021, this may be your last chance to grandfather yourself into this program before it is no longer offered for purchase.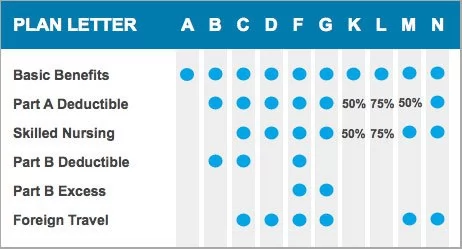 For Better or Worse, not even comprehensive plans like Medigap Plan F cover vision and dental. They don't offer prescription drug coverage, either. You'll have to go to outside sources for help with those medical expenses. Medicare Part D is the federal prescription drug assistance program, but there is a "donut hole" coverage gap where it will stop helping you with your prescription costs if they surpass a certain amount, and if that amount falls short of the government's definition of "catastrophic coverage". This donut hole gap can be particularly problematic for seniors who are on several very expensive prescriptions. With regard to vision and dental, you are allowed to purchase separate, private insurance which covers these needs, even if you stay enrolled in the federal Medicare program. Some companies may even offer discounts for people in your age group, which can provide you with added savings.
It's hard to predict what health challenges you may face in the future – and it can be even harder to pay for the unexpected surprises on a fixed, retirement income. That's why we're here to help you plan for the future and cover your bases so that you stay financially solid well into your golden years. If you have any questions or need help choosing a policy, don't hesitate to contact us!
| | | | |
| --- | --- | --- | --- |
| Medigap Plan | Minimum Monthly Premium | Maximum Monthly Premium | Average Estimated Monthly Premium (Part B Premium Included) |
| Plan A | $71 | $276 | $309 |
| Plan B | $93 | $314 | $339 |
| Plan C | $122 | $357 | $375 |
| Plan D | $106 | $217 | $297 |
| Plan F | $111 | $294 | $338 |
| Plan F (high deductible) | $31 | $91 | $197 |
| Plan G | $107 | $218 | $298 |
| Plan K | $53 | $109 | $217 |
| Plan L | $79 | $154 | $252 |
| Plan M | $109 | $176 | $278 |
| Plan N | $87 | $176 | $267 |