Are you new to Medicare, or otherwise unfamiliar with the specifics of your Medicare coverage? Believe it or not, Medicare doesn't cover everything. Most people will still need to purchase some sort of Medicare Supplement Insurance plan in order to protect themselves from these costly gaps in Medicare coverage. Senior citizens who live in Denver, CO are particularly vulnerable. But don't worry – we'll tell you everything you need to know to protect your finances from unexpected medical expenses in Denver.
Senior Medicare in Denver, CO: Facts and Figures
There are 80,247 senior citizens living in Denver right now
There 11 hospitals in the Denver area where seniors can get emergency and/or in-patient care
37% of Colorado seniors have a Medicare Advantage plan
17% of seniors have a Medicare Supplement (Medigap) plan
Which leaves 46% of Denver, CO seniors potentially uninsured or underinsured against costly Medicare coverage gaps!
Some of the most costly medical bills come from the treatment and management of chronic diseases. As the human body ages, it starts to break down in certain ways. Your joints will wear out with time, skin will start to get thin and loose, your heart may struggle to pump blood efficiently, or your memory might start to get a little foggy. The table below provides a snapshot of which chronic diseases are the most popular among seniors in your area.
| | |
| --- | --- |
| Disease | Prevalence (in Denver) |
| Arthritis | 25% |
| High Blood Pressure | 33% |
| Coronary Heart Disease | 7% |
| Diabetes | 11% |
| Kidney Disease | 3% |
Healthcare Costs in Denver, CO
A chronic disease is something that doesn't go away. To make matters worse, chronic diseases tend to get worse over time no matter how well you manage them. Preventative care, a healthy diet and lifestyle, and good communication with your doctor can definitely help keep these conditions at bay and save you money on treatment. But even taking the best possible care of yourself doesn't completely eliminate the financial cost of living with a chronic health condition.
| | | |
| --- | --- | --- |
| Disease | Prevalence (in Denver) | Annual Cost of Treatment |
| Arthritis | 25% | $304 |
| High Blood Pressure | 33% | $180 |
| Coronary Heart Disease | 7% | $9,108 |
| Diabetes | 11% | $2,208 |
| Kidney Disease | 3% | $8,106 |
Medicare Advantage Savings in Denver, CO
We noted earlier that 37% of people who live in Colorado already have a Medicare Advantage plan. In case you're unfamiliar, let's clear up the confusion: Medicare Advantage is not technically Medicare. It is a private insurance plan which is approved by the federal government for sale, but it is not managed by the federal government. By law, these plans must be at least identical to Medicare Parts A and B together. But many of these plans offer those same benefits and more if you choose to purchase additional coverage. Once the plan is approved by the federal government, they will agree to pay an appropriate share of your premium for you, which can help some Colorado residents get their care for as little as $0 per month.
Many seniors in Denver feel that the optional coverage which Medicare Advantage allows them to purchase helps them afford basic medical needs and incidentals which Original Medicare will not help them pay for. Things like prescription drugs and medical supplies – which are very important for managing chronic disease – are easier to get covered or to at least get a portion of the costs shared on a Medicare Advantage plan. But that's not all you can get out of Medicare Part C (which is another name for Medicare Advantage in Colorado).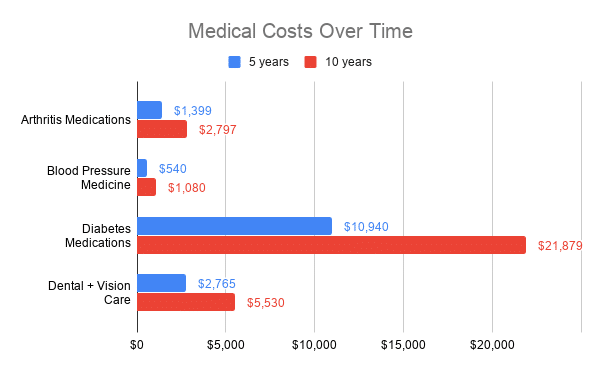 Unlike Original Medicare or a Medicare Supplement Insurance policy, you can add things like prescription drugs, vision, or dental directly to your plan. This means that you can manage all of these benefits and doctor appointments directly through your main insurance provider. You won't have to go to an outside company or pay a different premium to a different provider each month. Many seniors relish this convenience. Juggling your medical benefits, paying your bills, and getting everything in order among several different providers can be overwhelming for some. Being able to consolidate everything under the same plan is a blessing that some seniors may even be willing to pay a little extra for depending on their medical needs.
Medicare Supplement (Medigap) Savings in Denver, CO
But Medicare Advantage isn't for everybody. The downside of these policies is that they are often very large, very complex, and it can take a lot of time, energy, and planning to get your specific policy just right. Medigap Insurance in Colorado, on the other hand, offers simplicity. If you like your Original Medicare benefits and coverage but simply want protection against the coverage gaps, Medigap does exactly that. Nothing more, nothing less.
The type of Medigap insurance plan you purchase depends on what your specific needs are, and which gaps in Traditional Medicare coverage you want to cover the most. Some plans start by covering hospital benefits to protect you from the coverage gaps in Medicare pPart A. These plans include A, D, K, and L. They help you with expenses related to Part A coinsurance, hospital costs, blood transfusions, and hospice care. These are some of the highest expenses that seniors face, especially at the end of their lives, so it's really important to get them covered.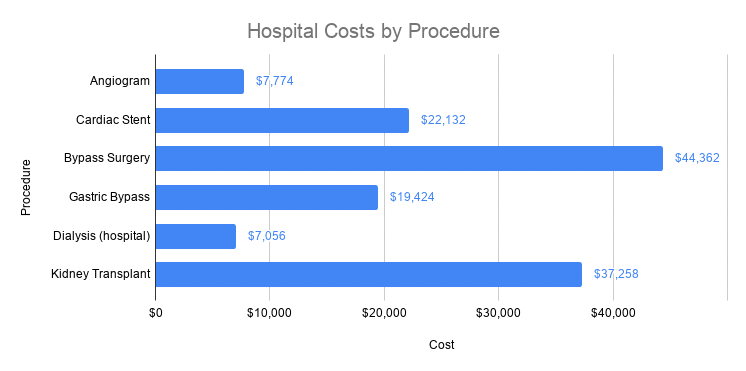 Then there are gaps in Medicare Part B coverage that you have to worry about. Granted, purchasing more comprehensive plans which cover the gaps in Medicare Parts A and B will come with a more expensive monthly premium; but getting more coverage will give you greater financial protection and better peace of mind. The graph above shows the retail value of common hospital procedures which seniors with chronic conditions will eventually have to pay for. Without covering the gaps in both Medicare Parts A and B, you could be paying for some or all of those bills directly out of pocket, making them virtually unaffordable.
Medigap plans B, C, D, F, G, M, and N help cover expensive gaps in Medicare Part B coverage like coinsurance and co-payments for doctor visits or outpatient treatment. They can also help with your Part B deductible, excess charges for outpatients or doctor visits, and even foreign travel. Not everyone will need things like foreign travel or help with excess charges, though. So if you decide to keep Original Medicare and supplement with Medigap, you can save money by choosing a less comprehensive plan and paying a smaller premium each month. It all depends on what your specific medical needs are.
Because Medigap policies are limited in scope, you won't have the option to truly customize your coverage the way you would with Medicare Advantage. This means that you're basically on your own when it comes to prescription drugs, dental, or vision. This doesn't mean you can't get coverage for those things at all; it just means you won't be able to get coverage through your Medigap Supplement Insurance company. You can still sign up for the Medicare Part D prescription drug program if you choose to remain enrolled in Medicare. And you may have more flexibility with your dental and/or vision care because you won't be limited to choosing only those providers selected by your insurance company the way you would with Medicare Advantage.
Choosing the right Medicare Supplement Insurance is a delicate balancing act, no matter what decision you make. Purchasing too much coverage can cost you a lot of money in the long run – but failing to purchase enough can be catastrophically expensive. As a Denver resident, your specific medical needs and the cost of care in your area present you with unique challenges and benefits. But we have staff standing by right now who can help you sort through all of the confusion and choose the best Medicare Supplement Insurance policy for you right now. All you have to do is reach out and contact us.
| | | | |
| --- | --- | --- | --- |
| Medigap Plan | Minimum Monthly Premium | Maximum Monthly Premium | Average Estimated Monthly Premium (Part B Premium Included) |
| Plan A | $71 | $254 | $298 |
| Plan B | $107 | $289 | $334 |
| Plan C | $142 | $329 | $371 |
| Plan D | $131 | $198 | $300 |
| Plan F | $140 | $271 | $341 |
| Plan F (high deductible) | $31 | $89 | $196 |
| Plan G | $113 | $200 | $292 |
| Plan K | $35 | $100 | $203 |
| Plan L | $64 | $141 | $238 |
| Plan M | $125 | $171 | $284 |
| Plan N | $93 | $176 | $270 |