Alabama is known for a wide number of things, but Montgomery in particular means something different to everybody. Unfortunately for two out of every five seniors, Montgomery means limited to no access to healthcare. For these thousands of seniors, healthcare is both a necessity and a pipe dream. Because of the fact that 39% of seniors in Montgomery lack the proper level of insurance, they oftentimes find themselves financially burdened by Medicare coverage gaps. If you're in this situation, it's important to know that you're not alone. Let's take a closer look at the statistics.
Facts and Figures
There are currently 26,561 seniors living in Montgomery, AL.
There are 10 hospitals in the Montgomery area where seniors can receive emergency and/or in-patient care.
36% of seniors in Alabama have a Medicare Advantage plan.
25% of seniors in Alabama have a Medicare Supplement (Medigap) insurance plan.
This leaves 39% of seniors potentially uninsured or underinsured against costly Medicare coverage gaps!
As you can tell from the data above, two out of every five seniors in Montgomery, Alabama either lack consistent access to healthcare or lack any access to healthcare whatsoever. For most of these seniors, securing the treatments that they both need and deserve is simply impossible, typically leaving them with the "choice" to either take out extra disbursements from their retirement savings in order to just barely cover the out-of-pocket costs of their treatments or to go without treatment altogether. In and of itself, this is an awful situation, but it gets even worse. As people age, their risk of being diagnosed with one or more age-related illnesses increases exponentially. The chart below showcases five of the most common age-related illnesses and their prevalence among Montgomery's senior population.
| | |
| --- | --- |
| Disease | Prevalence in Montgomery, AL |
| Arthritis | 30% |
| High Blood Pressure | 41% |
| Coronary Heart Disease | 7% |
| Diabetes | 14% |
| Kidney Disease | 3% |
Healthcare Costs in Montgomery, AL
As you can see, age-related illnesses are rather widespread in the Montgomery area. Due to the fact that seniors there are living longer lives now than ever before, these numbers are destined only to climb over the next few years, as more seniors live long enough to develop symptoms severe enough to warrant a diagnosis. This brings us to our next point: the prevalence of age-related illnesses among the population isn't the only thing that increases with age. So too do the frequency and severity of symptoms of these various illnesses. Of course, this also means that the costs of treatment for each afflicted person is increasing more and more each year. The information below provides a look at the minimal estimates of annual costs of treatment for relatively healthy seniors.
| | | |
| --- | --- | --- |
| Disease | Prevalence in Montgomery, AL | Annual Cost of Treatment |
| Arthritis | 30% | $291 |
| High Blood Pressure | 41% | $354 |
| Coronary Heart Disease | 7% | $8,672 |
| Diabetes | 14% | $2,163 |
| Kidney Disease | 3% | $7,781 |
Medicare Advantage Savings in Montgomery, AL
Medicare Advantage plans are a popular private insurance alternative to Original Medicare. However, Medicare Advantage plans are in no way controlled by the government. Rather, they are owned and operated by private businesses competing with one another to provide the best possible services at the lowest prices. Although Medicare Advantage plans serve to replace your Original Medicare coverage, these plans are required by law to provide at least all the same benefits of Original Medicare. In reality, Medicare Advantage providers typically enable you to add on additional coverage benefits all while still paying nearly $0 per payment period (thanks to available subsidies from the US government).
If you happen to be spending a significant amount of money on prescription drugs, this next section is going to be more important to you than if you don't require many prescriptions. Medicare Advantage plans frequently offer you the ability to finance prescription drug coverage, something that neither Original Medicare nor Medicare Supplement insurance can offer. Moreover, this drug coverage can often be extended to cover medical tools and equipment, such as glucose monitors and testing strips, necessary for treating chronic illnesses, enabling you to save significant amounts of money over the five- and ten- year periods.
Medicare Advantage plans can enable you to save even more money in the long run by also offering you the ability to select comprehensive dental and vision care coverage, yet another benefit that is unique to Medicare Advantage. This means no more deciding between seeing the doctor for your high blood pressure or getting a new prescription for your glasses. With Medicare Advantage, you can easily have access to both in an affordable and reliable manner.
Medicare Supplement (Medigap) Savings in Montgomery, AL
Unlike Medicare Advantage plans, Medicare Supplement (also known as Medigap) plans do not replace your existing Medicare plan. Rather, they supplement it, as the name indicates. For the most part, Medigap plans are designed to help more so with expenses related to Medicare Part A than any other facet of Medicare. All in all, there are ten plans, divided into two categories, with each individual plan coming with its own specific costs and benefits. It's a complicated process, so don't hesitate to talk to one of the experts if we lose you along the way.
First off, there is the category of Medigap plans that solely covers Medicare Part A expenses. This category includes Plans A, D, K, and L. These plans can be perfect, affordable options for anybody who finds that they spend considerable amounts of money on Medicare Part A coverage gaps without spending much out-of-pocket on Medicare Part B coverage gaps, making these four plans exceptional choices for seniors suffering from chronic health conditions (specifically chronic heart and kidney disease).
The second category is a little more complicated. Medicare Supplement insurance Plans B, C, F, G, M, and N all cover Medicare Part A coverage gaps as well as Medicare Part B coverage gaps; however, each plan covers each coverage gap in different ways. These differences, though stark in effect, can appear quite subtle and can often surprise seniors in the enrollment process, leading them to select plans that either don't address all of their needs, or paying higher premiums for purchasing excessive amounts of coverage. Also, you should know that Medicare Supplement insurance Plan F is no longer going to be available after 2020. Starting 2021, you're going to have to get your Medigap insurance through a different plan if you don't enroll now and get grandfathered into the program.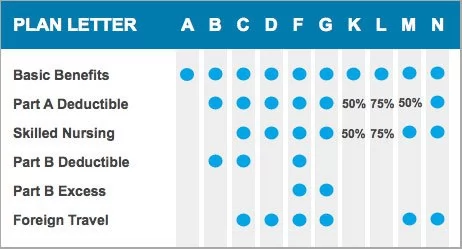 Of course, Medicare Supplement insurance plans are not without their fair share of drawbacks. Although Medigap plans might cover everything that you need from a medical insurance provider, there are a wide variety of shortcomings and holes in the total coverage possibilities. For instance, no Medicare Supplement insurance plan covers prescription drugs, dental care, or vision care. For each and every one of these coverage areas, you're going to need to select alternative supplemental insurance options. This means that you will have to use another private insurance provider (or providers) in order to supplement your Medicare Supplement insurance plan, bringing your total number of insurance providers up to at least three and at most five. That said, it is possible to do so for only a few dollars a month, typically enabling most people to purchase these three additional coverage benefits for under $100 in total per payment period.
Although it can be quite a hassle to hunt down, enroll in, and manage multiple insurance plans from multiple insurance providers, the work will absolutely pay off in the long run. A little stress and a little mental strain today can result in a significant decrease in financial struggle in the future, saving you time, money, and energy, not to mention securing your health and your independence against unforeseen circumstances. However, by procrastinating, you increase the risk and decrease the potentially long-term rewards, so don't wait! Head over to Medigap.com and start browsing for plans that best suit your needs today. Your future health demands it!
| | | | |
| --- | --- | --- | --- |
| Medigap Plan | Minimum Monthly Premium | Maximum Monthly Premium | Average Estimated Monthly Premium (Part B Premium Included) |
| Plan A | $72 | $140 | $242 |
| Plan B | $103 | $170 | $272 |
| Plan C | $116 | $208 | $298 |
| Plan D | $109 | $164 | $272 |
| Plan F | $102 | $194 | $284 |
| Plan F (high deductible) | $27 | $56 | $177 |
| Plan G | $99 | $165 | $268 |
| Plan K | $43 | $86 | $200 |
| Plan L | $72 | $120 | $232 |
| Plan M | $105 | $126 | $251 |
| Plan N | $79 | $149 | $250 |