American Financial Security Life Insurance Company was established in 1957 to provide various insurance coverage options. Focused on providing a broad range of insurance products, they built their reputation through their dedication to meeting members' needs everywhere.
The mission of the American Financial Security Life Insurance Company (AFSLIC) is to provide customized solutions to meet their client's needs and health benefits. Serving over two dozen states, AFSLIC has its regional office in New York and its corporate office in Florida.
We'll review American Financial Security Life Insurance Company's products and focus on their Medicare Supplement insurance policies.
Then we'll report on Medicare Advantage plans and Part D prescription drug coverage. After that, we'll finish with the financial rating of American Financial Security Life Insurance Company, go over a few common questions, and expound on how to get help with a supplemental Medicare policy.
American Financial Security Medicare plans
Original Medicare is a government-sponsored health plan available to folks over 65 and some under 65 with certain health conditions. These Medicare coverages help by accepting some of the financial responsibility for the health care costs of these beneficiaries.
There are costs attached to the Medicare program, such as the inpatient Part A deductible, Part B deductible, copays, Part B coinsurance, and Part B Excess charges.
Typically, Medicare beneficiaries enroll in a Supplemental Medicare plan to offset these potentially high out-of-pocket costs. Beneficiaries have the option of either a Medicare Supplement insurance plan or a Medicare Advantage plan.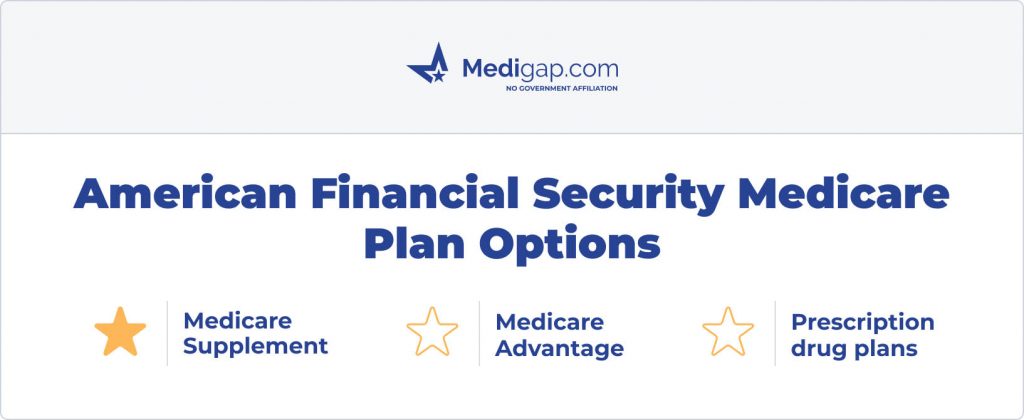 American Financial Security Medicare Supplement plans
Beneficiaries can impact their healthcare costs and make them more affordable by enrolling in a secondary insurance plan offered by one of the private insurance companies. Another name for a Medicare Supplement is Medigap plans.
Medicare Supplement insurance plans help cover the costs not paid by your Medicare Part A and Medicare Part B, it's monthly renewable, and you can't be dropped as long as you're paying your monthly premium.
Medicare Supplement plans offered by American Financial Security Life include the following four options:
Plan A
Plan G
Plan N
Plan F

Medigap Plan F is only available to beneficiaries eligible before January 1, 2020.
For a Medicare Supplement plan to cover benefits, the beneficiary's Original Medicare must be active. Medicare Supplement insurance can help with the cost of hospitals, foreign travel emergencies, and skilled nursing facility coinsurance.
American Financial Security Life Insurance Company offers Medicare Supplement insurance plans, but not in every state. They don't offer all Medicare Supplement plan options.
When to enroll in an American Financial Security Medigap plan
Enrollment in Medicare Supplement plans during the 6-month window surrounding your 65th birthday is the easiest. This period is known as your Open Enrollment period. During this time, you can apply without being subject to medical underwriting.
Of course, you can enroll in a Medicare Supplement plan anytime, provided you can pass medical underwriting. Some people may be subject to denial or higher monthly premiums if they have less than average health.
American Financial Security Medicare Advantage plans
Medicare Advantage insurance plans merge your benefits from your Original Medicare into one program. These plans will usually include the benefits under Medicare Part A, Medicare Part B, and Medicare prescription drug coverage.
In addition to the benefits from Medicare Part A and Medicare Part B, They can also provide coverage for transportation, dental, vision, hearing, and usually prescription drugs. These added benefits aren't included in the Original Medicare health plans.
AFSLIC doesn't offer Medicare Advantage plans, but several other health insurance companies offer Part C options.
American Financial Security Medicare Part D
Private insurance companies contract with CMS to offer Part D, prescription drug coverage. Drug coverage is provided either in a stand-alone Medicare Part D prescription drug plan or a Medicare Advantage insurance plan.
American Financial Security Medicare pros and cons
Pros
Affordable plan premiums
Offers the most popular plans
Financially sound
Cons
Not all plans are available
Offered in a limited number of states
Financial strength ratings
| | |
| --- | --- |
| A.M. Best Rating | B++ |
| Standard & Poors Rating | N/A |
| Moodys Rating | N/A |
Companies with a higher rating tend to offer lower rates, quicker claims processing, and conservative rate increases. AFSLIC is a financially strong company focusing on its three pillars of flexibility, innovation, and trust.
Reviews
American Financial Security Life Insurance Company is dedicated to health, accident, and reinsurance products.
In January 2021, they began offering some of the most popular Medigap plans. They have competitive rates and are always moving forward to serve their beneficiaries better.
FAQs
What is Medigap Insurance?
Medigap Insurance fills the holes in coverage left by Original Medicare.
For example, both Medicare Part A and Medicare Part B have a deductible and coinsurance assigned to the beneficiary. A Medicare Supplement Plan can help with those costs.
When Can I Enroll in Medigap Insurance?
The best time to enroll in a Medigap plan is during your Medicare Open Enrollment Period. This is the 6-month window around the beneficiaries' 65th birthday or when that person's Medicare first starts. Enrolling during this period allows you to skip medical underwriting.
You can enroll in a Medigap plan anytime. Still, you'll have to answer health questions to complete the enrollment process and may be denied coverage.
How do I Get a Replacement, Medicare Card?
You'll need to replace your Medicare Card when you realize it's been lost. You can obtain a new one by contacting Medicare directly in one of three ways.
First, you can call Medicare and ask them to mail you a new card. You can log in to your MyMedicare account on Medicare.gov and print your card or request one be sent to you.
How to sign up for American Financial Security Medicare plans
Enrolling in a Medicare Supplement health insurance plan isn't hard. It's deciphering the options that feel tricky.
To make it simple, work with a licensed insurance agent. Select a broker that works with numerous companies to get the best results and lowest prices.
For help, call us or fill out the online request form. We have experts to help you with the whole process. From education to assistance enrolling, we'll be there to facilitate your becoming a policyholder from the company of your choice.