New England is the northeastern region of the United States constituting Maine, Vermont, New Hampshire, Massachusetts, Connecticut, and Rhode Island. The coastal region is recognized as the birthplace of America, as it was the site of the first settlement by European explorers. Bordering between New York and Canada, New England is known for its cold climate, unpredictable weather, and long winter seasons. However, no matter the weather or the season, you can certainly find a variety of things to do and breathtaking sights in nature. Here are some of the best places to retire in New England.
Maine
Maine is known for lobsters and lighthouses, but there's much more to this charming state than meets the eye. It's an incredible place to retire if you're looking for a scenic living environment, local getaways, and fresh seafood all year round. With one of the highest rates of quality healthcare in the U.S., Maine is an ideal location for seniors who want reliable and affordable medical care.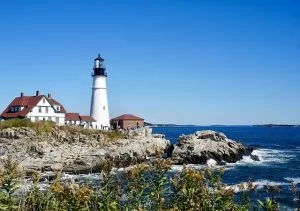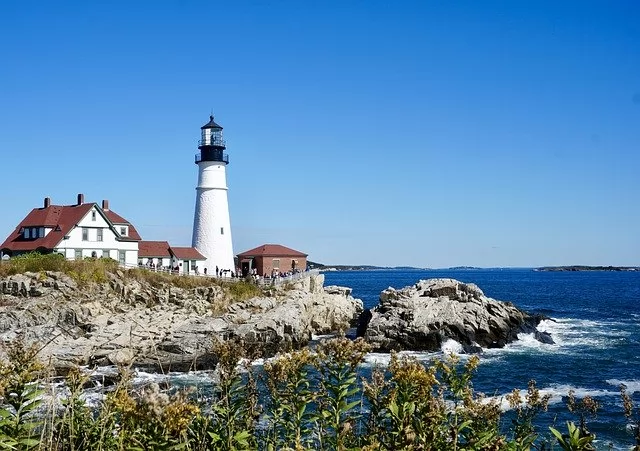 North Windham
For those who thoroughly enjoy a small-town feel, North Windham is a great location to settle down and live out your golden years. It's a quiet village with a close-knit community of friendly people. With an abundance of parks and scenic landscapes, nature will always be your neighbor.
Farmington
Coastal residencies in Maine can be on the pricey side, so an inland town like Farmington is perfect if you want affordable housing with close proximity to the shore. Farmington is considered the quintessential portrait of Maine, with acres of mountains and lakes that offer the most beautiful views in the state.
Belfast
Locals say Belfast is the best place to retire in Maine, mainly for its relaxing aura and comforting community atmosphere. It's home to dozens of retirement communities and recreation centers that offer unique events and activities for seniors. The town is locally-oriented, so it's easy to make friends and maintain a good social life.
Portland
Portland's waterfront, neighboring islands, and abundance of activities make it a natural draw for residents and tourists alike. The city has its own lively culture, with a fruitful art scene throughout its dozens of museums and galleries. Portland is also home to some of the country's award-winning restaurants, so you'll be treated to new cuisines all year round.
Vermont
Vermont is considered the liberal capital of New England. The northern state is constantly evolving, with increasing rates of ethnic diversity and cultural innovation. Between the variety of great food and the best resorts for winter sports, there is always something to do or see. If you can get used to the long winters and heavy snowfall, Vermont is a great place to retire to feel secluded and safe.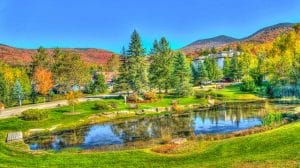 Montpelier
Montpelier, the capital city of Vermont, is recognized as one of the most retiree-friendly locations in New England. Often called a 'walker's paradise,' the city's central institutions are easily accessible by foot and close, too. Montpelier has an engaging community that love to host plenty of social and cultural events throughout the year. The local Senior Activity Center offers an array of classes and programs in technology, music, photography, and exercise.
Shelburne
Real estate in Shelburne is slightly more expensive than other residential towns, but its cozy environment and lakeside views make it an ideal place to live in all of Vermont. The small town hosts tight-knit local residents who thrive on community support and bonding. Its must-see attractions are the 1,400 acre Shelburne Farms and the closeby Lake Champlain.
Cambridge
Cambridge is the best place to ski in Vermont but is also known as a pleasant town to live in if you want peace and quiet. Country living is essential in Cambridge, with working farms and rural landscapes taking up most of the land. Walking or driving all through the town, you'll surely see some of the most beautiful changing leaves throughout the fall season.
Waterbury
Home to the Ben & Jerry's ice cream factory, Waterbury is a flourishing town that's extremely safe for adults, children, and seniors. It's ranked 97% safer than all other U.S. cities, so you won't have to worry about crime in your retirement years. Whether you're looking for a downtown apartment or a house on the town's rural outskirts, it's easy to find a spacious and affordable home.
New Hampshire
Often called the 'Granite Place,' New Hampshire is a relatively quiet state where you'll find New England's most beautiful sights in nature. Home to the Appalachian Trail and the White Mountains, it's an ideal home state for nature lovers and those who enjoy outdoor fun. While small, New Hampshire holds its own as an ideal state to settle down for your golden years.
Portsmouth
If you've always imagined retiring by the sea, Portsmouth is the perfect location for you. This coastal city combines the exciting feeling of bustling city life and the comforting appeal of rural family living. Portsmouth has been dubbed the new Boston for its growing population of diverse and accepting communities.
Laconia
Centered in New Hampshire's Lakes Region, Laconia has earned the nickname 'The City on the Lake.' There are plenty of beaches and maritime activities to enjoy in the summertime, and equally fun winter activities during colder months.
Exeter
Longtime residents of Exeter exhibit great pride in their small town and are keen to support local businesses and newcomers. With a lively downtown area and a beach just ten minutes away, you can always find something to do. If you're concerned about living costs, Exeter's low tax rates make for affordable, comfortable housing.
Hanover
Hanover is an ideal location if you're interested in peaceful, rural living. The idyllic town's fall foliage makes for vibrant scenic views all around. Home to Dartmouth College, the town has seen an inflation of housing prices. But if you're willing to splurge on your forever home, Hanover will not be a disappointing place to spend your retirement.
Massachusetts
Massachusetts is home to the most popular tourist destination in New England: Boston. But the rest of the state is full of historical landmarks and a unique cultural background that can't be found anywhere else. As the site of several American 'firsts,' Massachusetts is its own piece of history. In tune with its natural beauty, Massachusetts is one of the most eco-friendly states in the country. It's the perfect place to live if you want to live near the beach, but still, be close enough to a fast-paced city.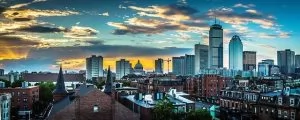 West Yarmouth
West Yarmouth is a tiny town of around 5,000 people located in Southern Massachusetts. The town has a dense suburban feel, with most residents opting to settle down and buy homes rather than rent. Because of its population size, the friendly residents of West Yarmouth form a close-knit community.
Concord
Take a nice break from city life in the grassy town of Concord, Massachusetts. When you visit Concord, you're visiting one of the most important sites in American history. The first battles of the American Revolutionary War took place here, and it has since become an attraction for history buffs. Concord is also recognized as one of the most progressive environmentalist cities, being the first community in the U.S. to ban the sale of plastic water bottles.
Brewster
Brewster is a quiet town located in the lower region of Cape Cod. Winters can be long, but the beautiful scenery and bayside beaches make up for it. It's a family-oriented town, so your grandchildren will love to visit and play in the ponds all summer long.
Plymouth
Just minutes away from Cape Cod, Plymouth is located on the shore of southwestern Massachusetts. The ocean-side town is known as "America's Hometown," both for its simplicity and its status as the oldest municipality in the United States. Its prime location on the Atlantic Ocean makes it a relaxing escape from the fast-paced Boston just an hour away. When the weather permits, residents enjoy activities like fishing, whale-spotting, and kayaking.
Connecticut
Connecticut is the southernmost New England state, bounded by New York and the Long Island Sound. It's a popular destination for home-dwellers who still want easy access to busy neighboring cities. Connecticut is the highest-ranked state for healthcare access and has one of the country's best public health systems. It's a wonderful place to live if you're looking for a calm location with abundant activities for every season.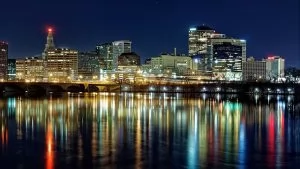 Guilford
While it's known for its vast farmland and quiet reputation, Guilford, Connecticut has something for everyone to enjoy. The town of 22,000 people has a wide variety of shops and restaurants in the Town Green, and is full of open space trails for taking walks, hiking, or bike-riding.
Bristol
Bristol is the home of the ESPN headquarters, making it the center of a passionate sports community. The family-oriented town is full of diverse social groups, and the locals are always friendly and welcoming. The city is currently updating its downtown area, so there will be countless new restaurants and shops to explore in your free time.
Essex
Essex, a small town on the Connecticut River above the shoreline, is full of charm, rich history, and beautiful views. It's a quaint location with a population of around 6,500, but the downtown area is the main attraction for tourists. The town hosts dozens of festive activities throughout the year, including a Halloween bonfire and a Christmas boat parade.
Hartford
Hartford is considered one of the best places to buy a home in all of Connecticut. The prosperous city is home to a bustling insurance industry, but its secluded suburban neighborhoods make it a prime spot for retirees who still enjoy an urban vibe.
Rhode Island
Rhode Island may be the smallest state in the country, but its main attraction is the lively communities and beachside towns that provide a comforting escape from the mundane. With a population of just over 1 million, it's one of the safest states in the nation and a great contender for those who want a peaceful home right near the beach.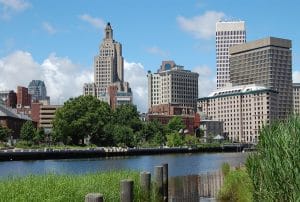 Tiverton
Tiverton's coastal community combines natural beauty and cultural pleasures. The town is home to Fogland Beach, a favorite among families with children, outdoor adventurers, and retirees who enjoy the soothing sounds of the ocean. Tiverton is perfect if you're looking for a tranquil neighborhood with an inviting community.
Blackstone
Blackstone is one of the most recently developed sectors of Providence, RI. The predominantly residential neighborhood hosts several families who enjoy leisure time with their loved ones. Its low crime rate makes it one of the safest places to live not just in Providence, but in all of Rhode Island.
Westerly
Another beachfront community on the south shore of Rhode Island, Westerly is a great place to retire. With a heavy Italian influence, the small town has great food options and a welcoming, family-oriented community. Between its bustling downtown area and its prime location near the Atlantic coast, retirees who settle here can have the best of both worlds.
Jamestown
Jamestown is perfect for retirees looking for a taste of island life on the east coast. While still accessible to the mainland, Jamestown is on its own secluded island just off of Newport. Commuting options are plentiful if you want to travel to neighboring states or other parts of Rhode Island. Living on the island is not cheap, with the median home value being around $500,000. But the privacy and tropical feel are definitely worth the price.
The Choice Is Yours
New England is full of choices, but your lifestyle and environment preferences will ultimately dictate your retirement location. Hopefully, a few cities or towns on this list caught your eye and will be your new home soon! No matter where you go, we wish you the best of luck on your search for the perfect place to retire.