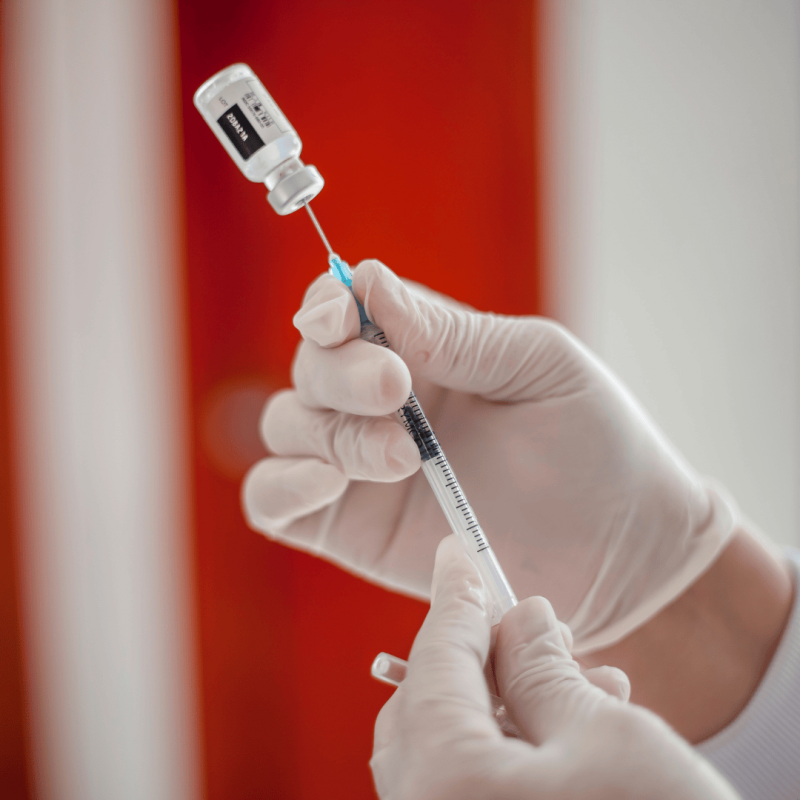 As we age, our immune systems change, and we can use an extra immunity boost to remain healthy. Thankfully, vaccinations can help increase our body's immune system. Vaccines can help fight against viruses and infectious diseases. And thankfully, Medicare can help cover a wide range of vaccines to help improve your health.
Let's look below into specific vaccine benefits that Medicare covers.
Medicare coverage for vaccinations?
Medicare Part B and Part D include vaccine coverage, and depending on what vaccine you require, you'll pay nothing for Medicare-recommended vaccines. This is a chance effective in 2023. Before 2023, some vaccinations were covered as a tier 3 on your prescription drug plan.
Medicare Part B coverage for vaccines
While Medicare Part B doesn't cover all vaccines, it does cover several of the most widespread inoculations. And the best part? You'll pay $0 for the vaccination.
However, be sure to receive your vaccine at a provider's office that accepts Medicare. Part B will also cover certain shots designed to protect you against dangerous illnesses, like rabies vaccines or the Tdap vaccine (tetanus shots).
Available vaccines covered by Medicare Part B
Part B offers coverage for four types of vaccines. The flu vaccine is an annual vaccine. Beneficiaries can get one free shot per season, typically from November through April. Part B also covers the pneumococcal vaccine.
Beneficiaries receive the pneumonia vaccine in two separate doses, and each inoculation occurs at least a year apart from the other. The Hepatitis B vaccine is also a covered inoculation through Medicare Part B. The Hep B immunization is 2-4 shots over 1-6 months for high-risk individuals, such as those with diabetes. And finally, the Covid-19 vaccine also falls under your Part B benefits.
Medicare Part C coverage for vaccines
Medicare Part C (Medicare Advantage plan) policies are private insurance plans available to those who want more in-depth coverage than Original Medicare coverage. Part C will cover inoculations that aren't available through Parts A and B. Part C also covers the vaccinations that Parts A and B cover, like pertussis (whooping cough) vaccine.
Medicare Part D coverage for vaccines
Medicare Part D works with Part A and Part B to cover vaccines. Remember that Part D is a voluntary insurance plan that costs extra monthly. However, the popular coverage's savings usually offset that additional cost.
Part D covers the inoculations that Part B won't. All prescription drug plans cover the Herpes Zoster (shingles) vaccine. Each policy will have a compiled list, including a covered drug formulary and a list of covered inoculations.
How Much Do Vaccines Cost With Medicare Part D?
With the changes to vaccination coverage going into effect on January 2023, Medicare-recommended vaccinations covered under Part D coverage will be at a $0 cost.
Will Medicare Supplemental Policies Cover Flu Shots?
Medicare Supplement (Medigap) policies fill in the gaps in Medicare coverage. The supplemental insurance helps cover costs you'd otherwise be responsible for, such as copays and deductibles. Medicare Part B covers your flu shot completely when working with in-network providers, so Medigap won't need to contribute.
Vaccine FAQs
What vaccines are covered by Medicare Part D?
There are a few vaccinations that Medicare Part D covers. As of 2023, these inoculations will have a $0 copay. Vaccines covered under Medicare Part D include the following.
Chickenpox
Pneumococcal (pneumonia)
Tdap or Td (tetanus, diphtheria, pertussis)
Does Medicare cover RSV vaccine?
The RSV Vaccine is a newer vaccine that's recommended by the CDC for individuals over 60 years old. This new Vaccine will be covered under Medicare Part D.
Does Medicare cover COVID-19 vaccines?
Yes, Medicare Part B covers the updated Coronavirus vaccinations.
Will Medicare cover flu shots entirely?
Medicare Part B covers the cost entirely of your flu shot. Medicare beneficiaries can receive one flu shot per season and won't be responsible for copays, coinsurance, or deductibles. Remember to find an in-network healthcare provider to avoid paying out-of-pocket costs.
Will Medicare Part B cover self-administered injections?
Part B typically won't cover the cost of self-administered injections. Medicare prescription drug coverage through Medicare Part D or a Medicare Advantage plan will typically cover these types of medications.
Are there any Medicare-covered oral treatments for Covid-19?
Currently, Paxlovid is the frontrunner for becoming the first FDA-approved Covid-19 treatment. However, the FDA nor Medicare has given approval at this time. It's still an experimental treatment.
Which vaccines does Medicare Part D cover?
Part D plans cover most commercial inoculations. Medicare Part D inoculations don't include Covid-19, Flu, Pneumonia, Hepatitis A, and Hepatitis B.
What does Medicare Part D cover?
Part D is your prescription drug coverage and is additional coverage that works with your Part A and Part B coverage. Medicare Part D plans cover most prescription drugs and many vaccinations, including the shingles vaccination (known as the Shingrix vaccine).
What medications won't Medicare Part D cover?
Part D covers many prescription drugs, but not all. Fertility, cold, and erectile dysfunction medications are just some medications that Medicare Part D doesn't cover.
How Much is a flu shot without Medicare coverage?
Many Medicare beneficiaries get their Flu shots during flu season. Typically a Medicare beneficiary will have no cost for a flu shot.
Find your perfect Medicare coverage today
With many health plans available, finding the best match for your needs can be overwhelming. But don't fret; that's what we're here for! Call us today, or complete an online form to learn more about the best plans and carriers available. We have a team of Medicare agents who can assist you with every step!
Related Content: