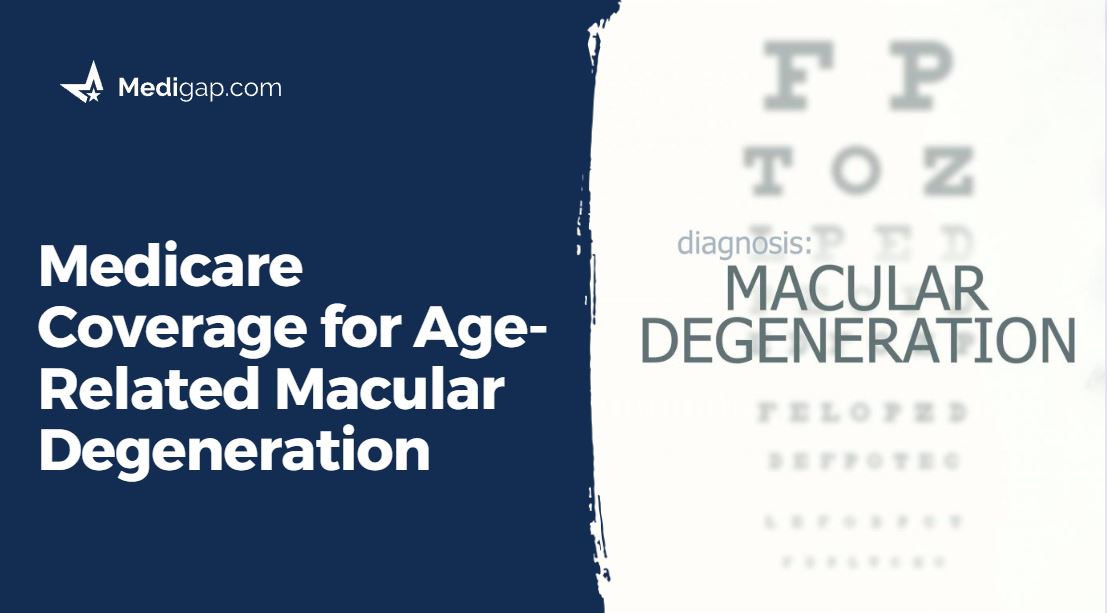 Macular degeneration is the leading cause of vision loss in Americans over 60. Many Medicare beneficiaries are receiving treatment for this medical condition. As a general rule, Medicare doesn't cover routine vision care.
Medically necessary conditions, such as macular degeneration, are covered under Original Medicare. There are more Medicare beneficiaries affected by AMD than cataracts and glaucoma combined.
Does Medicare cover age-related Macular Degeneration
Generally, Original Medicare doesn't include vision coverage. Screenings for macular degeneration are covered under Medicare if your healthcare provider deems it medically necessary. These screenings involve looking for yellow deposits under the retina.
Once your healthcare provider approves the diagnostic tests to be medically necessary, generally, you'll pay 20% after you pay the Medicare Part B deductible. Medicare Part B covers 80% of the Medicare-approved amount. In extremely rare cases, you may be responsible for Medicare Part B excess charges.
Your costs will vary if enrolled in a supplemental Medicare plan such as a Medicare Supplement or Medicare Advantage. For example, on a Medigap plan, you may have $0 out of pocket or perhaps just Medicare's Part B deductible. You'll most likely be required to pay a small copay on a Medicare Advantage.
Types of Macular Degeneration
There are two categories of age-related macular degeneration.
Dry Macular Degeneration
Dry AMD is the thinning of the macula as you age and has three stages: early, intermediate, and late. There is no treatment available for late dry AMD, so it's essential to have regular eye exams to catch it early, so treatment is possible.
Wet Macular Degeneration
Wet AMD isn't a common type of late AMD. It occurs when abnormal blood vessels grow in the back of the eye and cause additional damage to the macula. Fortunately, unlike late dry AMD, there is a treatment for late wet AMD.
Medicare-approved treatments for Macular Degeneration
Medicare covers several treatments for Macular degeneration. Currently, there's no treatment available for early AMD or late dry AMD. In the early stages, your healthcare provider will likely recommend changes to diet and exercise. If you're a smoker, they'll suggest you quit.
In intermediate AMD, these changes, along with vitamins and supplements, could stop it from becoming late-stage AMD.
Wet AMD has a couple of treatment options. Injections in the eyes with anti-VEGF drugs or Photodynamic therapy.
Photodynamic therapy is a combination of lasers and injection treatments.
Anti-VEGF injections are more common and are simple injections at specific intervals that your Opthomologist provides.

Both of these treatments occur in an outpatient setting.
Unfortunately, Medicare doesn't cover photodynamic therapy for AMD.
Medicare Coverage for anti-VGEF Injections
Medicare beneficiaries have Anti-VEGF injections covered when diagnosed with wet age-related macular degeneration. This procedure involved injecting a prescription drug solution into your eye. These injections help to prevent blood vessels from forming behind the eye.
When these blood vessels are present, they leak blood, lipids, and serum into the retina. The leakage causes damage and scarring that kills macular cells.
Covered medications covered by Medicare Part B for anti-VGEF injections include the following:
Avastin
Eylea (Aflibercept)
Lucentis
Macugen
Pegaptanib
Verteporfin (Visudyne)
Another treatment covered by Medicare for wet AMD is an implantable miniature telescope. This procedure involved installing a pea-sized telescope behind the iris. An implantable miniature telescope improves the eyesight of individuals treated for late AMD.
FAQs
Does Medicare pay for macular degeneration tests?
Medicare does cover tests for AMD if it is deemed medically necessary by your doctor.
What does Medicare cover for macular degeneration?
Medicare covers routine eye exams for AMD if your doctor considers it medically necessary. In addition, Medicare Part B covers anti-VGEF injections to treat wet AMD.
Does Medicare cover wet macular degeneration?
Medicare doesn't usually cover vision services unless they're medically necessary. AMD is considered medically necessary in many cases. Your eye doctor will have to diagnose the condition as medically necessary.
Does Medicare pay for macular degeneration injections?
Medicare covers injectable treatment for AMD. You'll be responsible for a 20% coinsurance.
Does Medicare cover cataract surgery?
Yes! Medicare covers cataract surgery. With Original Medicare, you'll be responsible for 20% of the cost of the procedure. Consequently, Medicare Supplement or Medicare Advantage plan beneficiaries can pay less for the procedure.
Get help covering Macular Degeneration treatment with Medicare
Paying 20% of the bill may not be ideal for Medicare beneficiaries. Fortunately, Medicare plans are available that help cover your out-of-pocket costs. Speaking to a licensed broker lets you determine which coverage types are available in your area and which fit your needs.
Our brokers are experts in Medicare and can help you through every step. From planning to enrollment, we can help. Fill out our online request form or give us a call for assistance.
Related Content