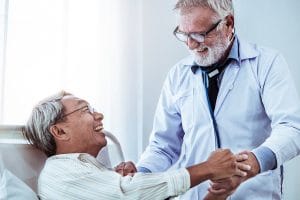 Key Takeaways
In addition to Medicare, veterans can apply for more health benefits through Veteran Affair (VA) plans.
Medicare and VA are completely separate insurance plans, but you can simultaneously have both.

VA Benefits cover basic treatment such as treating illness, injuries, and preventing future health risks.

Medicare Parts A +B are highly recommended for all seniors, including veterans.
Enrolling in Parts C + D depends on your lifestyle and personal medical needs.
If you are eligible for Medicare and are a veteran, you may apply for more benefits through Veteran Affair (VA) plans. VA plans give more opportunities for healthcare and can be an addition to Medicare benefits. But keep in mind that Medicare and VA are completely separate from one another. To learn more about the differences and benefits of each plan, continue reading to find the best option for you.
A Look Into Medicare
Medicare is a broad term for government-sponsored insurance plans for older adults and those who qualify its enrollment requirements. Consisting of 4 main parts; Part A, B, C, and D, Medicare has a wide range of coverage depending on your needs and health status.
Medicare Part A

is known as the plan that is tied to hospital coverage. There are few additional costs with Part A as long as you have accumulated at least 40 calendar quarters of work in any job where you paid Social Security taxes in the U.S.

Medicare Part B

covers most medical costs that are not hospital-related. This can include check-ups or emergency visits for serious illnesses. Although there is a monthly fee ("premium") to obtain part B, this plan is one of the most useful to avoid high costs for regular medical check-ups.

Medicare Part C, also known as Medicare Advantage, is a private insurance replacement for Medicare Parts A and B. Part C plans offer the exact same benefits as Parts A & B, with additional coverage for other medical services. The government subsidizes your monthly premium so that you can get your healthcare at a more affordable rate.
Medicare Part D

covers any prescription costs at pharmacies that support Medicare. This plan has a monthly fee or around $35 per month and a specific enrollment period.
VA Benefits and Coverage
Veteran Affair (VA) Benefits provide additional coverage on top of what Medicare plans already offer. But it is very important to note that Medicare plans and VA Benefits do not overlap or work together. They are two completely separate healthcare options. You can obtain both simultaneously, and having both forms of health coverage is typically recommended if you have specific health conditions and/or needs.
VA Benefits cover basic treatment such as treating illness, injuries, and preventing future health risks. This type of treatment can include hospital visits, check-ups, counseling on genetic diseases, and inpatient services. Your VA Benefits could cover even more depending on your priority group and health recommendations from your VA provider. However, VA Benefit offices are not as locally accesible as Medicare offices. This is why veterans who are also eligible for Medicare should take advantage of both coverage plans.
What Are The Options?
There are several different ways you can combine your VA benefits and your Medicare benefits in order to get the most comprehensive – and affordable – coverage for yourself. Below are some of the most popular suggestions that senior vets are taking advantage of right now.
Medicare Part A + VA Benefits
It is highly recommended for veterans also obtain or keep their Medicare Part A coverage if they qualify for VA. Medicare Part A provides hospital coverage at a wide range of hospitals and more hospitals than those offered through VA Benefit providers. In case of an emergency, it is crucial to have Medicare Part A, especially if you are not close to a VA-supported hospital. Additionally, Medicare Part A comes at no additional cost to most seniors, so veterans should take advantage of this additional coverage.
Medicare Part B + VA Benefits
Medicare Part B is also highly recommended for veterans to keep in addition to their VA Benefits. Part B offers medical coverage which includes check-ups, doctor visits, and consultations for illnesses and injuries. Although Part B comes with a monthly fee, you should obtain it because not all facilities accept VA Benefits. This is a great option if you do not live near a VA-supported facility and need frequent doctor visits. However, it is important to apply during the designated enrollment period to avoid being denied access.
Medicare Part C/Medicare Advantage + VA Benefits
Although it is not as highly recommended as Medicare Part A and Part B, it is still important to consider getting Medicare Advantage (Part C). Part C offers benefits that help pay for medical and hospital expenses. Medicare Advantage should be of high interest to you if you do not live near a VA-supported facility or you are in a low priority group under the VA Benefits system and could potentially lose your coverage.
Medicare Part D + VA Benefits
Most veterans choose not to enroll in Medicare Part D because they get comprehensive Rx coverage through their VA Benefits. However, there are complications that may arise if you choose to use the other Medicare coverage plans and the VA Benefits coverage for prescriptions. If you choose to use the VA Benefits for prescriptions, you must have your VA provider approve it first. If you are planning on visiting a Medicare provider more frequently than a VA provider, it may be of interest to you to enroll in Medicare Part D to avoid the extra trips to your VA provider. Those who still aren't sure about which plan is right can enroll at any time without a late enrollment penalty.
What You Should Do Moving Forward
After reading the information above, think about your lifestyle and which coverage is best suited for your medical needs. Make sure to visit your healthcare provider to make an informed decision and get the most out of your healthcare coverage and health providers in your area. No matter what health status you have, there is a plan or a combination of plans that will be right for you.