Morgantown, West Virginia has plenty of great amenities that make it a wonderful place for anybody to live, but how does it fare in regards to access to healthcare? Unfortunately for seniors (anyone 65 and older), the answer is: not very well. Only just over half of the seniors in Alabama have proper healthcare coverage, meaning that the other seniors are typically uninsured or underinsured, relying on Original Medicare rather than any form of healthcare insurance plan that adequately secures for them the level of care that they both need and deserve. This means that there are thousands of seniors in Morgantown who find themselves trapped under mountains of medical debt from Medicare coverage gaps. The vast majority of medical expenses from Medicare coverage gaps must be paid out-of-pocket. Let's take a closer look at the data.
Facts and Figures
There are 3,095 senior citizens living in Morgantown right now

There are 8 hospitals in the Morgantown area where seniors can get emergency and/or in-patient care

25% of West Virginia seniors have a Medicare Advantage plan

17% of seniors have a Medicare Supplement (Medigap) plan

Which leaves 58% of seniors potentially uninsured or underinsured against costly Medicare coverage gaps!
Although the numbers above might not seem like too much of an issue now, they can quickly become life-threatening. Even if you are in the best shape of your life at a healthy and active 65 years old, disease and illness could strike at any moment. Nobody likes to think about their own mortality or the loss of their prime health; however, if you don't think about these things, how can you protect yourself against them? The fact of the matter is that, as you age, your risk of obtaining an adverse health condition increases significantly.
Regardless of how good your health is today, there remains the ever-increasing chance that you might become sick in the future. Why take the kind of risk outlined in the chart below? By taking the proper steps to insure yourself against harm, these dangers can go from insurmountable barriers to simple inconveniences.
| | |
| --- | --- |
| Disease | Prevalence in Morgantown |
| Arthritis | 35% |
| High Blood Pressure | 39% |
| Coronary Heart Disease | 8% |
| Diabetes | 14% |
| Kidney Disease | 3% |
Healthcare Costs in Morgantown, WV
As you can tell from the above chart, age-related illnesses become far more common as people grow older. Once you enter the "65 and older" population bracket, your risk of developing one or more of these conditions increases significantly. For example, roughly 40% of people in Morgantown suffer from high blood pressure.
Of course, as the prevalence of each illness increases, so too do the costs of treatment for those illnesses. With an increase in frequency and severity of each one of your healthcare conditions comes an increase in the frequency and severity of your healthcare expenditures. Furthermore, seniors are enjoying longer lifespans today than ever before. This blessing comes with the negative side effects of increased medical costs, which are rising more and more with each passing year. After only a few years with chronic kidney disease, you could have spent more than $50,000 on treatments.
The chart below shows the treatment costs associated with a few of the most prevalent age-related illnesses in Morgantown, WV.
| | | |
| --- | --- | --- |
| Disease | Prevalence in Morgantown | Annual Cost of Treatment |
| Arthritis | 35% | $291 |
| High Blood Pressure | 39% | $354 |
| Coronary Heart Disease | 8% | $9,426 |
| Diabetes | 14% | $2,163 |
| Kidney Disease | 3% | $8,062 |
Medicare Advantage Savings in Morgantown, WV
For seniors with Medicare Advantage plans, however, the risk of being forced back into the workforce is almost zero percent. This is because these plans allow you to avoid the dangers of the Medicare coverage gap by switching to a Medicare Advantage plan owned and operated by a private insurance provider, rather than by the government. Despite the fact that these plans are not part of Medicare proper, they are still required by law to provide all of the benefits that you know and love from Original Medicare. The fact that they are privately operated, however, enables providers of Medicare Advantage plans to offer you the option to add extra coverage features in exchange for paying a little more in your monthly premiums. But considering that the government has programs set up to pay those premiums for you, why bother skimping out on your health? Your premium can end up being $0 whether you add the healthcare you need or not.
A few of the additional coverage areas that are among the most popular improvements over Original Medicare are the options that Medicare Advantage plans offer for prescription drug coverage as well as other miscellaneous costs. This means that, depending on the plan that you select, you would be able to enjoy access to any number of prescription drugs whenever you need them. On top of that, you would even be able to have your insurance cover the costs of any glucose monitors, testing strips, or other frequently needed medical items, making Medicare Advantage a great option for anybody suffering from chronic illnesses such as diabetes or kidney disease. Over the course of five years, these plans could save you thousands of dollars.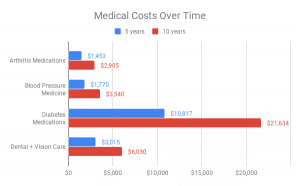 Another benefit that Medicare Advantage plans have other Medicare plans is that they enable you to add on vision and dental care as well. Through options such as this, you stand to save even more money in both the short and long terms. This is an option that isn't even available or offered in original Medicare or Medicare Supplement (Medigap) plans. What this means for you is no more wondering whether you're going to have to take a second disbursement from your 401(k) this month in order to see a dentist about that toothache that's been bothering you. With most Medicare Advantage plans, you could simply call up your favorite doctor and schedule a visit.
Medicare Supplement (Medigap) Savings in Morgantown, WV
Medicare Supplement (Medigap) insurance plans can also serve to save you quite a bit of money on out-of-pocket Medicare coverage gap expenditures. These plans, while not typically as comprehensive as Medicare Advantage plans, still come with quite an array of potential coverage benefits. In fact, Medigap plans tend to focus primarily on improving your ease of access to hospital and other in-patient medical services, including emergency room visits. These Medicare Part A expenses are exceptionally high for seniors with chronic health concerns, such as chronic heart disease and chronic liver disease, making Medigap plans perfect options for such people. There are such a wide variety of plans and policies out there, so it is important to speak with a Medigap expert to find out which one is right for you before taking an unnecessary risk with your hard-earned nest egg. We'll explain the primary ten below.
The first four plans that we'll look at are Medicare Supplement insurance Plans A, D, K, and L. Each of these can play a vital role in improving the enrollee's access to affordable hospitalizations and in-patient care; however, that's pretty much all these plans do. Neither Plans A, D, K, nor L assist with any costs other than those pertaining to Medicare Part A expenses. This can be quite helpful for you if you're only looking for help covering your Medicare Part A difficulties, but there are few seniors who fall purely into the Medicare Part A coverage gap without also falling into the Medicare Part B coverage gap.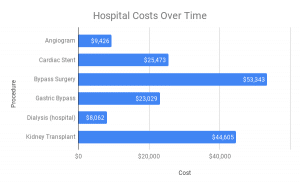 The second category of Medigap plans includes the remaining six options: Medicare Supplement insurance Plans B, C, F, G, M, and N. Although the benefits that these plans bring to the table in regards to Medicare Part A expenses are quite similar to those of plans A, D, K, and L, the differences are quite striking. In particular, the six-plan category extends coverage to Medicare Part B as well as Medicare Part A, whereas plans in the four-plan category only cover expenses related to Medicare Part A. Unfortunately for seniors who are looking forward to enrolling in Medigap Plan F, that option will no longer be offered as of 2021 as federal regulations changing the structure of the Medicare system begin to go into effect. To receive comparable benefits, you will have to switch to one of the other similar plans or get grandfathered into Plan F now before it's too late.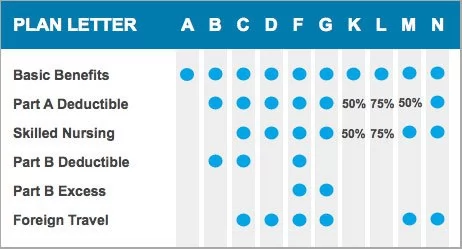 Now comes the bad news about Medicare Supplement insurance. As we hinted at in our earlier discussion of Medicare Advantage, Medigap plans do not offer any form of prescription drug, dental care, or vision care coverage. This doesn't necessarily mean that you are on your own, but simply that you are going to have to look for yet another insurance provider to further supplement your Medicare Supplement insurance. It's easy to get bogged down in the specifics, so speaking with a Medigap expert can help make things easier, but it isn't too hard to find a private plan that covers all three of these categories without costing more than $100 per month.
It is important to remember that life in Morgantown, though peaceful, can become prohibitively expensive without the proper insurance. In many cases, even having a lesser insurance plan can lead to you being underinsured against costly Medicare coverage gaps, particularly in a time of constantly increasing medical costs. This means that the risks posed to your security, health, and independence increase every day that you choose to do nothing. So why wait? Log into Medigap.com today and begin shopping for plans or talking to specialists about how they can help you find the plan that's right for you.
| | | | |
| --- | --- | --- | --- |
| Medigap Plan | Minimum Monthly Premium | Maximum Monthly Premium | Average Estimated Monthly Premium (Part B Premium Included) |
| Plan A | $75 | $198 | $272 |
| Plan B | $108 | $225 | $302 |
| Plan C | $128 | $256 | $328 |
| Plan D | $124 | $181 | $288 |
| Plan F | $128 | $247 | $323 |
| Plan G | $111 | $238 | $323 |
| Plan K | $48 | $104 | $310 |
| Plan L | $75 | $149 | $212 |
| Plan M | $112 | $185 | $248 |
| Plan N | $87 | $290 | $284 |