Chesapeake is known for its history, diversity, and military background, three great qualities that make this city a fantastic place for seniors to live. However, when it comes to access to affordable healthcare, the numbers below tell a different story. More than half of all seniors in the Chesapeake are don't have the proper access to healthcare that they both need and deserve. Instead, they are left only with the option to choose between spending thousands of dollars on care and procedures which aren't covered by Medicare, or forgoing medical treatment altogether. This "option" isn't really much of an option, as these costs tend to be vastly prohibitive, causing thousands of seniors to either go into bankruptcy or lose their financial independence altogether. Fortunately, Medicare Advantage and Medicare Supplement insurance (Medigap) plans can help turn the tables on the healthcare industry, giving you back the independence and financial security that you've worked for your entire life.
Facts and Figures
There are 29,358 seniors living in Chesapeake, Virginia right now.
There are only 5 hospitals in the Chesapeake area where seniors can receive emergency and/or in-patient care.
17% of all seniors in Virginia have a Medicare Advantage plan.
24% of all seniors in Virginia have a Medicare Supplement (Medigap) plan.
Which leaves 59% of seniors potentially uninsured or underinsured against costly Medicare coverage gaps!
For the 17,321 seniors in Chesapeake who don't have proper healthcare coverage, the Medicare coverage gap is an ever present threat to the future of their finances, health, and independence. Medical professionals and researchers use the phrase "age-related illness" in order to describe medical conditions that can be developed by the ordinary aging process and become more frequent or severe over time. Not only do these diseases become far more difficult to cope with over a period of several years, but they also become far more commonplace. For instance, in the Chesapeake area, one in three seniors has already been diagnosed with high blood pressure (a.k.a., "the silent killer"). Take a look at the chart below for more information on the statistics for age-related diseases in your community.
| | |
| --- | --- |
| Disease | Prevalence in Chesapeake, VA |
| Arthritis | 25% |
| High Blood Pressure | 33% |
| Coronary Heart Disease | 5% |
| Diabetes | 11% |
| Kidney Disease | 3% |
Healthcare Costs in Chesapeake, VA
Over time, age-related illnesses become far more difficult to live with, with some eventually inducing terminal states if left untreated. The operative phrase in that sentence, however, is "if left untreated." This means that you can still live a long and healthy life – if you have proper access to healthcare, that is. For the 41% of seniors in Chesapeake who already have either Medicare Advantage or Medigap, that's not a problem. For the others, the increases in frequency and severity of these medical conditions can result in massive annual expenditures, regardless of the fact that you paid into Medicare for your entire life under the promise of being able to avoid those extra expenses. Since seniors are living longer lives now than ever before, these increased annual expenses are rising to heights never before seen in recent history.
| | | |
| --- | --- | --- |
| Disease | Prevalence in Chesapeake, VA | Annual Cost of Treatment |
| Arthritis | 25% | $280 |
| High Blood Pressure | 33% | $288 |
| Coronary Heart Disease | 5% | $7,375 |
| Diabetes | 11% | $2,158 |
| Kidney Disease | 3% | $6,473 |
Medicare Advantage Savings in Chesapeake, VA
Medicare Advantage, on the other hand, can prevent the vast majority (if not all) of these extra expenses. That's the glory of being proactive in your healthcare. A great and common analogy is that it's easier to prevent the car from running out of gas than to walk back to the nearest station after breaking down on the highway. Unlike Original Medicare, Medicare Advantage plans are entirely privately owned and operated, meaning that they are susceptible to the same market forces that helped you create your nest egg in the first place. However, this doesn't mean that you're going to lose your Medicare benefits by switching to Medicare Advantage. Even though Medicare Advantage replaces your Original Medicare, these plans are required by law to provide the same exact benefits. They also have the added benefit of offering more coverage options, often at or near zero dollars a month in premiums.
One of the primary benefits of Medicare Advantage is that providers of these plans typically offer prescription drug coverage options in addition to a wide variety of other possible add-ons and expansions. For most seniors, this means no longer having to worry about whether or not your retirement savings are going to last long enough for you to be able to afford next month's prescription medications. Moreover, this drug coverage often extends to cover necessary medical equipment, including things like glucose monitors and testing strips, making Medicare Advantage plans a highly sought-after plan among seniors with chronic health conditions. For these seniors, the benefits over a five- and ten- year period speak for themselves, with Medicare Advantage plans often saving them more than $20,000 over a span of only 120 months.
The most important difference between Medicare Advantage plans and Original Medicare or Medicare Supplement (Medigap) insurance plans is that Medicare Advantage plans offer additional coverage options for both dental and vision care, whereas Original Medicare and Medigap plans neither offer vision care nor dental care. This added benefit can enable Medicare Advantage to save you even more money over the long term than otherwise possible through Medigap and certainly more than would ever be possible through Original Medicare. Of course, this isn't to say that Medigap is completely worthless, just that providers of Medigap plans focus on different aspects of your health and safety than providers of Medicare Advantage. We'll talk more about that in a minute.
Medicare Supplement (Medigap) Savings in Chesapeake, VA
In general, Medicare Supplement (Medigap) insurance policies tend to prioritize the coverage of hospitalizations and other in-patient expenses. Each of the ten primary Medigap plan types provide significant benefits to seniors who suffer from chronic age-related conditions, such as heart disease and kidney disease because of the massive amounts of money that these seniors would otherwise have to spend each year in order to finance their continued treatment while navigating Medicare coverage gaps. These ten plans fall into two different categories, which we will cover in detail below. Furthermore, each individual plan provides different benefits at different costs than the others. The diversity of plan options in the Medigap system makes it imperative that you speak with a Medigap expert before making a decision that could so heavily impact your future.
The first category of Medigap plans contains Medicare Supplement insurance Plans A, D, K, and L. Each of these plans provide specialized benefits for seniors who find themselves incurring frequent and severe medical complications that result in hospitalization or the need for routine in-patient care. This is done through the improved coverage of Medicare Part A expenses. Unfortunately, these benefits are not without their fair share of drawbacks, namely the fact that neither of these four plans offers any supplemental coverage for any expenses related to Medicare Part B.
The second category of Medigap plans includes the remaining six options: Medicare Supplement insurance Plans B, C, D, F, G, M, and N. Although the benefits that these plans bring to the table in regards to Medicare Part A expenses are quite similar to those of plans A, D, K, and L, the differences are quite striking. In particular, the six-plan category extends coverage to Medicare Part B as well as Medicare Part A, whereas plans in the four-plan category only cover expenses related to Medicare Part A. Unfortunately for seniors who are looking forward to enrolling in Medigap Plan F, that option will no longer be offered as of 2021 as federal regulations changing the structure of the Medicare system begin to go into effect. To receive comparable benefits, you will have to switch to one of the other similar plans.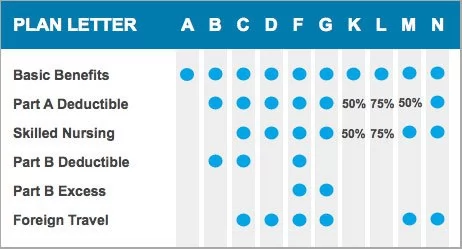 Unfortunately, Medigap plans are not without their share of setbacks as well. Although these plans might be strikingly appealing so far, it is important to keep in mind that they are far less comprehensive and far more limited in scope than Medicare Advantage plans. For instance, whereas many Medicare Advantage plans offer full coverage for prescription drugs and dental and vision care, no Medicare Supplement insurance plan offers anything of the kind. This means that, when it comes to these three categories of healthcare, you are completely on your own. However, there is a silver lining: prescription drug, dental, and vision coverage are among the cheapest insurance policies on the market today, meaning that you could potentially tack on a supplemental private insurance to improve your Medigap insurance for under $100 per payment period in most regions.
At the end of the day, hunting for the right Medicare Advantage or Medigap plan for you might leave you feeling depressed, anxious, and exhausted, but you have to keep up the hard work. Once you've selected your plan and enrolled, life will become far easier. Not to mention that retaking control over your healthcare will grant you back your independence and control over your health and finances. So log into Medigap.com today and start shopping for plans. If you continue to struggle, feel free to call or email one of our healthcare experts.
| | | | |
| --- | --- | --- | --- |
| Medigap Plan | Minimum Monthly Premium | Maximum Monthly Premium | Average Estimated Monthly Premium (Part B Premium Included) |
| Plan A | $76 | $180 | $264 |
| Plan B | $95 | $201 | $284 |
| Plan C | $127 | $390 | $394 |
| Plan D | $116 | $189 | $288 |
| Plan F | $128 | $273 | $336 |
| Plan F (high deductible) | $24 | $61 | $178 |
| Plan G | $101 | $215 | $294 |
| Plan K | $40 | $80 | $196 |
| Plan L | $73 | $111 | $228 |
| Plan M | $109 | $128 | $254 |
| Plan N | $84 | $173 | $264 |