Are you familiar with Medicare coverage gaps? Essentially, Medicare coverage gaps are medical benefits which the Medicare program won't pay out, even if you file a claim. At that point, the government cuts you off and gives you the "choice" of continuing to pay out of pocket for your healthcare or choosing to go without healthcare altogether. Granted, after paying several thousand dollars every year out of your pocket, Medicare coverage benefits kick back in via what is referred to as "catastrophic" care coverage. However, these costs can prove to be such a financial burden that many seniors, particularly those in Aberdeen, South Dakota, can never afford to make it past the coverage gap. Instead, they simply go without care for certain (and usually expensive) medical procedures. Let's take a brief look at some of the numbers to better understand exactly how many seniors in the Aberdeen area are forced to go without healthcare benefits.
Facts and Figures
There are 4,541 senior citizens living in Aberdeen right now

There are only 5 hospitals in the Aberdeen area where seniors can get emergency and/or in-patient care

20% of South Dakota seniors have a Medicare Advantage plan

50% of seniors have a Medicare Supplement (Medigap) plan

Which leaves 30% of seniors potentially uninsured or underinsured against costly Medicare coverage gaps!
For the 1,362 seniors in Aberdeen who don't have proper healthcare coverage, the Medicare coverage gap is an ever present threat to the future of their finances, health, and independence. Medical professionals and researchers use the phrase "age-related illness" in order to describe medical conditions that can be developed by the ordinary aging process and become more frequent or severe over time. Not only do these diseases become far more difficult to cope with over a period of several years, but they also become far more commonplace. For instance, in the Aberdeen area, nearly one in three seniors has already been diagnosed with high blood pressure (a.k.a., "the silent killer"). Take a look at the chart below for more information on the statistics for age-related diseases in your community.
| | |
| --- | --- |
| Disease | Prevalence in Aberdeen |
| Arthritis | 24% |
| High Blood Pressure | 29% |
| Coronary Heart Disease | 7% |
| Diabetes | 9% |
| Kidney Disease | 3% |
Healthcare Costs in Aberdeen, SD
You might be wondering, "What makes age-related illnesses so bad?" An age-related illness is any disease or disorder with symptoms that increase in frequency and/or severity as you age. This means that you could potentially be in the best health of your life today and find yourself in the emergency room with chronic kidney disease tomorrow. Because of the fact that seniors are living longer now than ever before, age-related illnesses have an even longer time period in which conditions can worsen. Combined with the rising costs of healthcare in the United States, this means that you can quickly find yourself drowning in an overwhelming volume of medical bills. As your condition(s) worsen(s), the coverage gaps associated with Original Medicare can prevent you from having access to the healthcare that you both need and deserve. The chart below shows a conservative estimate of how much you might end up paying for each of the aforementioned age-related illnesses.
| | | |
| --- | --- | --- |
| Disease | Prevalence in Aberdeen | Annual Cost of Treatment |
| Arthritis | 24% | $294 |
| High Blood Pressure | 29% | $356 |
| Coronary Heart Disease | 7% | $9,393 |
| Diabetes | 9% | $2,173 |
| Kidney Disease | 3% | $8,209 |
Medicare Advantage Savings in Aberdeen, SD
That said, healthcare in Aberdeen isn't all doom and gloom. There are a couple of easy-to-obtain options, such as Medicare Advantage. Despite what the name might suggest, these plans are not provided by the government. Rather, they are privately owned and privately operated plans that serve to replace your government-backed Medicare plan, making them perfect options for seniors who are disappointed with the gaps in their Original Medicare coverage. Of course, this doesn't mean that you're going to lose your coverage. In fact, Medicare Advantage plans are required by law to provide all of the same benefits that Original Medicare plans provide. Oftentimes, providers of Medicare Advantage plans even offer you the ability to select additional coverage options for an additional charge. While this might sound like the exact thing that you're trying to avoid, government subsidies can turn that "extra charge" into a net $0 premium.
Further increasing the utility of Medicare Advantage plans is the fact that the benefits are not limited solely to hospital and/or outpatient care. In fact, many providers of Medicare Advantage plans offer the possibility to add on prescription drug coverage that can be as all-inclusive or as basic as your healthcare needs require. This can enable you to casually obtain all of the prescriptions that you need at an affordable price, whereas those same prescriptions could have cost you hundreds of dollars each month when stuck in of Original Medicare coverage gaps. These plans can even be expanded to cover necessary medical equipment such as glucose monitors and testing strips, making them great options for anybody suffering from a chronic health condition the likes of diabetes. The chart below demonstrates this in detail for a few of the aforementioned age-related health conditions.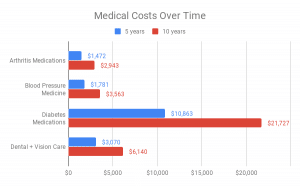 As Billy Mays used to say, "But wait, there's more!" Medicare Advantage plans also provide options for dental and vision care, two coverage types that original Medicare and Medigap plans do not provide. This means that Medicare Advantage plans can provide you with more benefits than these other plans while typically costing the same monthly premium. Seeing as how the government covers the vast majority of those premiums for Medicare Advantage plan participants in the United States, that monthly premium could end up being $0 despite providing you with even greater coverage.
Medicare Supplement (Medigap) Savings in Aberdeen, SD
Medicare Advantage plans, while thoroughly comprehensive, are not the only options available to seniors in Aberdeen. In fact, Medigap plans are also on the market and tend to be easier to qualify for than some Medicare Advantage plans. Medigap plans can also be designed specifically to cover Medicare Part A costs, which includes those healthcare bills associated with hospital visits. This can play a vital role in helping you find the support and healthcare accessibility you need, particularly if you have chronic, age-related kidney and/or heart diseases.
A few of the Medigap plans that focus exclusively on Medicare Type A expenditures such as the aforementioned hospital costs are Medigap plans A, D, K, and L. Although all of these plans are similar in most regards, each plan comes with its own benefits and drawbacks. The most noteworthy drawback that plans A, D, K, and L have in common is the fact that they don't cover expenses related to Medicare Part B. This means that you will still be stuck in the Medicare coverage gap for all of your Part B expenses. If you happen to have chronic heart or kidney disease, these costs could quickly balloon to unparalleled heights.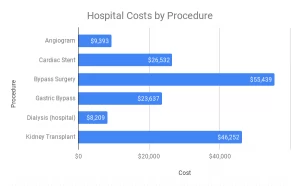 In either of those cases, you would stand to benefit the most from healthcare policies that cover both Medicare Part A and Medicare Part B expenses. Fortunately, due to the high volume of Medigap plan types on the market, there are countless options for you to choose from. A few such options include Medigap supplement plans B, C, F, G, M, and N. Each of these plans are quite a bit different from the others, despite the fact that they provide many of the same benefits with the same end goal in mind. For example, Medigap Plan F will no longer be available after 2020, meaning that you should hurry and purchase Plan F insurance before it is no longer available. For these reasons, you should be sure to contact a Medigap expert before locking yourself into a plan that you might not enjoy or that might not be useful for your needs.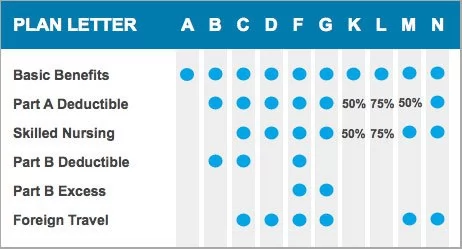 Medigap plans are not all roses and dandelions, however. One of the sharpest thorns is the fact that no Medigap plan offers coverage for prescription drugs or vision or dental care. This means that, in order to have access to all forms of healthcare, you would need to further supplement your Medicare costs with the addition of private prescription drug, vision, and dental coverage. On the bright side, these categories tend to be among the cheapest on the market, with all three coming together for rates lower than $100 in some areas.
When it comes down to brass tacks, your healthcare is your responsibility. Nobody likes to see their independence dwindle away as they're forced to rely on their children and grandchildren for support. Fortunately, you don't have to. Thanks to advances in modern technology and new economic developments, there are ways for you to take back control over your healthcare without derailing your financial future. Head over Medigap.com and start shopping for rates today.
| | | | |
| --- | --- | --- | --- |
| Medigap Plan | Minimum Monthly Premium | Maximum Monthly Premium | Average Estimated Monthly Premium (Part B Premium Included) |
| Plan A | $63 | $222 | $278 |
| Plan B | $100 | $252 | $312 |
| Plan C | $118 | $287 | $338 |
| Plan D | $112 | $173 | $278 |
| Plan F | $118 | $241 | $315 |
| Plan F (high deductible) | $34 | $94 | $200 |
| Plan G | $104 | $183 | $279 |
| Plan K | $47 | $102 | $210 |
| Plan L | $79 | $151 | $251 |
| Plan M | $106 | $119 | $248 |