Cambridge may be your favorite place to retire, but it comes with its fair share of strings attached. No matter where you live, you will have to contend with the financial challenges of Medicare coverage gaps. Medicare coverage gaps are just what they sound like: gaps in your Medicare coverage. When you're in one of those gaps, you'll potentially end up paying thousands of dollars in out-of-pocket expenses every year, a number that is likely to grow with time. That being said, seniors across the country have discovered two possible methods of avoiding these high out-of-pocket costs. You can enroll in a Medicare Advantage plan or you can enroll in a Medicare Supplement Insurance plan (a.k.a. Medigap).
Facts and Figures
There are 13,444 seniors living in Cambridge right now.
There are 4 hospitals in the Cambridge area where seniors can get emergency and/or in-patient care.
21% of Massachusetts seniors have a Medicare Advantage plan.
20% of Massachusetts seniors have a Medicare Supplement (Medigap) plan.
Which leaves 59% of seniors potentially uninsured or underinsured against costly Medicare coverage gaps!
Three out of every five seniors in the Cambridge area struggle to find affordable access to healthcare. For them, getting the treatment that they both need and deserve can depend on whether or not they can afford to take a double disbursement from their retirement savings accounts. If you're one of the estimated 7,931 seniors in the Cambridge area struggling with these circumstances, the good news is that you're not alone. The bad news is that it's only going to get worse. As you age, your risk of developing additional age-related illnesses increases, "additional" being the operative word. That means that you could potentially develop multiple debilitating illnesses. To make matters worse, any symptoms that you do develop will tend to worsen in both frequency and severity over time. The chart below shows the estimated percentages of seniors in Cambridge who have been diagnosed with a few of the most common age-related illnesses.
| | |
| --- | --- |
| Disease | Prevalence in Cambridge, MA |
| Arthritis | 16% |
| High Blood Pressure | 22% |
| Coronary Heart Disease | 3% |
| Diabetes | 6% |
| Kidney Disease | 2% |
Healthcare Costs in Cambridge, MA
When you develop new or worsening symptoms, you also develop an increased need to see the doctor. To put it simply, that's because different symptoms require different care and worsening symptoms require more in-depth care. For example, mild joint pain might be solved with a simple prescription, whereas severe and debilitating joint paralysis often requires invasive surgery. That increased need for new and more severe kinds of treatment correlates to you having to use your health insurance benefits more often. If you rely on Original Medicare for meeting your healthcare needs, that means paying even more out-of-pocket as a result of the Medicare coverage gaps. Since medical costs are rising each year regardless of your need for treatment and seniors are living longer lives now than ever before as a result of that treatment, your medical bills can increase significantly over the course of your life.
| | | |
| --- | --- | --- |
| Disease | Prevalence in Cambridge, MA | Annual Cost of Treatment |
| Arthritis | 16% | $291 |
| High Blood Pressure | 22% | $354 |
| Coronary Heart Disease | 3% | $8,705 |
| Diabetes | 6% | $2,163 |
| Kidney Disease | 2% | $8,656 |
Medicare Advantage Savings in Cambridge, MA
Thousands of seniors in Cambridge have already made the switch from Original Medicare to Medicare Advantage. Despite the fact that privately operated Medicare Advantage plans entirely replace your government-operated Original Medicare plan, you won't have to worry about losing any coverage options. That's because the government requires that all Medicare Advantage plans also include the same minimum level of coverage options as can be found in Original Medicare. But because these plans are privately operated, they also have the independence necessary to allow them to offer additional coverage options in exchange for you paying higher premiums. Of course, high medical costs are most likely the opposite of what you want to deal with. That's why it's important to remember that the government tends to take care of all or most of your Medicare Advantage premiums, making it possible to enjoy the benefits of expanded care with a deep discount to you. You've paid taxes into the Medicare system your whole life, after all!
Medicare Advantage plans can be particularly useful for seniors who rely on large numbers of prescription medications. That's because Medicare Advantage prescription drug coverage is among the highest quality of prescription drug coverage that seniors can obtain through the Medicare system. Although these plans vary from provider to provider, they tend to be unique enough to allow comprehensive coverage for most, if not all, of your prescription needs. That even includes minor medical equipment, such as glucose monitors and testing strips. So if you're suffering from arthritis, high blood pressure, and/or diabetes, the savings can really add up over time.
Another benefit that Medicare Advantage plans provide is the ability for you to add vision and dental care coverage directly to your Medicare Advantage plan. These benefits can cover the bulk of what you need done and can be tailored to meet your specific needs, depending on the provider with whom you enroll. The same cannot be said for either Original Medicare or Medicare Supplement Insurance. Neither of those two programs provide many coverage benefits of any kind related to vision or dental coverage.
Medicare Supplement (Medigap) Savings in Cambridge, MA
Medicare Supplement Insurance plans, more commonly called Medigap plans, are another option being used by thousands of seniors in the Cambridge area. Unlike Medicare Advantage, these plans do not entirely replace your Original Medicare. Rather, as the name would suggest, they supplement it. Each one of the ten available Medigap plans provide some form of coverage related to Medicare coverage gaps, with the intention being to enable you to not have to pay coverage gaps related to Medicare Part A or Medicare Part B. Since each plan provides some level of help regarding Medicare Part A coverage gaps and related expenses, Medigap plans can be great if you suffer from chronic health conditions like heart or kidney disease.
The first few plans to consider are Medigap plans A, D, K, and L. These plans are designed to provide coverage for Medicare Part A coverage gaps, which can be exceptionally expensive for many seniors. Unfortunately, none of these plans provide assistance related to Medicare Part B coverage gaps. That means they might not be one of the best available options for you if you have found yourself paying large out-of-pocket amounts as a result of Medicare Part B coverage gaps.
The remaining plans in the Medicare Supplement Insurance system are Medigap plans B, C, D, F, G, M, and N. These plans provide the same kind of coverage as the aforementioned Medigap plans but also provide coverage related to Medicare Part B coverage gaps. That means that both your Medicare Part A and your Medicare Part B coverage gaps will be covered, making it possible for you to obtain things like most emergency services, hospitalizations, and skilled nursing care. Unfortunately, Medigap Plan F, one of the most common plans in the Medigap system, is going to be discontinued after 2020. That means that you will have to look into a different plan with similar benefits, such as Medigap type C. Alternatively, you can enroll before the end of 2020 and get grandfathered into Plan F while it's still available.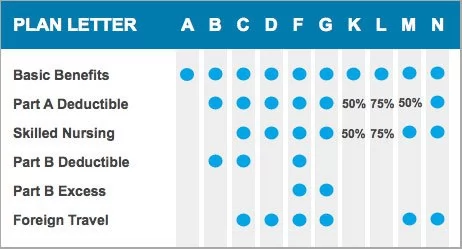 In order to obtain prescription drug coverage or vision and dental care coverage, there are a few things that you have to do. Fortunately, the process is quite simple. Enrolling in Medicare Part D prescription drug coverage can enable you to enjoy a great amount of access to prescription medications. Of course, you might run into the "donut hole," another coverage gap, if you use too many prescriptions. For vision or dental care coverage, you can typically enroll in any one of a large number of local plans from local providers. Best of all, you don't have to wait for an Open Enrollment Period in order to enroll in either vision or dental care coverage.
As medical costs continue to rise and your risk of developing an age-related illness increases, it's important to take proper steps to ensure that your healthcare is taken care of. By enrolling in a Medicare Advantage or Medicare Supplement plan, you can protect yourself from the rising financial risks of Medicare coverage gaps. So don't wait! Head over to Medigap.com today and get started on your path to a secure and healthy future.
| | | | |
| --- | --- | --- | --- |
| Medigap Plan | Minimum Monthly Premium | Maximum Monthly Premium | Average Estimated Monthly Premium (Part B Premium Included) |
| Medigap Core Plan | $94 | $171 | $268 |
| Medigap Supplement 1 Plan | $169 | $257 | $349 |