Medicare coverage gaps in Naperville can make it almost impossible to enjoy the reliable access to affordable healthcare that you both need and deserve. Original Medicare includes various limits on how the benefits can be used. Longer term care, especially in a hospital or senior care facility, is one example of a medical benefit which Medicare does not cover. While you're receiving such care, you're in what is known as a Medicare coverage gap. That means that your benefits can be severely reduced, causing you to pay thousands of dollars in out-of-pocket expenses every single year. In a few cases, you can even end up having your benefits completely eliminated while in the coverage gap. If you're currently struggling in this situation, you are not alone. Look at the facts and figures below to see just how many other seniors in Naperville are in the same situation and what they're doing to get out of it.
Facts and Figures
There are 17,054 seniors living in Naperville right now.
There are 3 hospitals in the Naperville area where seniors can get emergency and/or in-patient care.
21% of Illinois seniors have a Medicare Advantage plan.
33% of Illinois seniors have a Medicare Supplement (Medigap) plan.
Which leaves 46% of seniors potentially uninsured or underinsured against costly Medicare coverage gaps!
That 46% figure comes out to just about 7,844 seniors who are not properly protected against the expensive Medicare coverage gaps. In and of itself, that is already a problem. Even if the reason that these 7,844 seniors simply don't need anything other than Original Medicare because they're currently enjoying incredible health, they are still gambling with their financial future. Thanks to age-related illnesses, today's health does not equate to tomorrow's health. Age-related illnesses increase in prevalence as you age, hence the word "age-related." As if developing an additional illness weren't enough, the symptoms of these illnesses also increase in frequency and severity with age, making it even more difficult to go through life. Already, one quarter of the Naperville senior population has been diagnosed with high blood pressure and those numbers are projected to rise as the population continues to age.
| | |
| --- | --- |
| Disease | Prevalence in Naperville, IL |
| Arthritis | 21% |
| High Blood Pressure | 25% |
| Coronary Heart Disease | 4% |
| Diabetes | 7% |
| Kidney Disease | 2% |
Healthcare Costs in Naperville, IL
Without the proper protections afforded to you by comprehensive insurance plans, you could be paying thousands of dollars out-of-pocket each year before you know it. The information in the chart below shows just how costly the Medicare coverage gaps can become for one of those five age-related illnesses. Of course, it is possible that you can develop more than one of these illnesses, further increasing the costs of your healthcare. Moreover, as the symptoms increase in both frequency and severity, your need for treatment will also increase, driving up the prices even higher. Considering that medical costs are already on the rise for everybody, that can pose a significant burden to your attempts to receive quality healthcare. This makes bittersweet the fact that seniors are living longer lives now than ever before, because it means that those longer lives have more time in which symptoms and medical costs can worsen.
| | | |
| --- | --- | --- |
| Disease | Prevalence in Naperville, IL | Annual Cost of Treatment |
| Arthritis | 21% | $291 |
| High Blood Pressure | 25% | $354 |
| Coronary Heart Disease | 4% | $7,982 |
| Diabetes | 7% | $2,163 |
| Kidney Disease | 2% | $7,177 |
Medicare Advantage Savings in Naperville, IL
Thousands of seniors in Naperville have already begun switching from Original Medicare to Medicare Advantage to meet their insurance needs. Unlike Original Medicare, Medicare Advantage plans are not provided by the government. Rather, they are provided by private providers. The law still requires that those private providers provide the benefits of Original Medicare at the bare minimum, but many companies are willing to go above and beyond that – for a price. By paying more in premiums, you avail yourself to a wide array of additional coverage options. Of course, it's important to know that the government takes care of most or all of your premiums, meaning that you might not actually end up paying a single penny in monthly premiums.
One of the most common coverage benefits that seniors in Naperville choose to add onto their Medicare Advantage plans is the option for prescription drug and minor medical equipment coverage. Depending on the specific plan provider chosen, that can range anywhere from comprehensive coverage of brand-name prescription medications to coverage of just enough medications to get buy. Moreover, these plans can provide coverage for medical necessities like glucose monitors and testing strips, making them a great option for seniors suffering from diabetes, high blood pressure, arthritis, or another chronic condition. For seniors suffering from any of these conditions, the savings really stack up over time.
Medicare Advantage plan providers also enable most beneficiaries to add on additional coverage options for dental and vision care. That means that you could have even further improved healthcare options without paying a penny more than you were for Original Medicare. This is a benefit that neither Original Medicare nor Medicare Supplement insurance plans can provide. Whereas Medicare Advantage plans can provide comprehensive coverage for elective dental surgery, cleanings, routine care, and so on; whereas Medicare Supplement and Original Medicare plans typically will only cover any form of dental care in severe emergencies.
Medicare Supplement (Medigap) Savings in Naperville, IL
Medicare Supplement insurance plans are most commonly referred to by the name Medigap. What sets these plans apart from Medicare Advantage plans is the fact that Medigap plans do not replace your Original Medicare coverage. Instead, they supplement it. Medigap plans come with ten different options (A, B, C, D, F, G, K, L, M, and N) and each plan has its specific benefits and costs. All plans, however, have a few common factors shared between them. For example, every one of the ten plans helps to make the coverage gaps associated with Medicare Part A more affordable. Since these coverage gaps can be exceptionally high for seniors suffering from chronic health conditions, including age-related kidney and heart disease, Medigap options can be a great fit for people in those circumstances.
The first few plans you should know about are Medigap plans types A, D, K, and L. As mentioned above, these plans provide additional coverage options concerning Medicare Part A and are designed to prevent you from having to experience the financial burden of Medicare coverage gaps for that Part. That means that things like overnight hospital stays, blood transfusions, and skilled nursing care become far more affordable by switching to one of these plans. However, emergency services and other forms of Medicare Part B expenses still risk falling into Medicare coverage gaps. If you find yourself struggling to pay coverage gaps for both Medicare Part A and Medicare Part B, you won't benefit fully from either of these four plans.
In order to receive assistance paying for coverage gaps related to both Medicare Part A and Medicare Part B, you will have to look into one of the following plan types: B, C, F, G, M, or N. Each of these plans provides coverage assistance for hospital stays and their related costs as well as for emergency services. By enrolling in one of these plans, coverage gaps can be completely erased, allowing you to focus on getting the treatment that you deserve rather than worrying about whether or not you can afford it. Unfortunately, Medigap Plan F will no longer be available after 2020. So enroll in the plan now while you still can!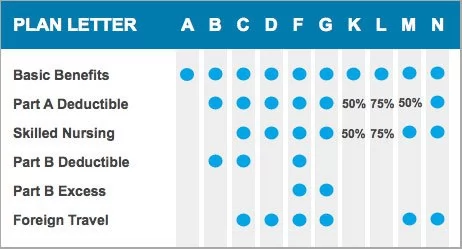 When it comes to prescription drug, dental, and vision coverage on Medigap, you have a good number of options. Despite the fact that there is no way to have a Medigap plan directly cover any of these three categories of care, you have a variety of methods at your disposal in order to get them covered. For prescription drugs, you can enroll in Medicare Part D prescription drug coverage. For most seniors, the benefits provided therein are more than enough. However, some seniors who rely on large numbers of medications tend to find that Medicare Advantage is the only form of prescription drug coverage that suits their needs. In terms of vision and dental care coverage, it tends to be possible to enroll in private plans for under $100 per month.
Living in Naperville can be a wonderful experience, but only if you have the proper level of health insurance. To continue to rely exclusively on Original Medicare is to continue to risk your health and financial independence. On the other hand, switching over to Medicare Advantage or Medigap can help protect you from the rising costs of care as well as any out-of-pocket expenses that you would otherwise have to pay. So don't wait! Head over to Medigap.com and get started on your path to healthcare independence today!
| | | | |
| --- | --- | --- | --- |
| Medigap Plan | Minimum Monthly Premium | Maximum Monthly Premium | Average Estimated Monthly Premium (Part B Premium Included) |
| Plan A | $71 | $276 | $309 |
| Plan B | $93 | $314 | $339 |
| Plan C | $122 | $357 | $375 |
| Plan D | $106 | $217 | $297 |
| Plan F | $111 | $294 | $338 |
| Plan F (high deductible) | $31 | $91 | $197 |
| Plan G | $107 | $218 | $298 |
| Plan K | $53 | $109 | $217 |
| Plan L | $79 | $154 | $252 |
| Plan M | $109 | $176 | $278 |
| Plan N | $87 | $176 | $267 |