There are lots of wonderful things to look forward to with retirement – along with some not-so-great things that you'll want to do your best to prepare for. The expensive gaps in Medicare coverage are some of those not-so-great things. But you don't have to fall victim to these expensive out-of-pocket medical costs as you age. All you have to do is take a look at the information below and figure out which type of Medicare supplement insurance is right for you. And we are more than ready to help you do that right now.
Facts and Figures
There are 8,998 senior citizens living in Wilmington right now

There are 8 hospitals in the Wilmington area where seniors can get emergency and/or in-patient care

11% of Delaware seniors have a Medicare Advantage plan

22% of seniors have a Medicare Supplement (Medigap) plan

Which leaves 67% of seniors potentially uninsured or underinsured against costly Medicare coverage gaps!
What do you think is more damaging to your health and your financial welfare: acute illness, or chronic illness? They can both be expensive and debilitating, depending on your diagnosis. But more often than not, it's chronic illness that will really wipe you out physically and take you to the cleaners, financially speaking. The chart below shows some of the most expensive – and also the most common – chronic diseases that Wilmington seniors are suffering from today. There's an unfortunately high likelihood that you'll fall into at least one if not several of these categories.
| | |
| --- | --- |
| Disease | Prevalence in Wilmington |
| Arthritis | 24% |
| High Blood Pressure | 37% |
| Coronary Heart Disease | 6% |
| Diabetes | 14% |
| Kidney Disease | 4% |
Healthcare Costs in Wilmington, DE
Let's take a closer look at diabetes to help give you a better idea how financially and physically debilitating chronic illness can be. Unless you can change your diet and exercise routine for the better, diabetes is a life sentence. And even with the best treatment, it will eventually get worse over time. It is extremely common for diabetes to cause problems in other areas of your body, such as your eyes, your kidneys, and your lower limbs. You could start to lose vision, you could experience gaping sores in your extremities, you will likely become obese, and you may even require amputations if it gets bad enough. Treating diabetes properly involves a lot of prescription drugs, and could even require major surgery – which is where you'll find some of the most expensive Medicare coverage gaps.
| | | |
| --- | --- | --- |
| Disease | Prevalence in Wilmington | Annual Cost of Treatment |
| Arthritis | 24% | $291 |
| High Blood Pressure | 37% | $354 |
| Coronary Heart Disease | 6% | $8,371 |
| Diabetes | 14% | $2,163 |
| Kidney Disease | 4% | $7,418 |
Medicare Advantage Savings in Wilmington, DE
Only 11% of seniors in Delaware have chosen a Medicare Advantage plan. There are different reasons for this. Maybe they trust their government to manage their health care needs more than they do a private, for-profit company – which is where Medicare Advantage plans come from. Medicare Advantage is when you choose to replace your Medicare Parts A and B benefits with a private health plan which promises to give you the exact same coverage, and sometimes more. But the government will use Medicare funds to help pay for your monthly premium and you make it your plan for as little as $0 per month. You can also add additional coverage that you and your insurance agent believe is necessary for your Optimal Health and Wellness.
Just because Medicare Advantage isn't the most popular option in Delaware doesn't mean that Medicare Advantage companies aren't trying. They like to sweeten the deal by offering customers the chance to add coverage and customize their plan for simpler, more comprehensive coverage. If you can afford the extra premium costs, this can be really convenient. Imagine managing all of your dental, vision, prescription drug, and medical needs under one single insurance plan. You only have one monthly premium to pay, and one company to contact when you need to file claims or collect reimbursements.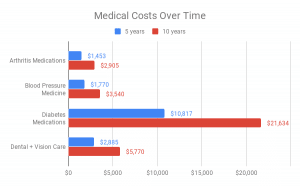 But for many seniors, adding the coverage they need onto one of these "Cadillac" plans can make the monthly premiums and other payments prohibitively expensive. So if you are on a limited budget, if you don't need all that extra coverage, and if you are mostly concerned about the actual gaps in your Medicare coverage, then you might do yourself a favor and take a look at Medigap first before you decide on a Medicare Advantage plan.
Medicare Supplement (Medigap) Savings in Wilmington, DE
Medigap seems to be the direction most seniors lean in, given that these plans have a 22% enrollment rate within the state of Delaware. That's right, we said "plans", because there are 10 total Medigap plans to choose from. The plan you choose is up to you, and will largely depend on whether or not you are concerned with Medicare Part A gaps, Medicare Part B gaps, or both. The amount of money you have to spend on your monthly premiums will also weigh heavily in your decision.
If you are only concerned about Medicare Part A hospital insurance coverage gaps, then look no further than Medigap plans A, D, K, and L. These are the plans that deal exclusively with hospital expenses and end-of-life care. They can help you pay for coverage gaps when it comes to hospital stays, blood transfusions, and the cost-share expenses associated with hospice treatment – among other things. The fact that these plans usually only cover Medicare Part A gaps helps make them less expensive as far as monthly premiums go, and therefore much more affordable to most seniors.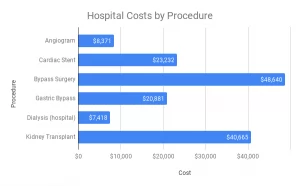 Then there are Medigap plans B, C, F, G, M, or N. For seniors who are concerned with Medicare Part B gaps as well as the gaps in Medicare Part A. Medicare Part B gaps are mostly related to coinsurance, premium payments, and other shared expenses between you and Medicare. Some of these Medigap plans also cover foreign travel. But not all of these plans will be available forever. Medigap Plan F, for example, which is the most comprehensive of all the plans, will be retired at the end of 2020. So if you want to secure Medigap Plan F benefits for life, you have to enroll as soon as possible and grandfather yourself into the program so that you can gain access to these benefits before they are gone forever.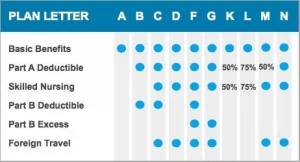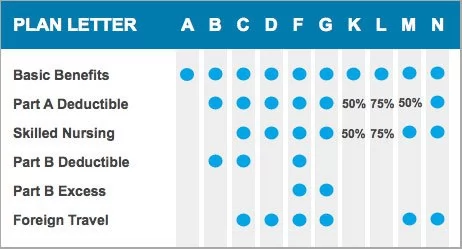 There is one drawback when it comes to Medigap insurance: you cannot customize your plan the way you could with Medicare Advantage. But there are ways around this. If you need vision and/or dental insurance, you can get them from a private insurance company outside of the system. You may even qualify for a senior discount or other cost savings perks that companies will offer in order to attract your business. And you can enroll in Medicare Part D if you need prescription drug coverage. There is a donut hole coverage gap associated with Part D, but that only happens for seniors who hit their annual maximum before the end of the year and fall short of catastrophic coverage. And even while you are in this gap, you only have to pay for 25% of your total prescription costs out-of-pocket.
Getting the proper healthcare at the price you can afford is essential for making the most out of your golden years. But it's not always as simple as that. You have some very important decisions to make, and you literally cannot afford to make a mistake. So let us help you. Reach out to us by phone or by email if you still have questions, concerns, or any confusion about the Medicare supplement insurance process. We will be more than happy to help.
| | | | |
| --- | --- | --- | --- |
| Medigap Plan | Minimum Monthly Premium | Maximum Monthly Premium | Average Estimated Monthly Premium (Part B Premium Included) |
| Plan A | $77 | $267 | $308 |
| Plan B | $100 | $304 | $338 |
| Plan C | $130 | $345 | $373 |
| Plan D | $99 | $208 | $289 |
| Plan F | $131 | $284 | $343 |
| Plan F (high deductible) | $29 | $101 | $201 |
| Plan G | $113 | $210 | $297 |
| Plan K | $45 | $98 | $207 |
| Plan L | $75 | $138 | $242 |
| Plan M | $144 | $144 | $280 |
| Plan N | $89 | $162 | $261 |