It's dry, it's warm, it's scenic. Scottsdale, Arizona has everything that retirement-aged people could want, even including a decent number of hospitals and clinics. Unfortunately, that's not stopping the thousands of seniors in Scottsdale from spending thousands of dollars each month on Medicare coverage gap expenses. Medicare coverage gaps refer to a series of specific medical benefits and coverages which are excluded from Original Medicare. These costs can get up into the thousands of dollars each year or even each month depending on the severity of your symptoms and which illness or illnesses you have. In Scottsdale in particular, there are thousands of seniors who don't have proper insurance coverage necessary to prevent these sorts of charges.
Facts and Figures
There are currently 58,721 seniors living in Scottsdale, Arizona.
There are 8 hospitals in the Scottsdale area where seniors can receive emergency and/or in-patient healthcare.
39% of seniors in Arizona have a Medicare Advantage Plan.
19% of seniors in Arizona have a Medicare Supplement (Medigap) plan.
Which leaves 42% of Scottsdale seniors potentially uninsured or underinsured against costly Medicare coverage gaps!
For such a large population of seniors, you might imagine that the healthcare facilities would be robust and well-staffed. Unfortunately, that's not always the case. While the doctors, nurses, and technicians may be incredibly talented, there simply aren't enough of them. With only 8 hospitals and 58,721 seniors in the area, that comes out to an average of 7,340 seniors per hospital, not to mention that seniors only comprise 23% of Scottsdale's population. But if there aren't enough hospitals, then how haven't you heard much about medical shortages? Simple: Not enough people have the insurance coverage necessary to meet their needs, leaving them with the choice to either pay excessive amounts of money or go without treatment. This becomes worse and worse with each passing year as age-related illnesses rise in prevalence in the Scottsdale area. The chart below contains a few startling statistics pertaining to five of the most common age-related illnesses in Scottsdale.
| | |
| --- | --- |
| Disease | Prevalence in Scottsdale, AZ |
| Arthritis | 27% |
| High Blood Pressure | 30% |
| Coronary Heart Disease | 6% |
| Diabetes | 9% |
| Kidney Disease | 3% |
Healthcare Costs in Scottsdale, AZ
You might be wondering, "What makes age-related illnesses so bad?" An age-related illness is any disease or disorder with symptoms that increase in frequency and/or severity as you age. This means that you could potentially be in the best health of your life today and find yourself in the emergency room with chronic kidney disease tomorrow. Because of the fact that seniors are living longer now than ever before, age-related illnesses have an even longer time period in which conditions can worsen. Combined with the rising costs of healthcare in the United States, this means that you can quickly find yourself drowning in an overwhelming volume of medical bills. As your condition(s) worsen(s), the coverage gaps associated with Original Medicare can prevent you from having access to the healthcare that you both need and deserve. The chart below shows a conservative estimate of how much you might end up paying for each of the aforementioned age-related illnesses.
| | | |
| --- | --- | --- |
| Disease | Prevalence in Scottsdale, AZ | Annual Cost of Treatment |
| Arthritis | 27% | $280 |
| High Blood Pressure | 30% | $288 |
| Coronary Heart Disease | 6% | $7,581 |
| Diabetes | 9% | $2,158 |
| Kidney Disease | 3% | $7,225 |
Medicare Advantage Savings in Scottsdale, AZ
First things first, it is important to note that Medicare Advantage is not provided through the government. Rather, Medicare Advantage plans are owned and operated by private health insurance companies. An additional benefit that Medicare Advantage plans have over Original Medicare plans is that the law requires providers of the former to provide all the same benefits as providers of the latter, but it doesn't stop there. Medicare Advantage plan providers typically also provide you with the option of "paying a little more" for additional coverage options. Thanks to government subsidies and tax incentives, that "little more" that you would be paying could come out to a total monthly payment of $0.
One of the most commonly selected additional coverage options that seniors can choose to pay into with their Medicare Advantage plans is the prescription drug coverage option. This provides far more specialized benefits than those associated with Original Medicare. These benefits can be further expanded to also cover medical necessities and equipment such as glucose monitors and testing strips. If you have a chronic health condition, such as chronic heart disease, diabetes, or chronic kidney disease, this is one option that you should consider. Over the five- and ten-year timeframes, you could potentially stand to save tens of thousands of dollars that would otherwise go right back to the very same government that has suspended your healthcare coverage.
Two more common coverage options for Medicare Advantage plans are dental and vision coverage. By selecting a Medicare Advantage plan and adding on these two coverage options, seniors can improve their access not only to healthcare coverage but for both dental and vision care as well, enabling you to save even more money over a longer period of time than with a standard Medicare Advantage plan. This is something that Original Medicare and Medicare Supplement (Medigap) insurance plans do not provide; however, with Medigap, there are a few ways to get around this lack of a comprehensive coverage plan without breaking the bank. In fact, depending on the nature of your medical needs, Medicare Advantage might not even be the right option for you.
Medicare Supplement (Medigap) Savings in Scottsdale, AZ
Medicare Supplement insurance, unlike Medicare Advantage, doesn't completely replace your Original Medicare coverage. Rather, it supplements it by adding additional coverage options to help you while you struggle to pay for the Medicare coverage gaps, hence the phrase "Medicare Supplement." The bulk of these plans are designed specifically with expenses pertaining to Medicare Part A in mind and provide benefits for anything from hospital stays to in-patient medical services, making them great options for seniors with age-related heart or kidney disease. Medicare Part A costs otherwise tend to pose an insurmountable burden to people suffering from these conditions, leading many of them to be forced to either give up their independence and go back to living with their children or to forgo medical care altogether and give up their quality of life. To avoid either of these two outcomes, it is typically best to choose either a Medicare Advantage plan or one of the ten Medigap plans.
The first four Medigap plans are Medicare Supplement Plans A, D, K, and L. Each of these four plans provide varied options, ranging from slightly different premiums to slightly different copays. Generally, however, they all provide the same or similar benefits through a focus on Medicare Part A and its related expenses. For seniors who don't use their Original Medicare Part B benefits enough to put them in the coverage gap for that category but still spend large amounts of money out-of-pocket in hospitals or in-patient care centers, this can be the perfect option. On the other hand, these plan types can pose a massive financial burden for anybody who spends an equal amount of money on both Part A and Part B or even more money on Part B than on Part A. Why? These plans do not cover Medicare Part B coverage gaps whatsoever.
If you're looking to use a Medigap plan to cover your Medicare Part B coverage gaps as well as your Medicare Part A coverage gap, then you're going to want to make use of the remaining Medicare Supplement insurance Plans: B, C, D, F, G, M, and N. Whereas the previous plans fall short of providing so little as a penny to help you cover your Part B expenditures, these six plans serve to provide total coverage for Part A along with varying degrees of coverage for Part B – the only major setback from this upgrade being the fact that Plans B, C, D, F, G, M, and N cost a little more. Additionally, Plan F will no longer be offered after 2020. This means that, as of 2021, you won't be able to enroll in or switch to Plan F. Furthermore, if you have Plan F and abandon it for something else, you won't be able to get it back in the future.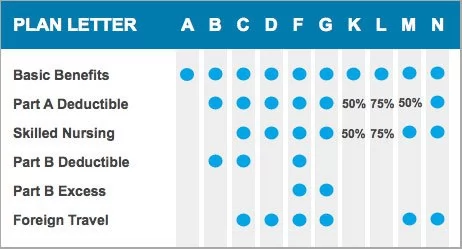 Now comes the bad news about Medicare Supplement insurance. As we hinted at in our earlier discussion of Medicare Advantage, Medigap plans do not offer any form of prescription drug, dental care, or vision care coverage. This doesn't necessarily mean that you are on your own, but simply that you are going to have to look for yet another insurance provider to further supplement your Medicare Supplement insurance. It's easy to get bogged down in the specifics, so speaking with a Medigap expert can help make things easier, but it isn't too hard to find a private plan that covers all three of these categories without costing more than $100 per month.
At the end of the day, as your age increases and your risk of age-related illnesses increases along with it, you need to sincerely consider the question of how you're going to pay for all of the medical necessities that you both you need and deserve. By going online at Medigap.com and shopping for a plan or speaking with an expert today, you not only decrease your financial strain but also increase your stability.
So what are you waiting for? Take back your healthcare independence today!
| | | | |
| --- | --- | --- | --- |
| Medigap Plan | Minimum Monthly Premium | Maximum Monthly Premium | Average Estimated Monthly Premium (Part B Premium Included) |
| Plan A | $76 | $259 | $303 |
| Plan B | $117 | $293 | $341 |
| Plan C | $133 | $335 | $370 |
| Plan D | $111 | $288 | $335 |
| Plan F | $131 | $337 | $370 |
| Plan F (high deductible) | $27 | $100 | $199 |
| Plan G | $102 | $294 | $334 |
| Plan K | $39 | $138 | $224 |
| Plan L | $71 | $194 | $268 |
| Plan M | $124 | $211 | $303 |
| Plan N | $87 | $264 | $311 |