The Wisconsin Physicians Life Insurance Company was started back in 1902 that treats its policyholders like family. They are a nationwide company that's head office is located in Omaha, Nebraska, and is part of the Physicians Mutual family. In addition to Medicare Supplement plans, they also offer dental, life, cancer, and pet insurance.
We will review a Supplemental Medicare plan and Physicians Mutual Medicare Supplement plans. Then, we'll talk about Medicare Advantage plans and how Medicare Part D works. Once that's complete, we'll discuss the financial strength ratings and answer some common questions. Finally, we'll review how to enroll in a Medicare plan with Physicians Mutual.
Wisconsin Physicians Mutual affiliated companies
While Original Medicare on its own is good health insurance, there are some costs that many are unaware of at first. Since it does have coverage gaps, many Medicare beneficiaries enroll in a Supplemental Medicare plan to protect themselves from unknown out-of-pocket costs.
These supplemental Medicare health insurance plans come in a couple of varieties. As a Medicare beneficiary, you can choose to stay on Original Medicare and purchase a Medicare Supplement and Part D drug plans for additional monthly premiums or enroll in Medicare Part C to administer your Medicare benefits.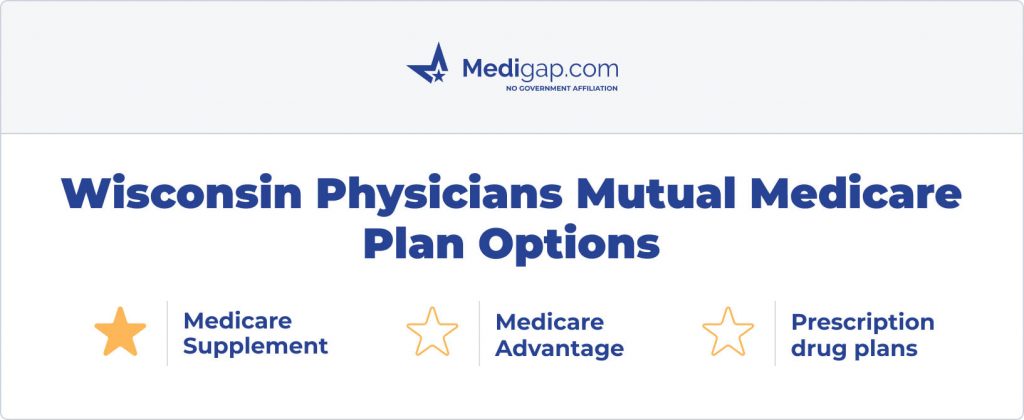 Wisconsin Physicians Mutual Medicare Supplement plans
Medicare Supplement policies provide the most comprehensive health care services to pair with Medicare. These plans will help offset the costs after Original Medicare pays its portion. Medigap plans pick up the cost gaps left by Medicare Part A and Part B.
These Medicare Supplement policies have ten plans with different coverage levels. Some of the items that Medigap policies can cover include:
Deductibles
Coinsurance
Copayments
Foreign Travel Emergency
Since these plans only work with Part A and Part B of Medicare, your inpatient hospital, skilled nursing facility, and outpatient medical services, they have no coverage for prescription drugs from the pharmacy. The coverage from one health insurance company to another must be the same. The only difference is the monthly premium and the name of the company.
Wisconsin Physicians Mutual Medicare Advantage plans
The other choice that beneficiaries can elect is a Medicare Advantage plan. These plans are also called Medicare Part C. These plans will combine the benefits of Medicare Part A and Part B. And in most cases, Part D. These plans can also help with additional benefits and coverages that aren't usually covered under Medicare.
Medicare Advantage plans typically have low to no premiums and fixed costs for most services. They make medical expenses reasonably easy to understand. In addition, these plans must limit your out-of-pocket costs for the year.
Physicians Mutual Insurance Company doesn't offer Medicare Part C. Please fill out our online request form for assistance with this plan style; one of our agents can assist.
Wisconsin Physicians Mutual Medicare Part D prescription drug plans
While Medicare Advantage health plans can include prescription drug coverage, if you stay with Original Medicare or add a Medicare Supplement Insurance Plan, you'll have to enroll with a Part D plan to cover prescription drugs.
Medicare Part C and Part D are provided by independent insurance companies contracted and regulated by the Centers for Medicare and Medicaid Services. Physicians Mutual doesn't offer Medicare Part D plans either, but our agents are also experts in that area.
Wisconsin Physicians Mutual Medicare pros and cons
Pros
Good customer service
Affordable Monthly premiums
Mild premium increases
Cons
No product offerings for Medicare Advantage or prescription drug coverage
Limits service areas
Financial strength ratings
When considering the right Medicare Supplement insurance company, their financial strength rating can paint a picture of their performance in certain areas. Companies with a more robust financial rating typically have lower rate increases, faster claims processing, and more competitive plan premiums.
Physicians Mutual has received an AM best rating of an "A" excellent. They provided the second-highest rating available.
Reviews
Physicians Mutual is a highly rated company that offers Medicare Supplement insurance policies in many states throughout the United States. They have a unique program that allows you to change to another Physician's Mutual plan within the 1st two years without underwriting. Their Innovative Plan G gives a lifetime saving on premiums by helping you pay for your health care costs for the first three calendar years.
| | |
| --- | --- |
| Medicare Supplement plans | YES |
| Medicare Advantage plans | NO |
| Medicare Part D Drug plans | NO |
Wisconsin Physicians Mutual Medicare plan options
FAQs
Is Mutual of Omaha the same as Physicians Mutual?
No. Mutual of Omaha and Physicians Mutal are two different companies.
Is Physicians Mutual a reputable insurance company?
Wisconsin Physicians Mutual is a great company that is part of the Physicians Mutual family.
What is the rating for Physicians Mutual?
AM Best awarded Physicians Mutual a rating of A – Excellent.
What Medigap Plans does Physicians Mutual Offer?
Physicians Mutual plan offerings can vary depending on the area in which you live. They offer the following plans in most states that they are operating in:
They have an Innovative Plan G that starts as a high deductible plan. After a couple of years, you can switch plans and eliminate the high deductible.
What are the benefits of the Physicians Mutual Supplemental Medicare plans?
Physicians Mutual Medicare Supplemental Insurance plans will help cover costs related to Original Medicare. Some of the items covered include:
Medicare Part A and Part B Deductibles
Medicare Part B Coinsurance
Medicare Part A Copayments
Medicare Part B Excess Charges
How to enroll in a Wisconsin Physicians Mutual Medicare plan
Help with the decision for Medicare Supplemental insurance is very easy to find. Please fill out our online request form. You could also give us a call directly. Our licensed insurance agents have access to all the plan offerings in your area and are specialists in Medicare.