For more than 110 years, the American Home Life insurance company has served Americans. They offer annuities, life insurance, and Medicare Supplement Insurance. Founded in Topeka, Kansas, in 1909, they believe in a midwestern value-oriented culture.
They are a mutual insurance company, which means they don't have shareholders to answer to. The policyholders all own and have a vested interest. This allows AHL to operate based on the long-term interest of its policyholders.
American Home Life Medicare plans
American Home Life offers Final Expense policies and Medicare Supplement Plans. Most Medicare beneficiaries don't stay with only their Original Medicare health insurance. They typically enroll in a supplemental Medicare health plan. These plans will come from a Medicare Advantage, Medicare Supplement, or Medicare Prescription Drug Plan.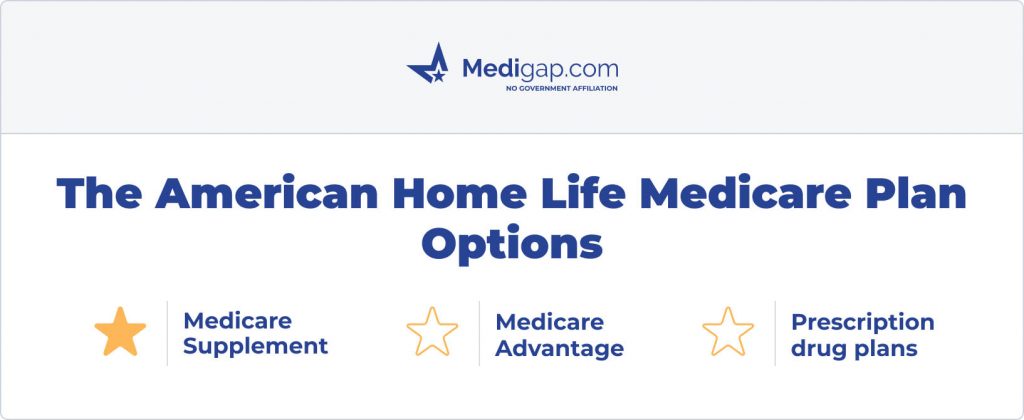 American Home Life Medicare Supplement plans
First, we're going to discuss Medicare Supplement insurance plans. This insurance coverage option works as secondary coverage for Medicare Part A and Medicare Part B. These plans don't include drug coverage. A Medicare Supplement plan is sometimes called the Cadillac of Medicare insurance coverage.
These plans work by paying your portion of the Medicare cost-share. Depending on your plan letter, you could pay little to nothing when using Medicare-covered services. Medicare Supplement policies are also nicknamed Medigap plans because they fill in the gaps in out-of-pocket costs.
Types of costs covered by Medigap plans include
Medicare Part A Deductibles
Medicare Part A Copayments
Skilled Nursing Facility Copayments
Medicare Part B Deductible
Part B Excess Charges
Medicare Part B Coinsurance
Since these plans are secondary to Medicare, you'll never need a referral. You can see any healthcare provider in the nation that accepts Original Medicare.
American Home Life Medicare Advantage plans
Medicare Part C combines your Medicare Part A and B benefits. In addition, Medicare Advantage plans will usually include Medicare prescription drug coverage. These benefits are combined into one simple plan. That can include benefits that are excluded from Original Medicare, like dental, vision, and hearing.
American Home Life doesn't offer Medicare Advantage plans at this time.
American Home Life Medicare Part D prescription drug coverage
Medicare stand-alone prescription drug coverage is called Medicare Part D. Medicare beneficiaries usually add these plans when they have Original Medicare only or a Medicare Supplement plan.
American Home Life doesn't offer Part D plans currently. Let us know if you are looking for Medicare Part C or D. Our licensed brokers can assist you with details of the plans in your area.
American Home Life Medicare pros and cons
Pros
12-month rate lock
A mutual company, not driven by stocks
Fair plan premiums
Cons
Don't offer all Medicare plans
Average rate increases
Financial strength ratings
We like to consider a company's financial strength to give us a complete picture of its operations. Financial strength ratings help show trends in certain aspects of how insurance companies manage their business.
The higher the rating, the more likely the company will have fast claims processing, competitive rates, and lower rate increases. AM Best rewarded American Home Life a "B++ Stable Outlook Rating."
Reviews
American Home Life is a mutual company. This means they don't have to answer stockholders to make decisions related to the company. They offer a 12-month rate lock for new members and strongly focus on their products. They have a good AM Best rating but are slightly lower than other insurance carriers in the Medicare space.
FAQs
What is AHL Insurance?
American Home Life is a mutual insurance company that offers life insurance, annuities, and other insurance products. The focus is on Medicare Supplement and final expense plans.
Where can I get a quote for supplemental Medicare insurance?
Simply give us a call or fill out our online request form. We can access all the top carriers and provide multiple quotes and comparisons.
How much does purchasing an American Home Life Medicare Supplement plan cost?
A Medicare Supplement insurance policy costs between $80 and $250 monthly. The cost will vary based on several factors, including age, your plan, and where you live.
How to enroll in an American Home Life Medicare plan
If it sounds like a Medicare supplement plan with American Home Life is right for you, we can help. We can also help you to explore other options. Our licensed insurance agents can educate and verify that you're choosing coverage that fits your needs.
Give us a call for assistance enrolling or information on supplemental Medicare policies. You can fill out our online request form if now isn't the best time. We're here to help and make the process quick and efficient.