Puritan Life insurance company of America is a leader in providing financial strategies that aid clients in acquiring wealth through their working years. They also help clients maintain that into their retirement. The company was built in 1958 and sells various products, including Medicare Supplement plans, life insurance, and financial solutions such as annuities.
Puritan Life Medicare plans
Supplemental Medicare plans come in a variety of options. You can pick a Medicare Advantage plan to combine your Medicare benefits into an all-in-one one to meet your needs. The other option is a Medicare Supplement plan that works with the Original Medicare program and a Part D prescription drug plan.
We'll discuss Puritan Life's Medigap plan options and give an overview of Medicare Advantage plans. Then, we'll cover Part D prescription drug plans and how they work. After that, we'll discuss the company's financial strength and answer some common questions we get. Finally, we'll tell you how to get help with Puritan Life Insurance Company of America's Medicare Supplement Insurance plans.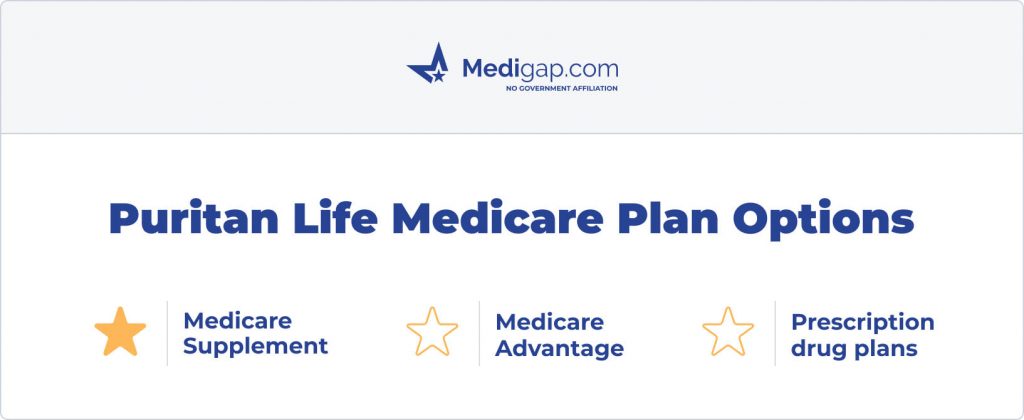 Puritan Life Medicare Supplement plans
A Medicare Supplement policy is considered by most to be the best insurance coverage you can purchase alongside your Original Medicare.
Medigap policies are health plans with an additional monthly premium, and the health insurance company will help pay your portion of health care costs.
These plans can pay a majority, if not all, of your remaining healthcare costs for services covered by Medicare Part A and Medicare Part B.
Medigap plans cover costs such as your Medicare Part A deductible and copays and Part B coinsurance and deductibles. Some options will cover Part B excess charges and foreign travel emergency coverage.
Medicare beneficiaries consider Medicare Supplement Plans a favorite because they can see any doctor nationwide, offering comprehensive coverage.
Medicare Supplement insurance plans have ten standardized plan letter options. Puritan Life offers four Medigap plan options, including the top three Medigap plan letters.
Puritan's plan offerings are available in twenty-nine states and include Plan A, Plan F, Plan G, and Plan N.
Plan F is only available to Medicare beneficiaries that were on Medicare before 2020. The most favored plan is Plan F. This plan covers your portion of Original Medicare's cost-share.
Plan G is the most valued among beneficiaries that are new to Medicare. The coverage is virtually identical to Plan F, with one exception. It doesn't cover the Medicare Part B deductible. Once you pay the Part B deductible, your plan pays your cost-share for the rest of the year.
Plan N is the plan that gives you the most for your money. With a coverage level comparable to Plan G, the cost is substantially lower for the year. The most significant difference is you pay a copayment to see the doctors and the emergency room.
Puritan Life Medicare Advantage plans
Medicare Advantage plans represent Medicare Part C. These plans cover all the benefits included under Original Medicare. In addition, most Medicare Advantage plans include Medicare Prescription Drug coverage. The plans are required to have a maximum out-of-pocket limit.
These plans must include the essential Part A and Part B benefits. They usually have added coverage and benefits that Original Medicare doesn't offer. Many additional benefits, such as dental and vision coverage, are included. On top of these added insurance benefits, they can have extras such as gym memberships, transportation, and over-the-counter allowances.
If you're looking for Medicare Advantage plans, Puritan won't be an option as they don't offer this coverage style. We can help you find a Medicare Advantage plan if that's the option that fits your needs. Let us know, and one of our licensed insurance brokers can reach out and assist you.
Puritan Life Medicare Part D prescription drug plans
Medicare Part D is your stand-alone prescription drug coverage. Private insurance companies contracted and regulated by the Centers for Medicare & Medicaid Services administer Medicare prescription drug programs and Medicare Advantage plans.
Puritan doesn't offer Part D plans, but our brokers can assist if you need help with Part D coverage options.
Puritan Life Medicare pros and cons
Pros
Great customer satisfaction rating
Mild underwriting
Affordable monthly rates
Cons
Average rate increases
No Medicare Part D or Advantage options
Financial strength ratings
There are a few companies that rate the financial strength of insurance companies. The most common is A.M. Best. A.M. Best has issued Puritan Life a B++ (Good) rating.
This rating indicates that A.M. Best has confidence in Puritan Life Insurance Company of America's ability to meet its ongoing insurance obligations.
Reviews
Puritan offers 60 years of experience, focusing on helping families build and save wealth.
They've built an organization of like-minded people driven to treat others as they want. They stress people-first values and focus on the future while striving to grow daily.
FAQs
Who owns Puritan Life Insurance Company?
Puritan Life Insurance Company of America owns Puritan Life Insurance Company.
Does Puritan Life Insurance Company sell Medicare Supplements?
Yes. Puritan Life Insurance Company sells Medicare Supplement plan options. They offer plans A, F, G, and N.
How to enroll in a Puritan Life Medicare plan
Enrolling in a Medicare health insurance plan is one of your most important decisions. The choices can be overwhelming.
Our licensed insurance agents help guide you every step of the way, reviewing ways to minimize your out-of-pocket costs.
We'll explain your options and how the different options work. Furthermore, we'll work with you to ensure the plan accepts your doctors and prescriptions. In the end, we can even walk you through the enrollment process.
Let our licensed agents help you make your Medicare decision quick and easy! Give us a call or fill out our online request form.