Philadelphia American Life Insurance Company is a New Era Life subsidiary. It was founded in 1978 primarily as a final expense life insurance company. Since then, they have become part of the New Era Life Insurance company and offer Medicare Supplement insurance to help offset the out-of-pocket costs of Medicare.
Below, we're discussing supplemental Medicare plans and their differences. Then, we'll review the Philadelphia American financial ratings and reviews. Finally, we'll conclude with some frequently asked questions and how to get help with a Philadelphia American Medicare Supplement plan.
Philadelphia Life Medicare plans
Supplemental Medicare insurance policies help lower or eliminate your portion of the Medicare cost share.
Some associated costs with the Federal Medicare program include expenses under Medicare Part A, such as high deductibles, copays, and coinsurance for inpatient hospitals and skilled nursing facilities. Under Part B of Medicare, beneficiaries are responsible for the Part B deductible, coinsurance, and excess charges.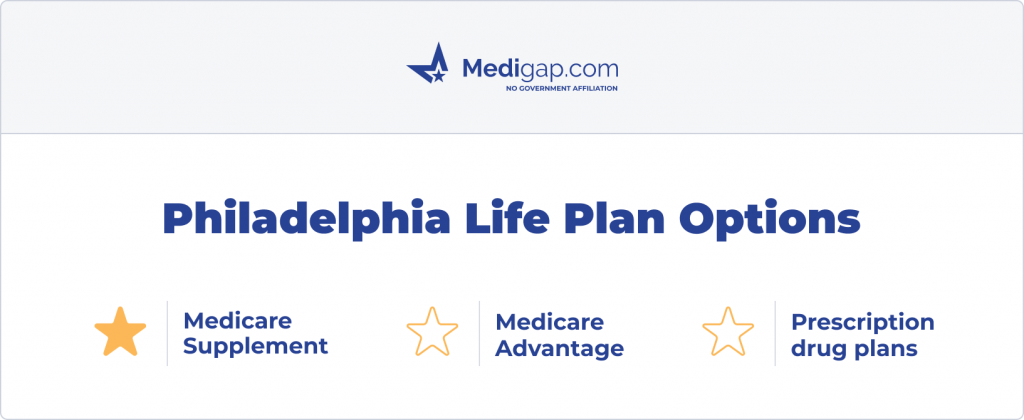 Philadelphia Life Medicare Supplement plans
One supplemental Medicare insurance coverage option is enrolling in a Medigap plan. It offsets the costs Medicare beneficiaries pay when using Original Medicare. Medicare Supplement health insurance plans range from ten different plan options. Not all plans are available in all areas.
Philadelphia American Life Insurance Company offers a range of Medicare Supplement health plans. They have highly competitive rates on the top three Medigap health insurance plans in most of the states in which they operate. Plan F, Plan G, and Plan N are the top three Medicare Supplement plan options.
Most Medicare Supplement policyholders elect to join one of those Medigap plans. Just a reminder, Medicare Supplement plans only cover costs associated with Original Medicare. There isn't any prescription drug coverage included.
You must live in the plans service area to qualify for a Medigap insurance policy. You can enroll any time, but remember, if you're not in open enrollment or a guaranteed issue, you'll be required to pass medical underwriting.
Philadelphia Life Medicare Advantage plans
The other supplemental Medicare health care choice is a Medicare Part C plan. These Medicare Advantage plans must include everything covered under Medicare Parts A and B, and the coverage level must be as good or better than traditional Medicare.
In addition to covering the same benefits as Original Medicare, these Advantage plans will include additional benefits such as dental, vision, and hearing coverage. Most will also include prescription drug coverage. Some drawbacks include tighter networks and the need for referrals to see specialty healthcare providers. A non-medical plan administrator also approves or denies prior authorization for certain healthcare services.
Philadelphia Life Medicare Part D prescription drug plans
Part D is your standalone prescription drug plan that can be added to your Original Medicare and Medigap insurance policy. These plans have a monthly premium and are used for prescription drugs picked up at the pharmacy.
Philadelphia American Life doesn't provide Medicare Advantage or Part D coverage access. If this style of healthcare fits your needs, give us a call. Our licensed insurance agents are experts in all areas related to Medicare. They can determine your eligibility for these health insurance options.
Financial strength ratings
Philadephia American life insurance company was given an AM Best rating of "B++." While this isn't the top rating, it still shows the company has good financial strength.
Reviews
Philadelphia American Life Insurance Company has its headquarters in Houston, Texas. They are a good insurance company with more liberal underwriting requirements than some competitors. They have competitive rates on the most popular plans, and the rate increases are relatively conservative.
FAQs
What types of insurance does Philadelphia American Life Insurance Company provide?
Philadelphia American Life offers serval insurance options. From Final Expense and Medicare Supplement insurance plans to Critical Illness and cancer policies, there's an option to assist with your needs.
How much would I pay in the emergency room with a Philadelphia American Medicare Supplement?
Your cost will be affected depending on the plan you choose. For Plan F or Plan C, You'd have nothing to pay for a visit to the E.R. If you're enrolled in Plans A, B, D, G, or M, you must pay the Medicare part B deductible before the plan picks up the cost.
However, on Plan N, after you pay the deductible, you are responsible for up to a $50 copay when you visit the emergency room.
Suppose you are a policyholder of Plans K or L. In that case, you will be responsible for a percentage dictated by the plan once you pay the Part B deductible.
How to enroll in a Philadelphia Life Medicare plan
Enrollment in a Philadelphia American Life plan is a straightforward task. However, choosing the plan that fits your needs may be daunting. Let us help! Our licensed agents specialize in Medicare and can help guide you through the process.
Give us a call, or fill out our online request form. We look forward to making this process as quick and painless as possible for you.