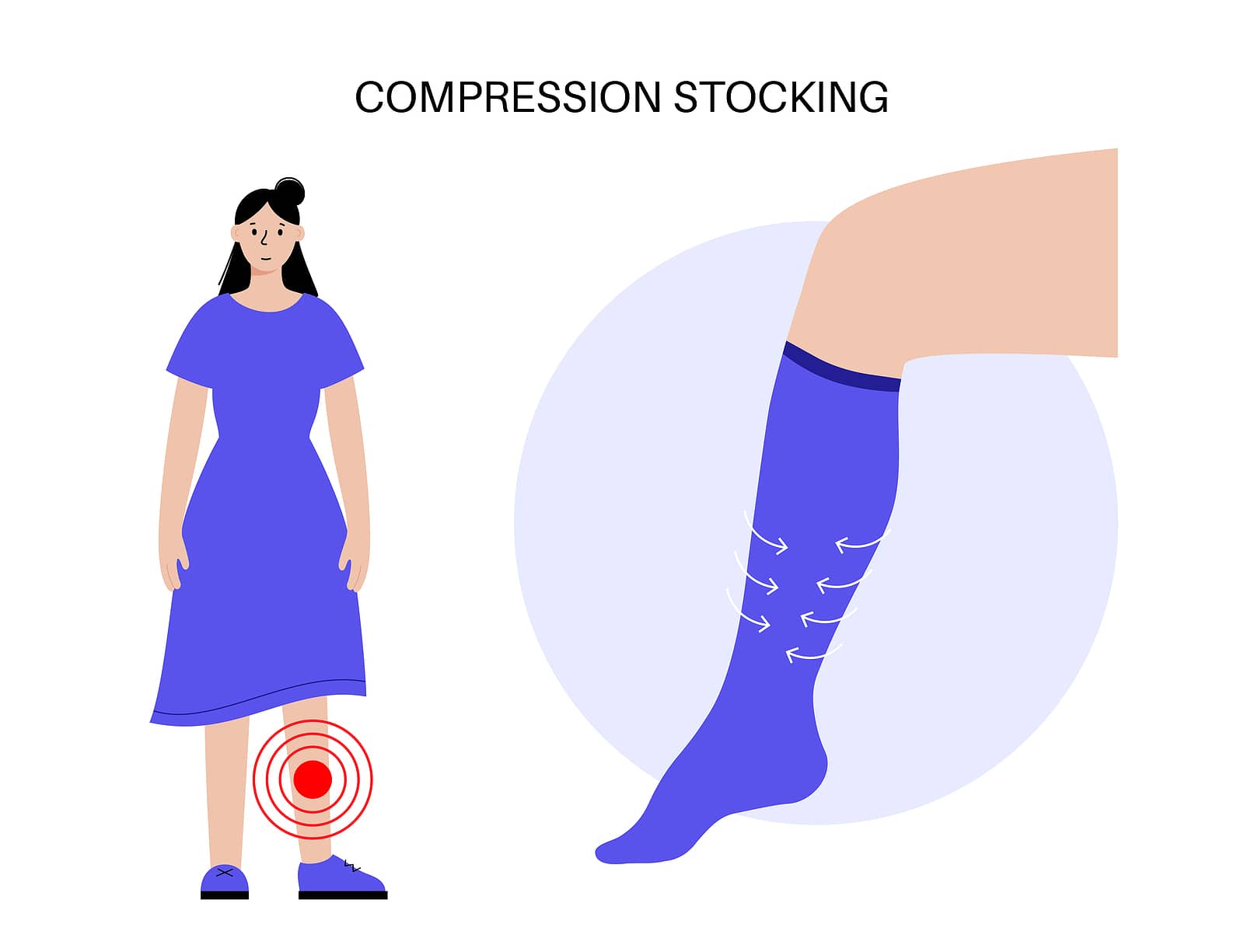 Compression socks are becoming an increasingly popular treatment for varicose veins, leg swelling, leg pain, and the prevention of blood clots. Unfortunately, despite its proven use to treat these items, Medicare will only cover them in specific situations.
Below we'll discuss the different health benefits that compression socks provide and the requirements for Medicare to cover them.
Does Medicare cover compression stockings?
Generally, Medicare won't provide coverage for compression socks. The reason is that they don't fall under the defined rules of durable medical equipment.
DME are items such as walkers and wheelchairs. Although they're not DME, Medicare can cover the cost of your healthcare provider giving you a prescription for specific medical conditions.
Although Medicare doesn't provide coverage for compression socks in most cases, some Medicare Advantage plans will cover them through their over-the-counter benefit.
Medicare Advantage coverage for compression stockings
Medicare Advantage plans must cover the same items and services as Original Medicare. Private insurance companies offer Medicare Advantage plans, and the Centers for Medicare and Medicaid Services regulate them.
Many Medicare Part C plans have an over-the-counter benefit that you can use to purchase compression socks not covered under Medicare Part B.
Medicare Advantage plans have their own outlined out-of-pocket costs instead of the deductibles, copayments, and coinsurance from Original Medicare.
Medicare Supplement insurance coverage for compression stockings
Medigap insurance plans are secondary coverage to Original Medicare. They only cover services and items covered by Medicare Part A and Part B.
A Medigap policy will not cover the compression sock or stocking unless Medicare covers the compression sock or stocking.
Likewise, the Medicare Supplement would pay if the compression stocking Medicare covers it for your health condition.
What are compression socks?
Compression socks are stockings or socks that vary in length and squeeze the legs slightly to promote and increase blood flow and circulation.
They are a common and underused item that has substantial health benefits. These items can range from mid-calf to knee-high, even thigh-high in length.
Types of compression socks
As mentioned above, compression socks come in various lengths, pressures, and sizes. You should purchase these compression stockings to meet your specific needs and situation. There are additional styles of compression garments available as well.
Anti-embolism stockings
Medicare beneficiaries who cannot get around easily will use Anti-Embolism Stockings. They increase blood circulation by applying pressure to the legs. They come in different compression levels to customize and fit your needs.
Gradient compression stockings
Gradient Compression stockings are designed to be the tightest around the ankles and have less compression as they come up the leg.
They increase circulation, prevent blood clots, and treat ulcers in the legs below the knee. Medicare can use and approve these compression socks to treat an open venous stasis ulcer.
For Medicare to cover gradient compression stockings, the following conditions must apply:
A physician or health care provider must certify that the beneficiary has an open venous stasis ulcer and that removing the damaged, dead, or infected tissue is medically necessary.
The gradient sock must be proven and can compress between 30mm Hg and 50 mm Hg.
When the gradient stocking is given to the beneficiary, the compression stocking must be in conjunction with a surgical dressing. The HCPCS modifier of AW but be added to the claim, or Medicare will deny the claim.
The following conditions are not reasons that Medicare would cover gradient compression stockings:
Prevention of stasis ulcers
Prevention of the previously health stasis ulcers from reoccurring
Lymphedema without ulcers
Venous insufficiently without ulcers
FAQs
Are compression stockings covered under Medicare?
Generally speaking, no. However, if your healthcare provider deems it medically necessary for certain health conditions, Medicare Part B may cover compression stockings. You can also find some coverage for compression socks under some Part C Medicare Advantage plans.
How much do prescription compression socks cost?
The cost of prescription compression socks can range between $10 and $100. If you have a medical condition that Medicare approves, you could be responsible for only 20% of the cost.
If you have a Medicare Supplement and are Medicare-approved, the compression stocking of the Medigap insurance plan will assist in covering your cost.
Can a doctor prescribe compression socks?
Your doctor or healthcare provider can give you a prescription for compression socks.
Does Medicare cover leg compression devices?
Medicare generally doesn't cover leg compression devices. These medical supplies do not meet the definition of durable medical equipment. In some cases, Medicare may cover compression socks if it's medically necessary and in conjunction with wound care.
What are the benefits of compression socks?
Compression socks can increase circulation and blood flow, help relieve leg pain, and lower the risk of lower extremity diseases. Some conditions that compression socks assist with are DVT, edema, and chronic venous insufficiency.
What are compression socks?
Compression socks or stockings apply gentle and varying pressure to the lower legs. They help increase circulation and pain relief.
What is the difference between compression socks and compression stockings?
Both compression socks and compression stockings perform the same function. A compression sock fits under the knee, and a compression stocking continues up to the thigh.
Getting Medicare coverage for compression socks
Compression socks are great tools to increase circulation. They can benefit you if you have a medical condition or want to improve your circulation.
Let our licensed insurance agents help you find the coverage that will provide you with access to compression stockings. For assistance, give us a call or fill out our online request form.