Are you recently retired in Sioux Falls, and still a little unsure about what Medicare is supposed to do for you? You are far from alone. One of the dirty little secrets about Medicare is that it doesn't cover 100% of your medical needs. There are still extra, out-of-pocket costs you will be expected to pay even with full Medicare coverage. But the good news is that there are other, supplemental insurance policies you can purchase for yourself for a relatively low cost which will protect you from these unexpected bills. We're going to introduce you to them now so that you can act fast and make a decision before it's too late.
Facts and Figures
There are 21,825 senior citizens living in Sioux Falls right now
There are 10 hospitals in the Sioux Falls area where seniors can get emergency and/or in-patient care
20% of South Dakota seniors have a Medicare Advantage plan
50% of seniors have a Medicare Supplement (Medigap) plan
Which leaves 30% of seniors potentially uninsured or underinsured against costly Medicare coverage gaps!
What do you think is more expensive for someone your age: cancer treatment, or managing chronic heart disease? The correct answer is that it depends. The longer you maintain a coronary heart disease diagnosis, the more money you will have to spend going to the doctor, taking prescription drugs, and possibly even major surgery. If you get both diagnoses at the same time, they might end up being equal in value; but if you have to deal with something like coronary heart disease or arthritis over the course of several years or decades, chronic diseases tend to be the more expensive ones. And if you take a look at the chart below, you'll see that chronic diseases are a problem among seniors in Sioux Falls.
| | |
| --- | --- |
| Disease | Prevalence in Sioux Falls |
| Arthritis | 22% |
| High Blood Pressure | 26% |
| Coronary Heart Disease | 6% |
| Diabetes | 8% |
| Kidney Disease | 2% |
Healthcare Costs in Sioux Falls, SD
The toughest thing about chronic disease is how sneakily your medical expenses can increase over time. First you're on one generic prescription drug, then you have to add two or three more, then you suddenly need a brand name drug and a minor surgical procedure…before you know it, costs add up. And if you don't have the right Medicare supplement insurance to cover them, those costs could be coming 100% out of your pocket. If things get too expensive and spiral out of control, it could come out of your life savings. It's not uncommon for some seniors to spend their golden years in the poor house due to unexpected medical costs that weren't covered by Medicare.
| | | |
| --- | --- | --- |
| Disease | Prevalence in Sioux Falls | Annual Cost of Treatment |
| Arthritis | 22% | $294 |
| High Blood Pressure | 26% | $356 |
| Coronary Heart Disease | 6% | $9,203 |
| Diabetes | 8% | $2,173 |
| Kidney Disease | 2% | $8,717 |
Medicare Advantage Savings in Sioux Falls, SD
According to the statistics we mentioned earlier, 20% of Sioux Falls seniors have decided to Forfeit their federal Medicare benefits and instead purchase a private Medicare Advantage insurance policy. These insurance policies, which are offered by private companies and very closely mimic the health insurance that most Americans have, effectively replace Original Medicare. but if you're lucky, you may be able to snag one of these policies for as little as $0 per month in premiums.
Legally, your Medicare Advantage policy must offer you the same benefits you would get had you stayed with Medicare Parts A and B. But most seniors get more benefits than this, because Medicare Advantage companies like to sell extra coverage – usually for a small addition to your monthly premium. Some of those extra coverages provide for the gaps in Original Medicare coverage, and may even add things like dental, vision, and prescription drug assistance.
One upside to this is that you get all of your insurance needs taken care of under one policy with one company. If a problem arises, you only have to deal with one entity. But just because the monthly premium is lower doesn't mean you won't have to deal with expenses like coinsurance, co-payments, or out-of-pocket expenses that your insurance policy doesn't cover. You'll have to sit down with your Medicare Advantage insurance provider and talk to them about what coverage is right for you – and whether or not you can get it at an affordable price.
Medicare Supplement (Medigap) Savings in Sioux Falls, SD
Medigap plans, on the other hand, are wildly popular in Sioux Falls. This is because these plans are largely less expensive than a Medicare Advantage policy or going without coverage and leaving it up to chance. There are 10 standardized Medigap plans, and they offer you the same coverage no matter where you go or which state you live in. Some of these plans only cover the gaps in Medicare Part A, while other plans cover many of the gaps in Part A as well as Part B. All you have to do is pay a monthly premium on time and in full, and let Medicare and your Medigap insurance provider (in that order) take care of the rest. Only when those first two cannot pay out on a claim will you ever see a bill.
Medigap plans A, D, K, and L plug the gaps in Medicare Part A coverage almost exclusively. But why focus on Part A, and not Part B? Because the Part A Medicare coverage gaps are some of the most expensive ones in existence. For example, an extended hospital stay which also requires multiple blood transfusions could cost you tens of thousands of dollars if you rely on Medicare alone. But with a Medigap plan that focuses on Part A gaps, you can get most or all of those out-of-pocket expenses covered all for one low monthly premium.
Plans B, C, F, G, M, and N are the Medigap plans which focus on Medicare part A as well as varying degrees of Medicare Part B coverage. Medicare Part B coverage gaps are a little more vague, and usually relate to expenses like your monthly Part B premium, coinsurance, co-pays, and excess charges. But if you don't have these coverage gaps taken care of, multiple doctor visits and minor to moderate outpatient procedures can get very expensive, very quickly. The most comprehensive of these is Plan F, but it is set to retire at the end of 2020. Seniors who are turning 65 and eligible for Medicare before January 2021 would do well to sign up for Plan F now and get grandfathered in while the benefits are still available.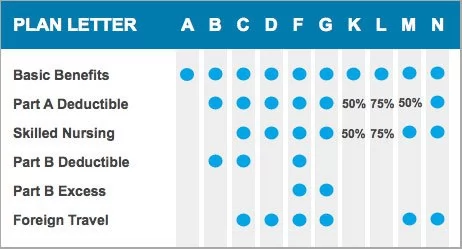 Most of the time, especially in areas like Sioux Falls, Medigap monthly premiums are cheaper than the costs associated with Medicare Advantage. Part of that is because you will have to purchase separate dental, vision, and prescription drug coverage on your own. Unfortunately, Medigap insurance doesn't offer any of these coverages anymore. But dental and vision insurance from private providers is usually fairly affordable, especially if you look for senior discounts. Medicare Part D offers prescription drug coverage and assistance for seniors over the age of 65; just be wary of the Medicare Part D "donut hole" coverage gap. It could leave you paying for prescriptions out-of-pocket depending on how much they cost.
Statistics show that for seniors in Sioux Falls, an affordable yet comprehensive Medigap plan is the favorite choice among seniors. But if you have unique circumstances and health care needs, something like Medicare Advantage could work for you, too. You won't really know for sure until you sit down with one of our experts and ask for an evaluation. On top of that, we can help you get fast and affordable quotes from the best providers in your area. What's not to love? Reach out and contact us today!
| | | | |
| --- | --- | --- | --- |
| Medigap Plan | Minimum Monthly Premium | Maximum Monthly Premium | Average Estimated Monthly Premium (Part B Premium Included) |
| Plan A | $63 | $222 | $278 |
| Plan B | $100 | $252 | $312 |
| Plan C | $118 | $287 | $338 |
| Plan D | $112 | $173 | $278 |
| Plan F | $118 | $241 | $315 |
| Plan F (high deductible) | $34 | $94 | $200 |
| Plan G | $104 | $183 | $279 |
| Plan K | $47 | $102 | $210 |
| Plan L | $79 | $151 | $251 |
| Plan M | $106 | $119 | $248 |
| Plan N | $82 | $156 | $255 |