If you're a senior living in Minot, you have some very specific medical needs – but Medicare alone may not be enough to help you cover the costs of these needs. Believe it or not, there are things that Medicare won't pay for. If you aren't careful, you'll be the one who ends up paying for those medical costs 100% out-of-pocket. Luckily, there are easy and affordable solutions you can take advantage of today which will protect you from these surprise expenses and help you maintain a high quality of life for many years without the worry of confounding medical bills.
Facts and Figures
There are 6,110 senior citizens living in Minot right now

There are 5 hospitals in the Minot area where seniors can get emergency and/or in-patient care

17% of North Dakota seniors have a Medicare Advantage plan

51% of seniors have a Medicare Supplement (Medigap) plan

Which leaves 32% of seniors potentially uninsured or underinsured against costly Medicare coverage gaps!
Many seniors are rightly concerned about sudden and unexpected medical emergencies taking them to the cleaners financially. But the cumulative cost of chronic health conditions can also become overwhelmingly expensive with time. Right now, senior citizens in Minot are seeking medical treatment first things like high blood pressure and arthritis with regular frequency. But the medical expenses related to these conditions become increasingly more costly as time goes on.
| | |
| --- | --- |
| Disease | Prevalence in Minot |
| Arthritis | 19% |
| High Blood Pressure | 24% |
| Coronary Heart Disease | 6% |
| Diabetes | 8% |
| Kidney Disease | 3% |
Healthcare Costs in Minot, ND
There's a lot that goes into managing a chronic health ailment. Most of them require extra doctor visits, extra medical testing, prescription drugs, or a very expensive combination of some/all of the above. But how much of your total costs will be covered by your Medicare benefits? That depends on a lot of different factors. In the chart below, you'll see a snapshot of average annual costs to manage conditions like arthritis, kidney disease, or heart disease. Depressingly, we have to admit it most of these numbers are conservative estimates – your costs could be considerably higher if you don't do something to protect yourself against Medicare coverage gaps.
| | | |
| --- | --- | --- |
| Disease | Prevalence in Minot | Annual Cost of Treatment |
| Arthritis | 19% | $294 |
| High Blood Pressure | 24% | $356 |
| Coronary Heart Disease | 6% | $9,246 |
| Diabetes | 8% | $2,173 |
| Kidney Disease | 3% | $8,509 |
Medicare Advantage Savings in Minot, ND
Most seniors typically decide between one of two options for their Medicare coverage gaps: Medigap, or Medicare Advantage. We're going to focus on the latter first. Medicare Advantage is private health insurance which some seniors purchase instead of accepting federal Medicare benefits. The money they have paid into the Medicare system instead goes to whichever insurance company they decide to purchase a policy from in order to help pay their monthly premium. For some lucky seniors, the amount of money the federal government pays each month to their insurance provider is enough to completely eliminate their monthly premium. But that depends on whether or not they choose to purchase additional coverage options.
The vast majority of Medicare Advantage plans come with their own type of prescription drug coverage. The type of coverage you get will very much depend on the health insurance company you sign up with and what resources are available in your area. For some seniors, comprehensive drug coverage on a Medicare Advantage plan is more affordable than sticking with Original Medicare and signing up for Medicare Part D prescription drug coverage. but this isn't necessarily the case for all seniors. It largely depends on your medical needs and your own personal circumstances.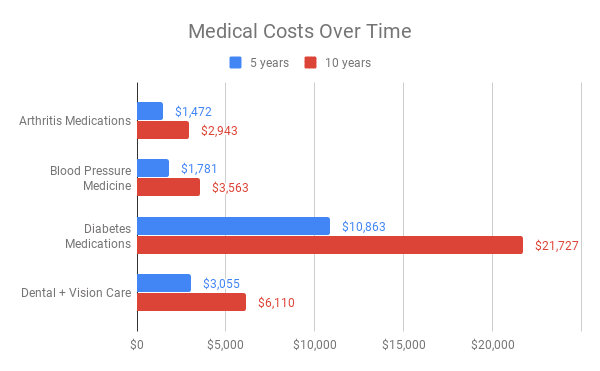 Some of these medical benefits include vision or dental coverage. They may also include a prescription drug program. To get similar coverage outside of a Medicare Advantage plan, you would have to sign up for Medicare Part D prescription drug coverage from the federal government and you would have to purchase private vision and dental health insurance from separate companies. But getting this coverage through a Medicare Advantage plan means that all of your medical needs will be managed by the same company. This very valuable convenience helps streamline the healthcare process for many seniors who would be otherwise overwhelmed by it.
Medicare Supplement (Medigap) Savings in Minot, ND
Medicare Advantage gives people the option to truly customize their plan, depending on the provider and the coverage options available for purchase. But Medicare Advantage doesn't work for all seniors. This is especially true if you are relatively healthy and if your main focus is exclusively dedicated towards plugging the holes in Original Medicare coverage. If that is your biggest concern, then don't overlook Medicare Supplement Insurance in North Dakota.
Seniors who end up purchasing Medicare Supplement Insurance usually do so because a big, cumbersome private insurance plan full of bells and whistles they don't need isn't all that appealing. They might also be perfectly happy with the government managing their health care needs and don't necessarily want that system replaced by a private insurance company. They may be healthier than most seniors, and feel that they don't need to purchase the most comprehensive, Cadillac health insurance policy in order to stay properly covered. Indeed, Medigap policies are smaller and many companies who sell them make managing such policies simple and convenient for the average senior citizen.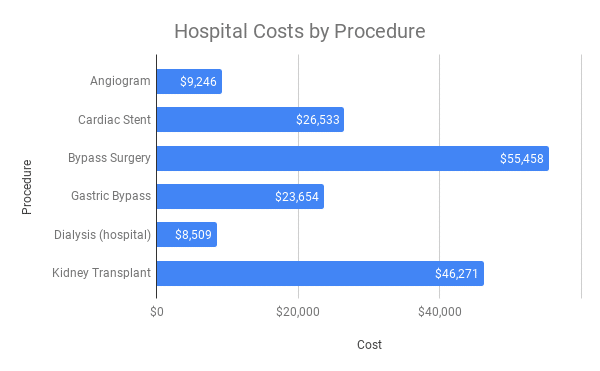 The ten available Medigap plans ( A, B, C, D, F, G, K, L, M, and N) cover varying amounts of the gaps in Medicare part A hospital expenses as well as certain aspects of the gaps in Part B expenses. The more comprehensive your plan, obviously, the more your monthly premium will be. But that means you will have fewer out-of-pocket costs associated with Medicare Parts A & B long-term. Also, it should be noted that Plan F will be retired soon and you may not be able to enroll in it after the year 2020.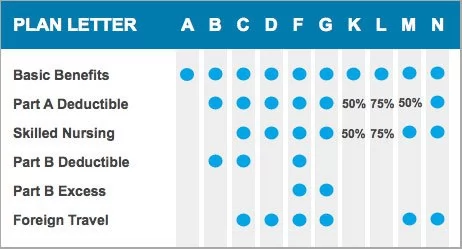 There are no federal regulations or mandates for vision or dental coverage, so Medigap policies do not offer these benefits. And since there's already a Medicare Part D prescription drug plan, Medigap policies don't need to sell that additional level of coverage, either. Most seniors who enroll in Medigap and who choose to stay enrolled in Original Medicare will also enroll in Medicare Part D. They will likewise supplement their dental and/or vision coverage with private insurance from local providers. Not only do many of them offer discounts for senior citizens, but you won't be limited to specific medical networks the way you would with Medicare Advantage.
So, do you want a large, complex, tailor made insurance policy to replace your Medicare benefits? Or do you want a small, simple, affordable Medicare Supplement Insurance policy to protect you from the gaps in Original Medicare? The answer to this question largely depends on your specific medical needs. And if you still aren't sure which one would be best for you, we have customer service representatives standing by to take your call. They'll be happy to answer any questions you have and clear up the confusion. But if you don't act soon, you could miss your open enrollment window! So don't delay.
| | | | |
| --- | --- | --- | --- |
| Medigap Plan | Minimum Monthly Premium | Maximum Monthly Premium | Average Estimated Monthly Premium (Part B Premium Included) |
| Plan A | $60 | $222 | $277 |
| Plan B | $107 | $253 | $316 |
| Plan C | $113 | $287 | $336 |
| Plan D | $97 | $243 | $306 |
| Plan F | $115 | $284 | $335 |
| Plan F (high deductible) | $29 | $75 | $188 |
| Plan G | $99 | $244 | $307 |
| Plan K | $46 | $92 | $205 |
| Plan L | $78 | $126 | $238 |
| Plan M | $103 | $146 | $260 |