United Commercial Travelers offers Medicare Supplement plans, with a few other products that can benefit Medicare beneficiaries.
Their additional insurances include Short-Term Care, Emergenicare Plus, Hospital Indemnity plans, Dental, Vision & Hearing plans, and Life Insurance.
Once you've enrolled in a UCT insurance plan, you become part of the local council branch for your community.
United Commercial Travelers Medicare Supplement plans
Medicare Supplemental plans help offset your Medicare out-of-pocket costs. UCT offers all Medigap options except Plans K, L, and M.
With Medigap plan options for beneficiaries in more than 30 States, UCT can help you protect yourself from surprise costs.
United Commercial Travelers Medicare Advantage plans
UCT doesn't provide Medicare Advantage. However, suppose you are on a Medicare Advantage plan. In that case, UCT can enroll you in a Hospital Indemnity plan to help offset your out-of-pocket costs for your Medicare Advantage program.
United Commercial Travelers prescription drug plans
United Commercial Travelers don't provide Part D prescription drug plans.
If you need Medicare Advantage or Prescription Drug plans, our expert advisors can help you find the coverage you need.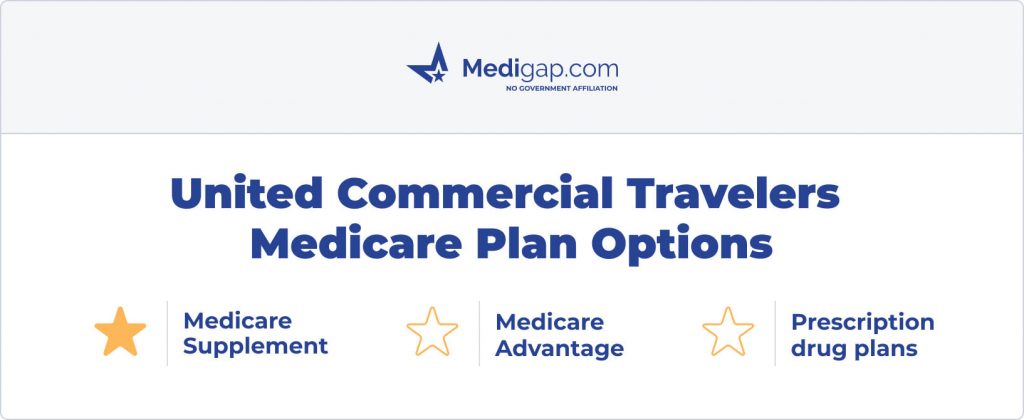 United Commercial Travelers Medicare pros and cons
Pros
Not-for-profit Medicare plan provider
Fair Medicare Supplement rates
Good customer service
Cons
Only provides access to Medicare Supplement plans
Average premium increases
Financial strength ratings
AM Best is the standard for rating the financial stability of Medicare Supplement insurers. AM Best gives them a rating of B Stable.
These ratings indicate how well a company can pay claims on time and complete obligations to policyholders.
Reviews
This carrier has been helping seniors and their communities for many years. They have the experience and plan options to ensure you can get the most out of your Medicare coverage.
They're a non-profit and are a very community-based company that prides itself in giving back to the local communities.
FAQs
Where is United Commercial Travelers located?
UCT does business nationwide in the United States, and its Corporate Office is in Colombus, Ohio.
How long has UTC been in business?
UCT has been operating for over 130 years
Does United Commercial Travelers only offer Medicare Supplement plans?
UCT offers Medigap Plans in more than 17 states. They sell other policies, such as short-term care, accidental, and hospital indemnity plans.
Is United Commercial Travelers a non-profit?
Yes, UCT is a 501c8 non-profit organization that operates in all 50 states and has been giving back to the local communities they're in for over 130 years.
Can I use my United Commercial Travelers Medigap in another state?
Yes, Medicare Supplement plans travel well and allow for the use of any healthcare provider nationwide that accepts Original Medicare.
How to enroll in a United Commercial Travelers Medicare plan
We are here to help you enroll in a Medicare Supplement. Simply have your Medicare cards, and we can take care of everything else! We pride ourselves on being one-stop shopping for all things Medicare.
Don't hesitate to contact us today or fill out our contact form online. Our agents specialize specifically in Medicare plan options, and it'll make life easier when it comes time deciding what's best suited for you. We take the guesswork out and provide the information needed to make an educated decision.