Like other private companies, Union Security Insurance Company (USIC) can work alongside Original Medicare to decrease your overall healthcare costs. The parent company is CUNA Mutual Group, providing the feeling of a small business with the support of a big insurance company.
Below we'll take a closer look at the Medicare health insurance coverage options available through this company and the reviews from policyholders. After that, we'll review some common questions and tell you how to enroll in coverage.
Union Security Insurance Company Medicare Supplement plans
Union Security Insurance offers Medicare Supplement insurance plans to those eligible for Medicare. Many Medigap plans help cover the Medicare Part A deductible, Medicare Part B deductible, and coinsurance.
USIC offers Medigap insurance in most states, including:
Alabama
Arizona
Colorado
Delaware
Georgia
Florida
Illinois
Indiana
Iowa
Kansas
Kentucky
Louisiana
Maryland
Michigan
Mississippi
Montana
Nebraska
Nevada
New Jersey
New Mexico
North Carolina
North Dakota
Ohio
Oklahoma
Pennsylvania
South Carolina
South Dakota
Tennessee
Texas
Utah
Virginia
Wisconsin
West Virginia
Suppose you're receiving Medigap in a state that isn't listed. In that case, that's okay because there are plenty of insurance carrier options nationwide.
A Medigap plan can help pay the Part A hospital insurance deductible, the outpatient Part B deductible, and applicable coinsurances. Health care services that Medicare approves the claim for will have coverage through the Medicare Supplement plan.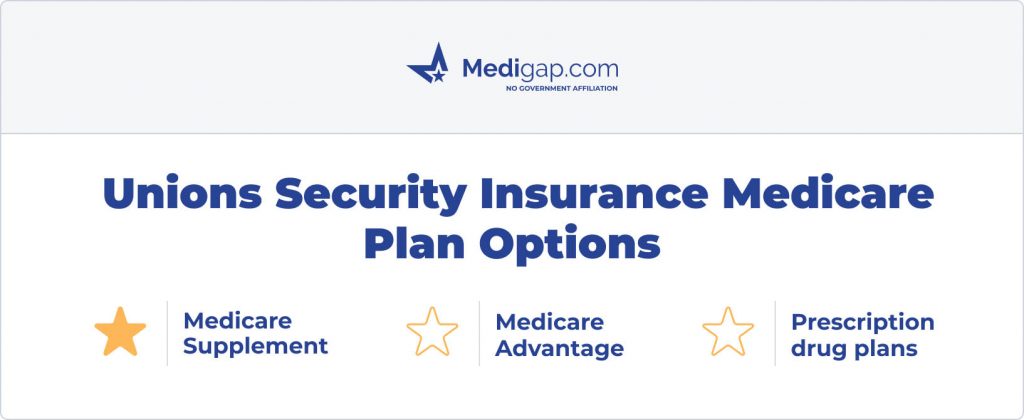 Union Security Insurance Medicare Advantage plans and prescription drug coverage
USIC doesn't offer Part C Advantage Plans or Part D prescription plans. However, you can buy a separate Part D plan with your Medicare Supplement insurance.
You can get Part D through a different company than your Medigap provider. For example, some people have a Union Security Medigap policy and a Humana Part D plan.
Union Security Insurance Medicare pros and cons
Pros
Provides access to the top three Medicare Supplement plans
Light underwriting
Competitive premiums
Cons
Average rate increases
No Medicare Part C or D options
Financial strength ratings
Union Security Insurance Company has a B+ (stable) AM Best rating. S&P rates them as BBB+ (good). These ratings also come from people who use them for a life insurance company, not just Medicare.
Reviews
Since the government standardizes Medicare Supplement insurance plans, it doesn't matter which Medigap carrier provides you coverage. Aetna and Cigna are no better or worse with their Medigap plans.
The most significant difference between plans is cost. Because the health coverage of Medigap Plan F is the same no matter which health insurance company you choose.
FAQ's
What is the monthly premium for the Union Security Medicare Supplement Plan?
Medigap policy premiums vary depending on your location, the Medicare benefits you want to be covered, and your enrollment eligibility. Medicare Supplement insurance can range from $50-$300 depending on the above factors. A high deductible insurance policy tends to cost less, and a health plan covering most of your medical bills will cost more.
What are the benefits of Unions Security Medicare Supplement Insurance?
One benefit of this company is there are no waiting periods for pre-existing conditions. No referrals are necessary to see a specialist or any other physician.
As with any Medigap policy, any healthcare provider in the United States accepts the Medicare program. Medicare Supplement policies help cover your deductibles, coinsurances, and copayments.
What are the pros and cons of Medigap plans through Union Security Insurance Company?
There isn't a downside to having a Medigap plan. These insurance policies cover benefits beyond Medicare and allow you to see any healthcare provider without a referral. Medigap plans are top-rated medical insurance coverage.
How to enroll in a Union Security Insurance Company Medicare plan
The best time to enroll in a Medigap policy is during your Medicare Supplement Open Enrollment Period. Or during a Special Enrollment Period when you qualify for a Guaranteed Issue. You'll be eligible for coverage without underwriting during either of these times.
You can get Medicare health insurance coverage from the comfort of your home by working with one of our licensed insurance agents.
To compare your insurance plan options, call us at the number above. Or, to get your rates, now complete our online quote form.