Great Southern Life insurance company was founded in 1909, focusing on annuities, health, and life insurance. They were the first company to provide insurance for children back in 1922, and in 1991, Americo Life Insurance Company purchased it. Headquartered in Kansas City, Missouri, their Medicare products are operated under the Americo company.
This article will discuss the GSL (Americo) Medicare Supplement Plans and how Medicare Advantage plans work. Then we'll discuss Part D and why financial strength ratings are essential. In conclusion, we'll answer some frequently asked questions and provide information on how to enroll in a Supplemental Medicare plan with Americo.
Great Southern Life (Americo) Medicare plans
While Medicare is solid health insurance, it doesn't cover everything. There is quite a bit of cost that you're responsible for. The majority of Medicare beneficiaries enroll in some form of Supplemental Medicare insurance.
Supplemental Medicare plans come in a few forms and generally take you down one of two paths. Path one is a Medicare Part C or Medicare Advantage plan. The second path is to stay on your Medicare Parts A and B, and enroll in a Medicare Supplement and a Part D prescription drug plan.
These Supplemental Medicare plans help you by lowering the amount you're responsible for paying out of pocket.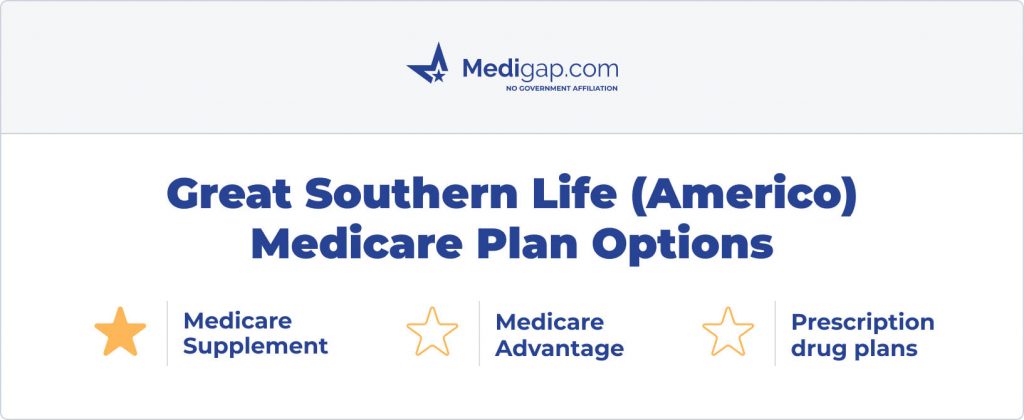 Great Southern Life (Americo) Medicare Supplement plans
A Medicare Supplement is the coverage that offsets the majority of your out-of-pocket costs. These comprehensive plans work as a wraparound or secondary coverage to Medicare Part A and Part B. Since they fill in the cost gaps left for you to pay, they have earned the nickname of Medigap plans.
There are ten available plan options designated with letters. Your coverage level is dependent on the plan letter you choose. For Example, Plan F will cover all of your portion of the Medicare cost share associated with Original Medicare.
These plans only supplement costs associated with Medicare Part A and Part B. They don't offer any coverage regarding Medicare Prescription Drug coverage. You'll need to add a Medicare Part D plan for prescriptions picked up at the pharmacy.
These plans attract beneficiaries because they retain the freedom to see any healthcare provider nationwide that accepts Medicare. In addition, they are less restrictive than Medicare Advantage plans.
The Centers for Medicare & Medicaid Services regulate these plans. The coverage must have the same benefits regardless of where you live or your insurance company.
Although there are ten options to select from, not all carriers offer all the plan choices. In most cases, you can expect that you'll need to pass medical underwriting to qualify for a Medicare Supplement insurance plan. Medicare beneficiaries usually enroll in one of the three most popular plans.
Americo Plan offerings
Americo offers all top three plans in all states. They provide Medicare insurance.
Plan F as mentioned above, covers all the Medicare cost-share left over for you. Unfortunately, this option is no longer available for eligible beneficiaries after January 1. 2020.
Plan G has essentially the same coverage as Plan F. The only thing that isn't covered by Plan G is the Medicare Part B deductible. Plan G is slowly gaining popularity over Plan F and is the most popular Medigap Plan for individuals new to Medicare.
Plan N is the plan that provides the most benefits for the lowest cost. This is an excellent plan for healthy and savvy beneficiaries. The coverage is similar to Plan G. The most significant difference is that you'll be responsible for a copay of up to $20 when using the Plan for doctor's office visits. You can expect to pay up to $50 for an emergency room visit.
Great Southern Life (Americo) Medicare Advantage plans
Medicare Part C combines your benefits from the other parts of the federal Medicare program into one plan. These plans will always include the same coverage benefits and levels as Medicare Part A and Part B. In addition to your hospital and medical services, many will include your Medicare prescription drug coverage and plan extras.
These plans have fixed copays for most services and will limit the out-of-pocket costs you can spend on medical coverage. This protects you from catastrophic medical bills. These plans can include dental, vision, and hearing coverage, gym memberships, transportation, and over-the-counter benefits.
Americo only offers Medicare Supplement insurance, not Medicare Advantage. Call or fill out our online request form if you need Medicare Part C assistance.
Great Southern Life (Americo) Medicare Part D prescription drug plans
There are two ways to be covered regarding prescription drug coverage and Medicare, through a Medicare Advantage plan or a Part D standalone drug plan. Both options are run by private insurance companies contracted to offer these plans through Medicare. They set their copays and conditions. CMS will regulate both programs; the coverage must be as good or better than the Medicare standard model.
As mentioned above, Americo only offers Medigap plans, so your Part D must be with someone else.
Great Southern Life (Americo) Medicare pros and cons
Pros
Fair premium payments
Soft underwriting
GSL offers the top Medigap solutions
Cons
No additional Medicare plan offerings
Only available in some states
Financial strength ratings
Financial strength is an indicator we use to determine how well a company will perform in certain aspects. Companies with higher ratings typically provide more competitive rates, process claims faster, and have smaller rate increases.
Americo Financial Life and Annuity Insurance Company have been around for over 100 years. AM Best is one of the independent agencies that rate insurance plans. They gave Americo a rating of "A – Excellent."
Great Southern Life (Americo) reviews
Great Southern Life is a great company with raving reviews about its customer service. They are a leader in the Medicare Supplement insurance policies with their Americo brand and have a solid rating from AM Best. They offer Medicare Supplement plans in 39 states. GSL provides a 10% household discount in most states in which they operate.
FAQs
Is Americo a legit company?
Americo is a very stable life and health insurance company. They have been operating in the insurance industry for more than 100 years.
What type of insurance is Americo?
Americo offered several insurance products. Life Insurance, Final Expense products, Annuities, and Medicare Supplement policies.
How long has Americo Insurance been in business?
Americo was founded in 1909 and is headquartered in Kansas City, Missouri.
What states does Americo cover?
Americo offers Medicare Supplements in Alabama, Arkansas, Arizona, Colorado, Delaware, Florida, Georgia, Iowa, Idaho, Illinois, Indiana, Kansas, Kentucky, Louisiana, Maryland, Michigan, Mississippi, Montana, North Carolina, North Dakota, Nebraska, New Hampshire, New Jersey, New Mexico, Nevada, Ohio, Oklahoma, Pennsylvania, Rhode Island, South Carolina, South Dakota, Tennessee, Texas, Utah, Virginia, Wisconsin, West Virginia, and Wyoming.
How to enroll in a Great Southern Life (Americo) Medicare plan
Deciding on your Medicare coverage can be stressful but essential. We can help take the frustration and long hours of comparing options off your plate. Fill out our online request form or give us a call.
Our licensed health insurance agents are experts in the Medicare field. They can provide the education and information you need to make the right decision. You'll have a complete understanding. We'll check out your doctors and drugs to ensure the plans fit well and even help simplify enrollment.