Birmingham, Alabama has plenty of great amenities that make it a wonderful place for anybody to live, but how does it fare in regards to access to healthcare? Unfortunately for seniors (anyone 65 and older), the answer is: not very well. Only just over half of the seniors in Alabama have proper healthcare coverage, meaning that the other seniors are typically uninsured or underinsured, relying on Original Medicare rather than any form of healthcare insurance plan that adequately secures for them the level of care that they both need and deserve. This means that there are thousands of seniors in Birmingham who find themselves trapped under mountains of medical debt from Medicare coverage gaps. The vast majority of medical expenses from Medicare coverage gaps must be paid out-of-pocket. Let's take a closer look at the data:
Facts and Figures
There are currently 28,963 seniors living in Birmingham, Alabama.
There are 11 hospitals in the Birmingham area where seniors can receive emergency and/or in-patient care.
36% of seniors in Alabama have a Medicare Advantage plan.
25% of seniors in Alabama have a Medicare Supplement (Medigap) plan.
That leaves 39% of seniors potentially uninsured or underinsured against costly Medicare coverage gaps!
For the 61% of seniors in the area who have proper Medicare Advantage or Medigap coverage, healthcare accessibility is affordable and reliable; however, for the remaining 39% of Birmingham's seniors, the financial burden of the out-of-pocket coverage gap expenses leaves them with two awful options: go broke or go without healthcare. This is a dilemma that only gets worse with time. While your retirement balance shrinks with each withdrawal, your risk of developing age-related illness increases. This means that the chances of your health deteriorating increase at the same time as your ability to pay for healthcare in general decreases. The chart below showcases just how common a few of these illnesses are in the Birmingham area.
| | |
| --- | --- |
| Disease | Prevalence in Birmingham, AL |
| Arthritis | 29% |
| High Blood Pressure | 43% |
| Coronary Heart Disease | 7% |
| Diabetes | 16% |
| Kidney Disease | 4% |
Healthcare Costs in Birmingham, AL
As you can tell from the chart above, a perfectly healthy senior in Birmingham is about as likely to be seen as a unicorn. The thing about these age-related illnesses is that, as the name suggests, they worsen in both frequency and severity as you age. This means that not only do you stand an increased risk of developing one or more of these illnesses with each passing year, but you also run the risk of your current healthcare conditions worsening over time as well. This drives up the costs of your healthcare to heights that you may not have ever seen earlier in your life. Furthermore, because seniors are living longer now than ever before, these age-related illnesses and the costs that they generate can increase in both frequency and severity over a longer period of time, making them far more formidable healthcare concerns than in the past. The chart below provides a look at the lower estimates of the annual cost of treatment for healthier seniors.
| | | |
| --- | --- | --- |
| Disease | Prevalence in Birmingham, AL | Annual Cost of Treatment |
| Arthritis | 29% | $294 |
| High Blood Pressure | 43% | $356 |
| Coronary Heart Disease | 7% | $8,672 |
| Diabetes | 16% | $2,173 |
| Kidney Disease | 4% | $7,781 |
Medicare Advantage Savings in Birmingham, AL
Medicare Advantage plans, on the other hand, can negate all or almost all of these annual costs. Despite what the name suggests, Medicare Advantage plans are not provided by the government; rather, they are provided by private companies and managed by private firms, giving them a significantly increased incentive to offer competitive rates and medical benefits. But does this mean that you're going to lose your Medicare coverage if you switch over? Yes and no. Medicare Advantage plans will replace your Original Medicare coverage, but these plans are also required by law to cover everything that Original Medicare covers. That is to say that, although you will be using a private plan under a different name, you will have access to all of your original benefits and then some. Since the government often offers assistance in paying premiums, you might still end up paying only $0 per payment period.
Further increasing the utility of Medicare Advantage plans is the fact that the benefits are not limited solely to hospital and/or outpatient care. In fact, many providers of Medicare Advantage plans offer the possibility to add on prescription drug coverage that can be as all-inclusive or as basic as your healthcare needs require. This can enable you to casually obtain all of the prescriptions that you need at an affordable price, whereas those same prescriptions could have cost you hundreds of dollars each month when stuck in of Original Medicare coverage gaps. These plans can even be expanded to cover necessary medical equipment such as glucose monitors and testing strips, making them great options for anybody suffering from a chronic health condition the likes of diabetes. The chart below demonstrates this in detail for a few of the aforementioned age-related health conditions.
It is even possible, depending on your Medicare Advantage provider, to add vision and dental coverage to your array of healthcare options. This is an option that is not a possibility for either Original Medicare or Medicare Supplement, meaning that (with either of those two plans) you would be left with the same choice as the 11,295 other uninsured or underinsured seniors in the Birmingham area: go broke or go without. However, if you don't need dental or vision care, then you might find additional benefits to be had through the use of one of those less comprehensive plans. If that is the case, then skip over the following chart detailing a few competitive rates for the more comprehensive Medicare Advantage plans and read the next section, which goes over Medicare Supplement insurance in further detail.
Medicare Supplement (Medigap) Savings in Birmingham, AL
You may have heard the phrases "Medicare Supplement" and "Medigap" used interchangeably in the past. The reason for that is that they are one and the same thing. Unlike Medicare Advantage insurance, Medigap insurance does not replace your Original Medicare coverage. Rather, it supplements it, as the name suggests. The majority of these plans are less comprehensive than the Medicare Advantage plans mentioned above. In fact, a few Medigap plans are even less comprehensive than others, making them more affordable for some seniors. All in all, there are ten primary Medigap plans and each falls into one of two categories.
The first category includes Medicare Supplement Plans A, D, K, and L. These plans are designed specifically to ensure that you can obtain the access to healthcare necessary to afford hospital and in-patient care whenever you need it. This quality makes these plans wonderful options for seniors who find that their Original Medicare coverage doesn't go far enough in covering their Medicare Part A expenses (a common occurrence for seniors who suffer from chronic and severe health conditions) although it does cover all or almost all of their Medicare Part B expenses. However, it is important to note that Plans A, D, K, and L only offer coverage for Medicare Part A and its related expenses, providing nothing for Medicare Part B.
If you require help covering both your Medicare Part A and your Medicare Part B expenses, then you're going to want to consider enrolling in a plan of the second category of Medigap options, which includes Medicare Supplement Plans B, C, D, F, G, M, and N. Whereas the first category of Medicare Supplement plans only covers expenses incurred as a result of Medicare Part A treatments, these six plans ensure that you have ample access to both Medicare Part A and Medicare Part B. Unfortunately for new enrollees, Plan F will no longer be available for purchase after the end of 2020. As of 2021, you will need to enroll in one of the other plans in the second category of Medigap insurance in order to ensure that you can maintain similar healthcare benefits.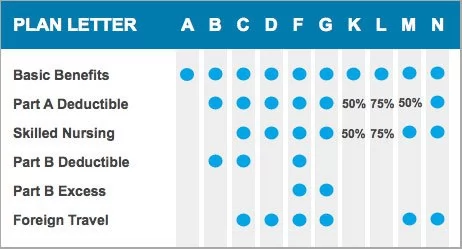 The most notable downside of Medicare Supplement plans (in both category one and category two) is that these plans are less comprehensive than Medicare Advantage. We have said this multiple times now, but what exactly does it mean? To put it simply, Medicare Supplement plans cannot provide any form of coverage whatsoever for prescription drugs, dental care, or vision care. Instead, you would have to pursue yet another supplemental insurance plan in order to secure coverage for each of these coverage categories, increasing the total number of insurance providers you have to deal with (one for Original Medicare; one for your Medigap plan; and one or more for your prescriptions, dental, and vision care).
If this is still your best available option, however, make sure to get it done as quickly as possible. The last thing you want to do is put off making the decision long enough for your health and your mental acuity to wither, making the decision harder (or impossible) to make. By securing your proper level of insurance as soon as possible, you can prevent the untimely loss of your independence, depreciation of your nest egg, or deterioration of your health. So don't wait. Go to Medigap.com today and start shopping for your healthcare. You can also speak with an expert who knows how to help you find what works best for you.
| | | | |
| --- | --- | --- | --- |
| Medigap Plan | Minimum Monthly Premium | Maximum Monthly Premium | Average Estimated Monthly Premium (Part B Premium Included) |
| Plan A | $72 | $140 | $242 |
| Plan B | $103 | $170 | $272 |
| Plan C | $116 | $208 | $298 |
| Plan D | $109 | $164 | $272 |
| Plan F | $102 | $194 | $284 |
| Plan F (high deductible) | $27 | $56 | $177 |
| Plan G | $99 | $165 | $268 |
| Plan K | $43 | $86 | $200 |
| Plan L | $72 | $120 | $232 |
| Plan M | $105 | $126 | $251 |
| Plan N | $79 | $149 | $250 |