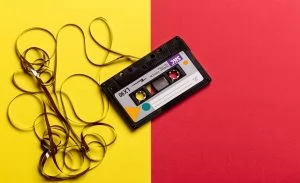 Music is a universal tool that can create joy and bring people together. Considering the never-ending influx of music and all of its subgenres, there's something out there for everyone and every occasion. Going through life, most people make a collection of their favorite songs to look back on. Indulging in this music might have more benefits than originally thought. Musical therapy looks to tap into these benefits to help seniors in more ways than one.
Key Takeaways
Listening to music can have a profound, positive influence on mental and emotional health.
Music therapy is used for emotional coping and memory recollection in seniors suffering from Alzheimer's.
Listening to music can also be great for exercise and increasing your heart rate.
We break down the top genre-defining hits of the 1940s, 50s, and 60s.
How Music Helps You
Music can bring joy and wonder into the world, but what about what it can do for the individual? Listening to music can be a great tool for self-expression and self-actualization. Additionally, it can create deeply profound positive psychological and physiological changes.
Music Affects Your Mood
Listening to music can have an effect on the listener's mood – and even on how the body reacts. For example, fast-paced music has been shown to increase heart rate, breathing, and even blood pressure. On the other hand, slow music can lower heart rate and assist with falling asleep. These physical reactions can in turn affect mood, like how an increased heart rate can lead to a more anxious state. Listening to music we like can make us smile and feel happy while also releasing dopamine, a neurotransmitter known for positively affecting your mood.
Music Reduces Stress and Anxiety
Generally, music with low tempo, low pitch, and little-to-no lyrics is considered relaxing music. This kind of music can have a soothing effect on the body and mind, putting anxiety and stressors more at ease. These kinds of responses can also be seen in those listening to relaxing music while undergoing some kind of medical procedure (in contrast to those with no music, that is).
Music Improves Cognition and Memory
Exposure to music's repetitive elements of rhythm and melody can help the brain to form patterns that in turn help memory and memory recall. Not only that, but music can inspire heightened emotions that assist in attaching the memory of the moment to said song. Later, the song can trigger a deeper recollection of the memory and feeling. Doctors have found that music can be an assistive tool for those living with Alzheimer's and/or those who have survived a stroke.
Music Provides Comfort
Music can provide comfort in ways beyond creating a familiar and comforting overall feeling. Familiarity with the music you're listening to creates a sense of comfort and belonging if it brings up past memories. Music therapy is a coping tool, as well as a tool to enhance communication. Using music for therapy helps many express feelings they can't explain or get across any other way.
Music Helps You Exercise Better
Music is a great device to help power through – and even improve – one's workout routine. Finding the right songs to keep the tempo and rhythm of your already existing workout routine can help you stay motivated, focused, and on-beat. For example, a playlist of songs with high beats per minute will go well with a high intensity running session. Music and working out go hand in hand when it comes to motivation and focus.
Music Throughout the Decades
As musical styles are always changing, some trends come and go but some stay long enough to define a decade. Not only can music define a decade, but on a personal level, it can define a time period in someone's life. Seniors who grew up in the 40s, 50s, and 60s might find some of their favorites songs on this list of defining top hits.
The 40s
Known as the decade of the crooner and jazz, the 40s gave way to iconic acts like Bing Crosby, Frank Sinatra, Ella Fitzgerald, Nat King Cole, and Louis Armstrong. As World War II separated families and friends, many songs reflected on the notion of home and home life. It was also a great era for romantic love songs, sung by suave crooners. This decade gave way to a renaissance of music where the focus began to shift towards American made music, giving way to new names and new styles.
Frank Sinatra: "I've Got the World on a String"
This popular jazz song, originally popularized by Cab Calloway, was one of the first that Sinatra recorded once he transferred over to Capitol Records.
Nat King Cole: "L-O-V-E"
Arguably one of the most famous love songs to date, Nat King Cole's L-O-V-E is a timeless romantic classic.
Ella Fitzgerald: "A-Tisket, A-Tasket"
What was originally a nursery rhyme became the First Lady of Jazz herself, Ella Fitgerald's claim to fame.
Bing Crosby: "White Christmas"
Crosby's biggest hit came when he recorded Irving Berlin's White Christmas in 1941. Fun fact, Guinness World Records stated that 50 million copies have been sold of the hit.
Vaughn Monroe: "Riders in the Sky (A Cowboy Legend)"
Monroe's recording of "the greatest Western song of all time" managed to stay 11 weeks as the number one song in 1949.
The 50s
Known as the decade that saw the rise of rhythm and blues and gave birth to rock'n' roll, the 50s saw the success of big names like Elvis Presley, Chuck Berry, Buddy Holly, Chubby Checker, and Johnny Cash. Living in a post World War II America, the 50s saw a revolution in the music industry with passionate new sounds, and with an even more passionate following. This revolution mirrored the changing culture and styles that marked the era. As new genres and names rose to the top, new ideas did too, giving way to the beginning of the civil rights movement and desegregation.
Chuck Berry: "Johnny B. Goode"
A classic rock'n'roll song about the genre itself, Berry's song is arguably the most iconic song of the era. So much so that it was included on the Voyager Golden Record and sent into space.
Elvis Presley: "Hound Dog"
When Presley remixed a cover of Big Mama Thorton's hit song 'Hound Dog,' it subsequently became one of the top hits of the decade.
Buddy Holly: "That'll Be the Day"
Inspired by cinematic hero John Wayne's use of the phrase, Buddy Holly wrote a chart topping international hit.
Gene Kelly: "Singin' in the Rain"
The famous titular song from the Gene Kelly musical film is most memorable for its happy and joyful style, as well as Kelly's unforgettable dance moves.
Johnny Cash: "I Walk the Line"
A beautifully written and arranged song, Cash's devotion truly shines in this timeless ballad. Still popular and covered to this day, this is without a doubt one of Cash's best.
The 60s
Known for the historic Woodstock Festival, the 60s was an eclectic era in music and culture. During this time, civil unrest and uprising led to a cultural reset which was heavily reflected in the music world. Many young people developed rebellious attitudes as a part of their anti-war sentiments. Consequently, the music of this period was iconic yet undefined and unconfined. Some new subgenres, such as folk rival, surf rock, and acid rock demonstrated this. Artists such as Bob Dylan, Jimi Hendrix, The Rolling Stones, The Four Seasons, and The Doors dominated the scene;
The Beatles: "Come Together"
A beautiful ode to unity and togetherness, The Beatles captured a lot of the culture and feel of the 60s in this song.
Ben E. King: "Stand By Me"
An iconic love song that has lasted throughout the years, King wrote an amazing song to sway (or stand) to with your partner.
The Supremes: "You Can't Hurry Love"
One of many Number One hits by the ultimate girl group, The Supremes' song about young lovers getting carried away was one of Motown's biggest hits.
Frank Sinatra: "Fly Me to the Moon"
Sinatra's ability to remain at the top throughout the decades stands as a testament to his talent. Even to this day, many enjoy his stylings and claim this as one of his bests.
The Beach Boys: "I Get Around"
One of the many anthems by the famous kings of surf rock, this song marked a new era in pop and rock music.